Saint Augustine, FL Outdoor Activities
---
Recommended Outdoor Activities by Groupon Customers
---
Skydiving. Parachute sales, and maintenance.
203 North Dandy Street
St. Marys
Georgia
912-322-7282
Conner's A-Maize-Ing Acres mixes agriculture with entertainment, dazzling visitors come harvest time with its slate of attractions. As the season changes from summer to fall, the farm rolls out family-oriented activities ranging from ambling hayrides to walks through the pumpkin patch. More than 100 barnyard animals lean toward outstretched hands, whereas a hay jump and corn box beckon kids with energy to burn. Amid all the hustle and bustle, an old barn—emblazoned with the greeting Howdy above its door—reminds folks to slow down, drink in the crisp air, and brainstorm Halloween costumes that will make neighborhood dogs whimper.
19856 County Rd. 121
Hilliard
Florida
The seasoned jumpers on staff at Skydive Amelia Island have all successfully completed thousands of jumps. The dedicated professionals securely strap themselves to beginning skydivers and plunge from a plane to enter a freefall of up to 120 miles per hour. These experienced skydivers hope their enthusiasm for diving is catching, as one of them says: "The falling is so exhilarating, I just wanted to keep on doing it".
551 Airport Rd.
Fernandina Beach
Florida
904-625-2062
The red and black ship cuts through the waters of Matanzas Bay, its sails waving in the wind. On deck, members of a pirate crew call one another by names such as Oly Mackarel, Jaybird, Anastasia, Clipper, and Dirty James as they cavort between bow and stern, dazzling their audiences. Their ship, the Black Raven, was designed as a floating live performance theater—and accommodates more than 120 passengers as a crew of performers in full buccaneer dress produce interactive and dynamic plays in the spotlight. The actors work the crowd with a variety of rehearsed but unscripted skits, geared toward audiences of all ages, and may change their performance to engage specific audience members.
111 Avenida Menendez
St. Augustine
Florida
877-578-5050
Wooded areas filled with abandoned automobiles, empty houses, and overturned barrels might evoke the set of a gritty war movie, except for one detail: they're all covered in colorful splotches. These are some of the sights on the six unique fields at GTF Paintball, which host colorful mock battles on their expansive outdoor property. Whether participants stage urban combat on The Houses, or take to The Village to engage in fast-paced rounds, they can lose themselves in settings that simulate both real-life battle and pranks played by expressionist painters. No matter what the scenario, GTF places an emphasis on safety by chronographing markers and requiring goggles in all playing areas.
700 Goodbread Rd.
Yulee
Florida
904-548-7256
Amelia Island Ghost Tours unmasks the island's spooky side, weaving groups through the streets of Fernandina on treks that combine eerie vibes with educational tales. Led by an insightful guide, tours trace through a history addled by piracy, plunder, and death, all while exploring the area's shadowy nooks that are haunted by paranormal activity almost nightly.
96215 Light Wind Dr.
Fernandina
Florida
904-548-0996
---
---
Outdoor Activity Deals - Recently Expired
---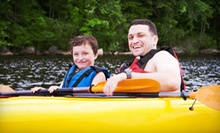 Four-hour kayak rentals and included supplies help visitors explore the saltwater trails of Amelia Island in one- or two-person vessels
---
---