Restaurants in Saint Augustine
---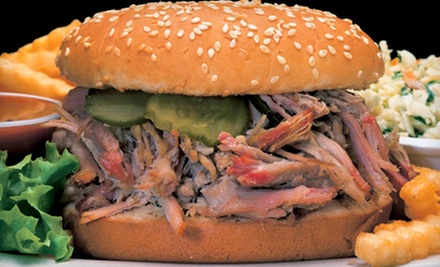 ---
Recommended Restaurants by Groupon Customers
---
Dough spins and jumps off chefs' fingertips before being topped with tomato sauce and fresh basil to become margherita pizzas or accumulating salami, black olives, and tomatoes to become a meaty Siciliana pie. Italian-born chef Lorenzo Iacopelli curates a menu of classic pizzas, pastas, and sandwiches, all served in a casual dining room with Italian memorabilia and checkered tablecloths.
9210 San Jose Blvd., Suite 1
Jacksonville
Florida
US
Clara learned early on that consistency and fresh ingredients were important to the tastiness of a sandwich, but a friendly face and convenience were vital to the success of a business. Starting in 1985, Clara began making sandwiches, pita specials, and homemade chicken and tuna salad. She partnered up with Greg shortly after and together they powered the success of Clara's Tidbits. Today it serves sandwiches and salads from it's location in the the San Marco area in addition to delivering lunch, which has the effect of giving the restaurant infinite locations—just like time, space, and Frank Lloyd Wright houses.
1076 Hendricks Ave.
Jacksonville
Florida
Amid scenic murals of rolling countryside pastures, diners peruse a menu chock full of Italian favorites, including pastas and four different styles of pizza. Behind the scenes, cooks infuse chicken piccata with garlic, capers, and hints of lemon and load philly steak sandwiches with onion and mushrooms. On the pizza side, they layer New York–style meat-lover pies with five types of meat and speckle gourmet creations with everything from steak to barbecue chicken.
9210 San Jose Blvd # 1
Jacksonville
Florida
US
After testing out his recipes at a few local and state fairs, French Fry Heaven's founder, Scott Nelowet, decided to give the people what they wanted: delicious fried russet and sweet potatoes customizable with gourmet toppings. Classic fries, known as Angels, come in set combos such as Dutch Angels with mayo, or Baked Tater Angels with cheese, bacon, and chives. Sweet-potato fries, known as Saints, come in combos such as Breakfast Saint with maple syrup or Kenberry Saint with blueberry and vanilla.
4663 River City Dr.
Jacksonville
Florida
904-998-7156
Horizons Continental Cafe owner and head chef Courtney Thompson unleashes Asian and Italian influences on a menu of continental fare. Like passengers on the world's slowest merry-go-round, dishes step in and out of rotation weekly, keeping the menu stocked with surprises. Lunchtime yields café fare such as grilled paninis and seafood salads, and during dinner, chefs typically simmer fish fillets and steak in savory wine sauces. Horizons' catering services can craft a customized menu for an off-property event or allow access to the second-floor dining area for an intimate hang-glider-launch event.
4828 First Coast Hwy.
Amelia Island
Florida
904-321-2430
The door opens and beaded Peruvian curtains clack a greeting to the arrivals. As the new diners sit, the sun, too, sits on bay windowsills and turns the orange walls a rich burnt red. Weekend live music strikes up and Pisco's waiters erupt from the kitchen, arms lined with lime-infused ceviche and plated morsels of octopus and mussels. As three flat-screen TVs broadcast the Peruvian station and remind diners of the owners' native roots, stir-fried chicken and steak entrees descend upon tables beside posses of plantains, roasted corn, and fresh cilantro. While sipping on sangria or lemonade, patrons can peek into the banquet room to prophesy a possible get-together or peek into a neighbor's traditional corn drink for prophecies from the spirit of Orville Redenbacher.
4131 Southside Blvd., Suite 101-102
Jacksonville
Florida
---