Nightlife in Saint Charles
---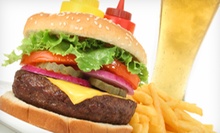 Throw a bash with three hours of all-you-can-drink libations and appetizers for up to 10 people; enjoy classic pub eats at two locations
---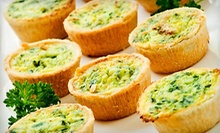 Bartenders fuel outings with spirited beverages, appetizers, pizza, & brisket sandwiches inside setting with live local bands & karaoke
Use Tuesday 4:00pm - 10:00pm
---
Recommended Nightlife by Groupon Customers
---
Ditch your bottles, cans, and solo Solo cups for glassware, friends, and frank conversation with today's Groupon to Absolutli Goosed. You get $35 worth of culinary cocktails and snacks for $15. Let the buzzing atmosphere and liquor-wafted evening play muse to your inner mixologist and request whatever concoction you fancy. Whatever you choose, it's likely to be on Absolutli Goosed's exhaustive and innovative drink menu ($6 and up). Follow @Groupon_Says on Twitter.
3196 S Grand Blvd
St Louis
Missouri
US
For $10, you get $25 worth of pub grub and drinks at Three Monkeys in Tower Grove Park. This neighborhood gem features a Cheers-like setting, modestly priced plates, and sparkling neighborhood-gem-like drinks more thirst-quenching and tantalizing than the huge gem-like diamond astronomers found in outer space in 2004.
3153 Morganford Rd.
St Louis
Missouri
US
Llywelyn's menu introduces an impressive assortment of traditional pub classics to salads, flatbreads, wraps, and ambitiously portioned sandwiches. Start with an order of Welsh potato chips ($3.95); flaky, fried Irish pies ($7.95); beer-battered fried pub pickles ($7.25); or the much-talked-about chicken chili ($4.95 for a bowl). Then wrap mouth muscles around fish and chips ($10.25): two beer-battered and fried cod fillets served with house-made tartar sauce. From meaty chunks of lamb, potatoes, carrots, mushrooms, and green beans swimming in Guinness-Jameson stock ($9.95) to shepherd's pie ($10.95), the selections side well with a sudsy sip. The beer menu includes an exhaustive library of selections by the draft or bottle. Llywelyn's also offers a menu of kid-friendly fare.
100 N Main St.
St. Charles
Missouri
The intimate Grove bar and performance venue plays host to a diverse mix of musical stylings, offering everything from up-and-coming hip-hop artists and bluegrass bands to under-the-radar rock, jazz, funk, pop, and reggae. Cover prices vary but are typically in the $5–$20 range. With a capacity that caps at about 300, the small space allows for ease of viewing and close-range undergarment flinging, guaranteeing your knickers will lasso the targeted drumstick every time. Every Wednesday at The Gramophone, the amateurs take to the stage in a weekly cover-free open-mic night; for the rhythmically possessed, the club hosts a bi-weekly DJ-spun dance party, allowing for ease of score-settling dance-offs or move-assisted seductions.
4243 Manchester Ave.
St. Louis
Missouri
Framed memorabilia, celebrity caricatures, and TVs line the walls at Weber's, a neighborhood pub that takes pride in its chow and sociable setting for taking in the game. Topping the expansive menu is the pork tenderloin ($8.99), made of tender-cut, juicy meat that's flame-broiled and lovingly basted in your choice of Cajun or Jamaican spice sauce. Spice up lackluster stickball championships with the hot, meaty chicken wings ($8.99 regular, $11.49 platter), or start your own stickball game with cheese-stuffed Bosco sticks ($6.99). Sandwich artists can build a burger (starting at $7.99) or nosh the Mardi Gras burger ($8.99), which bedecks a charbroiled ground chuck patty in shrimp sauce, Cajun spice, and a rhinestone jumpsuit. Your Groupon is also good for drinks; Weber's offers an array of beers on tap and by the bottle.
8169 Big Bend Blvd.
Webster Groves
Missouri
Owner and entrepreneur Jim Callahan describes Jumpin' Jupiter as "a 1930s Hollywood glam party rolled in velvet, crystals, glitter, and gold––a place you'd expect Dean Martin to kick back, have a martini, and tell dirty jokes." As reported by the Maplewood-Brentwood Patch, the venue was inspired by Jim's favorite movie, Who Framed Roger Rabbit, and features nightly shows ranging from vaudeville and Vegas-style burlesque to fire-wielding, improv comedy, synchronized whittling, and acrobatics.
Red velvet curtains flank the 27'x18' stage like pigtails, hiding corseted ladies and shirtless gentlemen awaiting their cues to juggle, belt high notes, or recite state capitals in reverse alphabetical order. Enormous chandeliers hang from the ceiling like dangling crystal earrings, casting flecks of light on tables and patrons dressed to the nines in 1930s garb. Inhabiting a full quarter of the space is a drink counter, which the staff refers to as the Titanic bar, due both to its size and its shortage of life rafts. There, patrons can chug a PBR, sip a specialty cocktail, or request bottle service with liquor ranging from Stoli elite to absinthe and Courvoisier.
Callahan has also solicited the fine-dining chops of Chef Israel "Izzy" Rodriguez, who can accompany the entertainment with several courses, small plates of steak and shrimp, or a modern take on movie popcorn with accents of truffle. Before and after the show, guests can sip a brew at Jupiter's separate lounge, or question Callahan about his in-house recording studios, an ideal space for laying down a hot beat or lying down with a cool bowl of beet soup.
7376 Manchester Rd.
St. Louis
Missouri
314-645-5867
---