Saint Clair Shores, MI Spa and Massage
---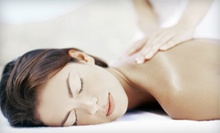 Certified therapists foster relaxation and pain relief through reflexology or Swedish massage
---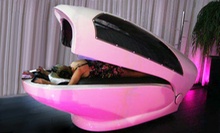 Automated pod works to loosens toxins during 30-minute appointments
---
Recommended Spa & Massage by Groupon Customers
---
Lymphologists and lumberjacks concur that a Swedish massage is an invaluable ally in the ongoing quest for total health. Swedish massages employ several styles of expansive and ebbing strokes to relieve tension, mellow the muscles, and restore free-flowing fluency to the toxin-dispersal chutes of the lymphatic system. During effleurage, the hands smoothly circle the skin like epidermal ice skates as a primer for renewed venous and lymphatic circulation. The petrissage and tapotement strokes knead and knock on pressure points in the humanhide, while friction strokes untie the knots in the shoelaces of your muscle fibers. The vibration stroke goes all "cell-phone setting during a ballet" on the back and the limbs to get blood and muscles moving. The lesser-known high-five move at the end of the Swedish massage generates camaraderie and coolness.
47729 Van Dyke
Shelby
Michigan
Magdalena Cap's training as an aesthetician began more than 33 years ago in Czechoslovakia, where she studied dermatology and cosmetology. Three years later, the licensed aesthetician opened her own spa, where she has continued providing European-style facials and spa services for the ensuing three decades. Magdalena is joined by a loyal staff of licensed cosmetologists, massage therapists, nail technicians, and electrolysis experts, many of whom have worked with her for more than 10 years. The staff undergoes continuing education in an effort to ensure that all of their facials, peels, and rejuvenating treatments take advantage of the most advanced techniques. Like a park ranger building a nest, the team also draws on a wide range of natural ingredients including pumpkin and seaweed.
6535 Rochester Rd., Suite 105
Troy
Michigan
248-524-0464
Nestled within Breathe Pilates and Fitness Studio, Katnandu Aesthetics transforms exteriors with everything from manicures to waxing. At the helm is skilled aesthetician Rebecca Belisle, who draws on more than 12 years of experience as she embellishes nails with bright gel and acrylic overlays or renews facades with skin-smoothing microdermabrasion. Whether doling out services in her studio or travelling to customers' homes, Rebecca enjoys meeting new people every day and strives to set them at ease as she deftly applies mascara and shadow to help faces stand out in wedding photos or department-store surveillance tapes.
1670 Wyandotte St. E
Windsor
Ontario
519-995-5613
The licensed massage therapists at Center for the Healing Arts & Massage have reduced the stress of half a million clients in the past 20 years. Their extensive experience earned them nominations for CityVoter's Best Massage in 2011 and 2012, and includes expertise in 10 different massage modalities. They can soothe the senses with an aromatherapy massage, or use a deep-tissue techniques to address chronic pain from stress or wearing sweaters made of steel wool.
The center shares the crew's vast knowledge by training up-and-coming massage and reflexology professionals at an in-house school. They also promote wellness via nutritional supplements, relaxing spa treatments, and behavior-changing hypnotherapy.
40580 Van Dyke Ave., Suite D
Sterling Heights
Michigan
586-268-5444
Always looking for the best ways to help the well-being of her clients, owner Anne-Marie Rathburn has pursued training in a number of massage modalities including myofascial release, craniosacral therapy, and lymphatic drainage. Amid the soothing, zenlike decor of potted plants and hardwood accents at East Windsor Massage Therapy Clinic, she leads a team of other registered massage therapists who work to improve joint mobility, release endorphins, and help trapped "ahhs" to escape from bodies with massage therapy that may include heat or ice, jade stone, or organic herbs from Thailand.
2740-12 Jefferson Blvd., Unit 12
Windsor
Ontario
519-946-0210
Tree of Life's dedicated therapists ease aches with restorative massages performed in serene rooms while soft music permeates the air. After determining each client's desired outcome and preferred treatment areas, they hunker down to untie tricky muscle knots and french braid fraying tendons. Smooth, gliding strokes culled from several massage modalities tend to overworked muscles and melt tension into a conveniently positioned bucket. The enticing aromas of pure essential oils fill the air during treatments, promoting relaxation for all of the senses.
15200 E Jefferson Ave., Suite 108
Grosse Pointe Park
Michigan
313-879-3358
---