Yoga in Saint Clair Shores
---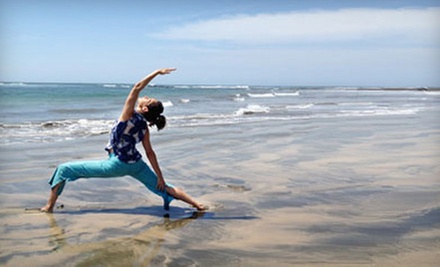 Grosse Point Farms - The Hill
---
Recommended Yoga by Groupon Customers
---
While critics laud Canadian-imported comedians, crooners, and hockey stars, Canada is also known for the liberal scientific-workout ethics that gave birth to a genetically engineered exercise more useful than square watermelons and seedless squares. Spynga is a hybrid exercise species of Canadian origin that combines the slow, focused poses and stretching of yoga with the heart-thumping intensity of cardio spinning. The two exercises are not performed simultaneously, as severe and violent tangling would be unavoidable; instead, they are performed one after the other. The skilled and motivational instructors at Buddhaful coach students through a stationary-bike session, revving hearts up to a maximum beating point. This calorie-burning workout is immediately followed by a yoga mat session on the studio's expansive hardwood floor. Muscles, joints, and tendons pushed to their limit by the bike session are stretched and relaxed, easing post-workout pain and tension while aiding in the development of core strength. The studio also offers classes that concentrate solely on yoga or spinning if students prefer to master the techniques separately before attempting a double major. Classes are offered daily; check the schedule and call to reserve a space.
1846 Coventry Rd.
Cleveland Heights
Ohio
When Gina Wasserlein received a Bryan Kest yoga video from a friend, she had no idea it would change her life. After practicing its routines for several months, she felt tall, light, and happy, like a balloon giraffe filled with laughing gas. Drawing upon experience from the worlds of fitness and grade-school teaching, she founded Downtown Yoga Studio to help fellow yogis unlock the joy and wisdom that lie within. Knowledge gleaned from her teaching staff and mentors such as Jonny Kest has shaped her class lineup, which explores yogic traditions such as Ashtanga and Kundalini. Filled with basic poses and breathing exercises, beginners' classes build enough strength, flexibility, and focus to dance Swan Lake in cast-iron chainmail. Advanced practitioners can challenge their minds and bodies during hot power yoga classes, whose elevated temperatures promote deep stretches and toxin release.
315 Pelissier St.
Windsor
Ontario
519-254-3111
As early as 6 a.m., students of all skill levels gather at each of Center for Yoga's four locations, prepared to wake up muscles and minds with stretches and meditation in a variety of yoga classes. During Vinyasa-style classes, the Center's dedicated instructors lead groups through a sequence of poses, linking one to the next with continuous movement and mindful breathing. Students looking for deep stretching flock to Yin yoga classes, in which they hold poses for five to seven minutes at a time to relax the body's connective tissues and fool confrontational T. rexes' movement-dependent eyesight. Members of the studio's teacher-training program lead Saturday community classes, in which patrons can revitalize their minds, bodies, and spirit animals with a complimentary slow-flow session suitable for newbies and students nursing injuries. Meditation rooms and showers help yogis shift back into their daily routines after their mind-body practice.
6710 Orchard Lake Rd.
West Bloomfield
Michigan
248-865-9642
Heat softens and soothes, as anyone who has ever stretched out in the warm sun knows. Studio director and seasoned yoga instructor Susan Stencil puts that power to use with help from a dynamic team of instructors at Clarkston Hot Yoga. Muscles stretch easily in hot-yoga classes, and exhilarated breaths punctuate Hot-Pilates, boot-camp, and Zumba classes. The instructors also go above and beyond the typical boundaries of yoga, incorporating isometrics, weights, and breathing exercises. Doctor of Chiropractic and Olympic coach King Rollins developed the techniques, which help build the strength to win arm-wrestling matches and the poise to let a boss always win at arm wrestling.
5678 Sashabaw Rd.
Clarkston
Michigan
248-620-7101
Yogi Jason Schramm, inspired by the daily struggles of the city he loves, named his studio in its honor. Within the school's two locations, he draws upon 10,000 hours spent teaching to show students how to find inner peace and use it to effect change. The instructors use ancient yoga poses to propel pupils inward, and Schramm lets subtle influences from martial arts shine through in some courses. Ashtanga classes summon sweat with vigorous poses that build strength and flexibility, and Vinyasa techniques weave movement, stillness, and deep breaths into a dance-like sequence that changes daily. In addition to leading classes in his studios, Schramm imparts poses over Skype, which lets yogis practice without leaving home or admitting they are tangled in Christmas lights.
1216 Catalpa Dr.
Royal Oak
Michigan
248-545-5596
While almost everything else that is five millennia old has fossilized, the ancient practice of yoga remains relevant. At The Yoga Studio of Shelby, teachers with a minimum of 200 training hours teach students the age-old art, which builds strength, enhances flexibility, and aids with stress management. The studio's classes range from hot Vinyasa, which is a flowing style taught in an 85-degree room, to Hatha, where meditations help to clear students' minds without making them forget their Social Security numbers. Expectant mothers can stretch with low-impact poses in prenatal-yoga classes. Studio workshops on partner yoga, meditation, and other specialty topics round out the schedule.
47409 Van Dyke Ave.
Shelby Township
Michigan
586-991-0760
---