Saint Cloud, FL Outdoor Activities
---
Recommended Outdoor Activities by Groupon Customers
---
Inspired by his own love of exotic cars, Joe Sabatini's Festivals of Speed has been parading a fleet of the world's snazziest automobiles before crowds at several fancy Florida hotels and resorts for a full decade. His who's who list of cars includes vintage and contemporary models from Porsche, Lamborghini, Bugatti, Rolls-Royce, and Aston Martin, some so frighteningly aerodynamic that the wind refuses to blow on them. All rest in silent repose, waiting to be unleashed to qualified drivers through a special Ride and Drive program.
To complement the automotive elegance, the event planners have made arrangements for soft jazz, luxury lifestyle displays, and sumptuous snacks perfect for tossing to Bentleys as they hop up on their hind wheels. The festival also attracts speedy species of watercraft, aircraft, and custom motorcycles, as well as classic and restored cars submitted by local auto enthusiasts. Alongside its vehicle lineup, the festivals also showcase jewelry, fine art, real estate, and culinary gems to cater to all manner of luxury aficionado.
4012 Central Florida Pkwy.
Orlando
Florida
The sound of basketballs bouncing across hardwood floors and splashing through nets charges the air at the NBA All-Star Jam Session. There, young hoops fans dribble and dunk their way through 40 interactive NBA-themed attractions. Players can showcase their shooting, dribbling, and passing abilities in the skills challenges, and a Kids Zone gives tykes the ability to rattle rims with windmill dunks and get in the All-Star spirit. NBA legends past and present also will make regular appearances throughout Jam Session to mingle with fans, sign autographs, and trade soufflé recipes.
9400 Universal Blvd.
Orlando
Florida
407-685-9800
The Jewish Community Center of Greater Orlando was founded to give those who share the Jewish tradition a communal setting in which to exercise, play, and learn with one another. Between them, the two locations boast full fitness facilities, tennis courts, and an outdoor pool. Group exercise classes and a gymnasium aid adults in acquiring fitter bodies, and sports leagues provide a venue for grownups to compete and ceremoniously dump sports drinks on each other. The center also puts on its own full-blown theatrical productions.
The center's staff tailors certain events to the needs of senior citizens, helping them with exercise regimes such as yoga. Staff members also assist the Senior Nite club in organizing trips to new restaurants or the theater and help pintsize guests by helming a preschool, kids' camps, and extracurricular programs. Staffers can even pick up youngsters from school and ferry them to one of the facilities for afterschool development programs, which, like backyard mazes, are designed by the child's parents to challenge young ones.
11184 S Apopka Vineland Rd.
Orlando
Florida
407-387-5330
Constructed in 1886, the residence now known as Haunted Grimm House sheltered the Grimm family funeral business until a triad of unfortunate events—the stock-market crash, a Grimm son's gradual descent into insanity, and a murderous butler—brought the clan to a macabre end. Nearly 100 years after the house's construction, the Old Town council⎯afraid to tear the building down lest they rouse wrathful spirits⎯decided to open the two-story home for tours.
…Or so visitors to Haunted Grimm House are told before embarking on 10- to 15-minute treks through the spooky structure's more than 4,000 square feet. Via winding corridors, patrons peek into the Victorian-style dwelling's 20 rooms, which claim to teem with ghouls, monsters, and chiropractors extracting the chills from spines.
5770 W Irlo Bronson Memorial Hwy., Suite 218
Kissimmee
Florida
407-397-2231
Operating daily from 9:30 a.m. to 4 p.m. in the winter, the cozy, heated trolleys at Old Town Trolley Tours pick up and drop off riders at 18 stops throughout the city. Riders can hop on and hop off at their leisure, with trolleys frequenting stops every 15–20 minutes. With ticket in hand, trolley riders will also receive a well-stacked coupon card and free admission to Boston's oldest surviving public building, the Old State House Museum, which has outlived both gravity and Washington's wooden molars. Other stops include the New England Aquarium, the Boston Skywalk Observatory, Fenway Park and the Boston Children's Museum.
5770 W Irlo Bronson Memorial Hwy
Kissimmee
Florida
USA
Old Town Trolley Tours take viewfinders on extensive, fully narrated tours of San Diego's lively landmarks and a hundred individual points of interest. With this deal, you get admission to two separate tours:
5770 W Irlo Bronson Memorial Hwy
Kissimmee
Florida
USA
---
---
Outdoor Activity Deals - Recently Expired
---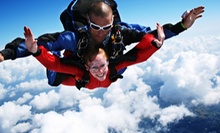 Licensed skydivers provide on-ground instruction before tandem jumps during which they verbally guide students throughout 2-mile drop
---
---
---