Saint Joseph, MO Outdoor Activities
---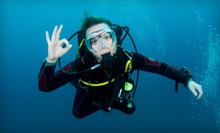 Use Tuesday 11:00am - 4:30pm
---
Recommended Outdoor Activities by Groupon Customers
---
Witness high-flying college teams making it rain from three-point range while defending shots with their armbrellas. Established in 1937, the inaugural NAIA Tournament has called Kansas City home for 74 years. Featuring 32 teams pivoting and sprinting atop a lustrous hardwood battlefield, it has grown to be known as the longest-running collegiate national championship tournament in the country, not counting the infamous Skull and Bones Underground Cavern Games that took George Washington's real teeth. This year's tourney will feature several trophy-hungry NAIA teams, such as potential participants Martin Methodist College, Texas Wesleyan University, and NAIA top-ranked Mountain State. Behold a flurry of high-flying buzzer beaters and frustrating defensive schemes at the Kansas City tradition that has featured such big names as John Wooden, Dennis Rodman, and Terry Porter.
201 West 13th Street
Kansas City
Missouri
Powell Gardens is Kansas City's botanical garden, just east of KC on Hwy 50. With two cafes, a chapel, the nation's largest edible landscape + acres and acres of gorgeous gardens, it's an outing the entire family will enjoy.
1609 NW US Hwy. 50
Kingsville
Missouri
Prompted by the nod of the lifeguard's head, the intrepid swimmer takes a deep breath, closes his eyes, and bravely flings his body into the dark confines of the Barracuda Blast. The slide's gushing flume speeds its intrepid passenger down covered loops and twists until it spits him out unceremoniously into the warm waters of the pool below.
Boasting a host of aquatic activities, along with nearly 1,000 feet of water slides including the fearsome Barracuda, CoCo Key unleashes the inner merpeople of guests of all ages. Stationed along the pool and at each attraction, licensed lifeguards keep their eagle eyes peeled to ensure the safety of their guests as they play water basketball or engage in leisurely floats down Adventure River. Nearby, a zero-depth-entry kiddie pool serves as a merrymaking haven for children or recently unbottled miniature ships less than 48 inches tall, and a sun-drenched outdoor tanning deck enables visitors to bask in skin-browning rays. To prevent growling stomachs from interrupting watery romps, crews of chefs bustle about CoCo Key's dining facilities, whipping up culinary sustenance for hungry swimmers.
9103 E 39th St.
Kansas City
Missouri
MVPs, Gold Gloves, and a World Series title pepper more than 40 years of Kansas City Royals history, replete with powerful pitches and bat-cracking home runs. The recently renovated Kauffman Stadium treats visitors to a giant high-definition video board, which wears a 40-foot crown and waves a scepter made of massive glow sticks. During breaks in the action, fans can visit concessions stands, play mini golf in the kids' area, or count each of the stadium's 37,903 seats. Open until the top of the eighth inning, a 7,000-square-foot Hall of Fame guides guests through a maze of memorabilia, including photos of Royals past and future.
1 Royal Way
Kansas City
Missouri
800-676-9257
Lush greenery, stone-trimmed ponds, and sun-soaked bridges give the 18-hole Championship course its storybook beauty. Designed by notable local architect Don Sechrest, Adams Pointe features challenging elevation variation, scenic holes, and a front nine that includes one of the toughest par threes in the Kansas City area, according to Tee Times Golf Guide. A GPS cart preserves golfers' precious energy reserves as they play through the course's 18 holes (up to a $49 value). Hone skills until they're sharper than the scythe that shreds children's dreams, and knock off a small bag of balls (30–40 per bag, $5 value) on the acclaimed driving range. After the game, celebrate with a liquid of choice: domestic beer, bottled water, or a pop ($3 value).
1601 R.D. Mize Rd
Blue Springs
Missouri
Among the world's first underground paintball arenas, Jaegers Paintball Complex spans six subterranean fields, all housed within one of Kansas City's oldest limestone mines. Holding at 56 degrees year round, these cave-like playing fields give marksmen cover in the form of limestone columns, stacks of barrels, and upturned cable spools. When the weather warms, Jaegers' team ventures above ground to supervise four outdoor fields, where plywood structures and tree-cast shade present obstacles and cover for weekend games of hyperpipe, woodsball, and speedball. Back underground, experienced gunsmiths man a pro shop, where they dispense advice and repair gear. A refreshment area provides respite between games—players may bring their own food or order delivery from a nearby Pizza Hut. Further amenities include soda machines, WiFi, and free views of coffee-table books depicting historic paintball battles.
9300 NE Underground Dr.
Kansas City
Missouri
816-452-6600
---