Education & Classes in Saint Louis
---
Education & Classes Deals
---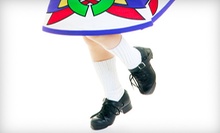 During 60-minute classes, instructors guide up to 15 beginning students aged 4 and older in foundational footwork of jigs and reels.
Use Saturday 6:00am - 9:00am
---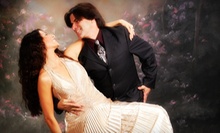 Friendly instructors guide novices through beginning salsa steps on 4,000 sq. ft. floating oak dance floor
Use Wednesday 3:00pm - 6:00pm
---
Recommended Education & Classes by Groupon Customers
---
Just Dancing's team of experienced instructors, which includes international competitors and dancers who train with former US champions, teaches budding dancers of all ages several styles, including swing, foxtrot, and salsa. Instructors offer private and group lessons for individuals and couples, dividing most group classes into beginner, intermediate, and advanced sessions so students can learn alongside those of similar skill levels. Staffers also lead nontraditional group classes such as classical Indian dance and yoga in addition to arranging special numbers for math-themed wedding ceremonies.
236 Old Meramec Station Rd.
St. Louis
Missouri
636-227-7202
With more than 11 years of cross-country dance experience, Almas Del Ritmo Dance Company LLC's artistic director and certified Zumba instructor Carmen Guynn promotes cultural awareness during a range of Latin and Afro-Caribbean dance classes, including Zumba, salsa, and bachata. The dance haven derives its name from the Spanish words for soul and rhythm, which Guynn hopes will inspire her students to summon their inner selves on the dance floor without toting along heavy x-ray machines. In addition, the studio donates money to charities such as International Crisis Aid, Feed the City, and the Ronald McDonald House.
3515 Park Avenue
Saint Louis
Missouri
314-651-2908
At Dave Simon's Rock School, dedicated instructors help students develop musical abilities through programs centered on collaboration and live performance. In addition to private lessons, the school provides a venue for kids to cultivate skills and build confidence using the same cooperative methods that professional bands use when persuading the tour-bus driver to stop for tacos. Working together according to their experience level and skill, bands apply musical theory to perfect their sound among their ensemble, eventually presenting live shows and recording a CD in the facility's state-of-the-art studio.
1305 Baur Blvd.
St. Louis
Missouri
314-692-7625
The staff members at Sylvan Learning's numerous study facilities understand that each child learns differently. Therefore, they don't try to implement a uniform tutoring system; instead, they design custom lesson programs based on the results of standardized testing, diagnostic tools, and one-on-one interviews.
Tutors work with students from kindergarten through grade 12, illuminating topics ranging from basic reading and writing to remembering complex algebraic formulas without having them tattooed on your chest. Many of Sylvan's instructors work in local schools, so they are intimately familiar with common curricula and understand how to gear lessons toward optimal results. After-school and summer classes can ready high-schoolers for the rigors of the ACT or the SAT, or they can help students to wow college-admissions officers with their superior essay-writing skills.
453 North Lindbergh Blvd.
Creve Coeur
Missouri
Discover World Cuisine promotes local agriculture through a series of community programs that highlight locally sourced ingredients as well as the restaurants and cafeteria food fights that use them. The consortium of chefs, sommeliers, and foodies hosts cooking classes and dinners throughout the summer months that spotlight dishes from Europe, South America, and the Caribbean. Organic food and wine festivals also feature international nibbles as well as live music and giveaways.
Proceeds from the events support Discover World Cuisine's community outreach program, which partners with area schools to introduce kids to new foods and help them develop healthy eating habits. Classroom sessions balance hands-on instruction with activity sheets to teach students to select and prepare low-cost, nutritious meals.
3108 Morgan Ford Rd.
St. Louis
Missouri
---