Professional Services in Saint Louis
---
Professional Service Deals
---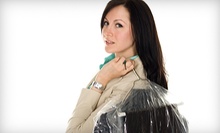 Staff of eco-friendly dry cleaners restores clothes to stain-free states, with same-day service for drop-offs made before 9 a.m.
Use Monday 7:30am - 9:00am
---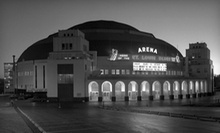 24" X 36" black and white poster commemorates iconic St. Louis creation and 26-page book details the building process with vivid photographs
Use Tuesday 10:00am - 5:00pm
---
---
Recommended Professional Services by Groupon Customers
---
Named the city's best portrait-photography studio by CityVoter in 2010, The Studio—a full-service portrait studio—maintains a separate department dedicated to boudoir photography. The studio's three female photographers have worked together for more than a decade, helming tasteful yet sensual shoots for women of all ages and body types. Subjects can pose in outfits ranging from delicate lingerie sets to corsets, nighties, or artfully draped men's shirts; licensed makeup artists and hairstylists finish off looks with custom touches that range from a natural, girl-next-door vibe to a dramatic, girl-from-Valley of the Dolls look. For outfit changes, subjects can return to the studio's private dressing room, and after shoots have concluded, they can sift through their finished images in a separate viewing area.
1900 McCausland Ave.
St. Louis
Missouri
314-644-0734
At Westrich Photography, photographers create a clean, classic look while framing memorable moments and graduation portraits. They capture the personality of brides and grooms, kids and teens, or groups of pets sneaking into corporate functions in crisp black and white or rich colors. Before taking photos, staff consults with clients first to work out a location and clothes for the shoot.
7925 Clayton Rd.
St. Louis
Missouri
314-721-3300
Though the professional lensman behind davidjstudios specializes in wedding photography, he strives to make every shoot capture something as memorable as the big day. To do so, he builds relationships with his clients, earning their trust and comfort during what can sometimes be an awkward situation. Instead, his shoots are relaxed, natural, and professional, gaining him nods from WeddingWire and CityVoter.com. He snaps images at locations throughout the St. Louis area, and helps clients customize items such as photo albums, invitations, and magnets strong enough to post their albums to the fridge.
4979 Ambs Rd.
St. Louis
Missouri
314-892-3922
Over the course of their 50 years of business, Apple Cleaners has kept up with the demands of ever-emerging, ever more finicky fabrics. Today, it combines its updated equipment with two types of cleaning solution, granting the flexibility to tackle stains in a full range of fabrics, from wool to cotton to various blends. Eager to show off their quality handiwork, the staff can expedite cleaning orders for next-day and delivery services.
12337 Old Halls Ferry Rd.
Florissant
Missouri
314-355-5200
TVPro audio and visual professionals have worked to preserve and enhance customer memories since 1984. When converting media in their studio, team members carefully handle tapes with skill gained from years of handling analog formats. They upload audio from reel-to-reel tapes, vinyl records, and audio cassettes onto digital CDs and convert 8mm and 16mm film to DVD to keep footage from being permanently lost to damage or natural deterioration. In addition to transferring files to digital media or cyborg braincases, TVPro documents weddings and special events, and has been ranked by CityVoter as the Best Videographer in St. Louis.
1802 S 9th St.
St. Louis
Missouri
314-436-9314
The Tintypery's shutterbugs have been capturing sepia-tone memories inside their old-time photography studio for the past 30 years. Before each photo shoot, customers don authentic costumes, which range from the 1860s through to the 1930s—guises include cowboy hats, pinstripe suits, Victorian gowns, and glum facial expressions. Once families and groups gather around whiskey barrels, rifles, and oil-lamp set pieces, they can choose to pose with historically accurate props: southern belles may swish delicate lace fans and Civil War soldiers may pose with their trusty sabers. Kids too can join in the fun by dressing up as masked bandits or other period characters. Not to leave anyone out, Tintypery also welcomes pets as long as they respect the customs of the past by covering up with a bandana or modest pantaloons.
510 S Main St.
St. Charles
Missouri
636-925-2155
---