Pet Services in Saint Matthews
---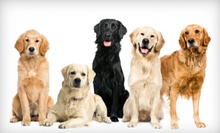 Fully insured, 24-hour staff supervises dogs as they play off-leash in outdoor and indoor areas or snooze slumber-party style
---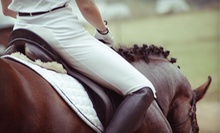 Enthusiastic instructors lead students over 150 acres of rolling Kentucky pasture or teach them proper equitation techniques
---
Recommended Pet Services by Groupon Customers
---
Pam Graham's devotion to horses spans more than 30 years, of which she spent more than a decade as a full-time groomer for some of the nation's premier trainers. Leveraging her experience in breeding and foaling, Pam keeps horses in good health and fine spirits by caring for them in the familiar confines of their home stables. In addition to caring for the horses of other owners, she's lovingly maintained her herd for more than 20 human years, which translates to about 4 horse years or one one-thousandth of a horsefly year.
For grooming—a skill that Pam teaches on the side at her own clinics—she wields curry, mitt, and rake brushes, each of which contains bristles of a varied thickness to thoroughly soften and shine coats. And when she horse sits, Pam leaves her beauty kit at home and makes one or two visits each day to replenish food and water, deliver supplements, and perform a visual once-over before reporting to owners via phone or email.
Redeem from hom
Louisville
Kentucky
502-724-7391
Aided by a staff of animal lovers who have spent countless hours at rescue organizations, Dr. Kerry Garrity keeps pets healthy by providing a range of veterinary services. Dr. Garrity and her team administer yearly vaccines, examine fractures with the help of digital radiographs, and tend to older pets with specialized geriatric services. They also nurture overweight dogs with Royal Canin Veterinary Diets and counsel new owners on pet-care strategies, such as letting one's canine fetch the paper only after removing the funny pages. After appointments, clients can treat their dogs and cats to accessories from the pet boutique, such as knit-fish cat toys, fleece pet sleeping bags, bowls, and treats.
120 N Clay St.
Louisville
Kentucky
US
502-585-1010
With this package, registered pooches can enroll in any $85 weekly class; classes take place once a week for six weeks. Pre-requisites apply for intermediate and advanced classes, and aggressive dogs and barking cats are not permitted. Young canines get schooled on proper dog-park etiquette, including basic commands, loose-leash strolling, and social interaction, at the Positively Puppies class. For dogs more than five months old, the Manners for Life class effaces improper actions (jumping on people), and the Wallflower class pumps up social skills for shy breeds. Intimately sized classes guarantee ample attention. View a complete list of featured courses here.
1000 Lyndon Lane
Louisville
Kentucky
The experienced, kind staff at The Pet School and Hotel comfort animal guests with private rooms, deft grooming, and training built around positive reinforcement. Each dog that vacations at the Pet Hotel lounges in 36 square feet of climate-controlled space and heads outside five to six times daily to play and practice poses for upcoming calendars. Cats frolic together in a spacious rec room filled with toys, hiding holes, and black holes to absorb their insatiable curiosity while birds nest at the private residence of the owner, who has more than 20 years of experience caring for exotic avians. Dedicated to canines and felines, the Pet Salon's groomers condition coats and skin with oatmeal, protein, and flea baths and specialize in the FURminator technique that clears out matted undercoats to reduce shedding.
11706 LaGrange Rd.
Louisville
Kentucky
502-244-0519
Happy Hounds' firm no-leash policy lets dogs bound around play spaces unfettered, taking full advantage of the fully insured company's 3,000-square-foot facility. Dogs get exercise outdoors and indoors, climbing over and through agility obstacles as attentive staff members look on. Much like elementary-school students or new employees, dogs are separated into playgroups according to temperament, play style, and knowledge of multiplication tables. These like-minded dogs also bunk down together in slumber-party-style sleeping areas, where they snooze on fleece bedding, drift off to classical music, or stay up late playing truth or dare, their safety ensured by around-the-clock staff.
6331 River Rd.
Prospect
Kentucky
502-292-3647
Founded by Saddlebred/Kentucky State Fair Hall of Famer Sam Brannon in 1978, Brannon Stables sprawls over 150 acres of rolling pastures to create an ideal setting for equine entertainment. Enthusiastic teachers lead lessons year-round in the outdoor riding arena when skies are clear or inside the 26-stall barn when rain threatens to smear the horses' hoof polish. Students learn English- and Western-riding styles in a safe and proper manner, regardless of their age or amount of previous experience. Young beginners start with private instruction on the stable's lead line ponies, and older and more experienced riders can participate in group sessions atop more advanced horses.
5012 Ironworks Pike
Georgetown
Kentucky
859-983-0856
---