Things to Do in Saint Michael
---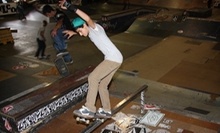 Robbinsdale - Crystal - New Hope
Skilled cement surfers teach budding skateboarders basic skills & tricks
Use Saturday 9:00am - 12:00pm
---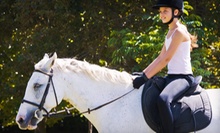 Horses gallop across large indoor and outdoor arenas during private lessons for all riding abilities
Use Today 9:00am - 5:00pm
---
Recommended Things to Do by Groupon Customers
---
Action Packed Paintball's arsenal of combat settings include two outdoor and two indoor locations. Each outdoor field features an urban combat course that conceals opponents behind plywood structures, and a speedball course dotted with inflatable obstacles. After differences are settled on the field, outdoor combatants can retreat to onsite grilling and picnic areas. For those who prefer indoor face-offs, Action Packed Paintball keeps its well-lit Maple Plain location, like the well-orchestrated battles of the Gallic Wars, at a steady 70 degrees year-round. The location's course is set up for speedball, and it also boasts a private party room for friendly revelry. Alternatively, the indoor Minneapolis location invites paint slingers to spar on an urban combat field that dots green turf with stony structures. All locations offer free CO2 and compressed air fills.
14160 James Rd.
Rogers
Minnesota
952-492-6776
Cutting through the still surface, free from the churning wakes and roaring engines of speedboats and snowmobiles, a kiteboarder can lift off more than 40 feet in the air, spin over their shoulder, and land back safely on the water to finish the stunts. An offshoot of Lakawa, the region's leading advisory for kiteboarders and windsurfers, the Lakawa School of Kiteboarding teaches students to ride the water and snow themselves, powered only by the sky's giant oscillating fans. Using gear held to high standards of durability and performance, a team of PASA-certified instructors lead classes during both summer and winter, covering the basics of boarding on a lake even when it's frozen over. The Lakawa School offers a complete online store with all necessary adventure gear. Lessons are also offered in stand-up paddleboarding, a pastime that recreates the fun of being a Venetian gondolier without the stress of tying a tight red ascot.
7241 Deerwood Ln N
Maple Grove
Minnesota
612-296-3201
Ceramist and BonTon Studio owner Mary Anderson has adorned jean pockets with tiny mosaic tiles, transformed a bowling ball into a shimmering orb, and enhanced dozens of homes with her handmade tile installations. At BonTon Studio, she encourages her students to approach their own creations with the same sense of playful experimentation. She welcomes students of all ages and experience levels and equips them with mosaic tips and techniques along with all supplies. Then, she sets them loose to create their own projects, from painted tiles to glowing wine-bottle lanterns to mosaics of their favorite ceramics teacher.
6960 Madison Ave., Suite 11
Golden Valley
Minnesota
612-270-2533
Featherbrook Farm's head trainer and instructor Lisa Avaloz draws upon a lifetime of equine experience and an international network of colleagues. The farm fosters interspecies cooperation through lessons, camps, and birthday parties. Riding lessons instill in young riders the importance of grooming, form, and confidence, rewarding proper handling skills with positive reinforcement. Beginning students start on a lunge line to improve their positioning, strengthen their seat, and gain a feel for their horse. Safety remains of utmost importance throughout the lesson. All students must wear helmets while riding and avoid giving horses celebratory piggyback rides after completing a session.
Featherbrook Farm conducts weekly camps from June to August for 6–14 youngsters at a time. Campers ride twice each day and establish a solid foundation of horsemanship through grooming, first aid, and studying horse anatomy. In addition to education, fun and excitement abound as children play games and make crafts with new friends.
20603 County Rd. 50
Corcoran
Minnesota
612-868-8506
Upon stepping off their boats, soldiers storm the beach and attempt to take over a foreign stretch of land. It's no mistake that this image might conjure up echoes of D-day—Special Forces Paintball's primary scenario reenacts the infamous Battle of Normandy. Real army trucks escort players to a central base camp before they ride boats to the beach, huddle in trenches, and defend their flag by laminating it atop multilevel bunkers. The facility's four wooded fields—spread out across 40 acres—accommodate players during 2-, 3-, or 4-hour private paintball, airsoft, and laser bouts or 5.5-hour walk-on games.
5494 Fairhill Dr. SE
Buffalo
Minnesota
763-682-0582
MN Surf Co. is intent on converting Minnesota's richest natural resource—water—into pure adrenaline. The company has two locations in the Land of 10,000 Lakes, and both stock a wide variety of vessels and apparel to make days on the water exciting, stylish, and safe. First-timers can get their feet wet by renting a paddleboard, wake surfer, wakeboard, or kayak for up to seven days. MN Surf Co. also sells boards, plus wetsuits and tees suited for the beach.
Beyond supplying equipment, MN Surf Co. offers plenty of water-based instruction. Standup paddleboard lessons impart various techniques for mounting boards, paddling, and staying safe. Once students master the basics, instructors show them how to tone muscles with paddling workouts and test their knowledge of basic mathematical concepts by asking for a quick series of high-fives. With options for beginners and advanced water athletes, windsurfing lessons rely on a similar system of positive reinforcement as students learn to cut across the windswept surfaces of Lake Calhoun, Lake Minnetonka, and other Minnesota waterways.
When they aren't building students' self-esteem during group lessons, MN Surf Co.'s crew use the standup paddleboards for fishing expeditions and yoga classes to help fishermen work on their balance before being tugged around in circles by a disgruntled large-mouth bass.
1740 E Medicine Lake Blvd.
Plymouth
Minnesota
218-866-0236
---