Saint Paul Cleaning and Home Services
---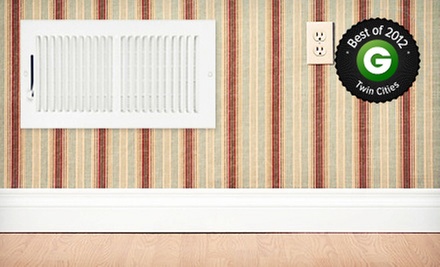 ---
Recommended Home Services by Groupon Customers
---
Harnessing the power of truck-mounted equipment, Great Guys Cleaning's bonded and insured team thoroughly cleans everything from carpets and air ducts to chimneys, upholstery, and wood floors. When refreshing carpets, they use eco-friendly products that won't leave any chemicals behind, while vents and chimneys get scoured free of debris and allergen-producing contaminants with a nylon rotobrush. Their skills also extend to mending tattered carpets and rugs.
999 Elm Dr.
Minneapolis
Minnesota
612-306-2971
Helmed by the Pobuda family for more than 25 years, Village Floor & Wall's skillful services garnered the home supplier a Trillium Award in 2011 for its contributions to a Reggie Award–winning home. Skilled technicians install carpets from Shaw, Stainmaster, and Tuftex to keep uncomfortable tootsies from sneaking out for late-night dalliances on the neighbor's memory-foam mattress. Alternatively, homeowners can opt to line their dwellings with elegant hardwood, classic tile, or durable laminate. Village Floor & Wall also bedecks domiciles above knee-level with granite and stone countertops and window treatments from Hunter Douglas and Kathy Ireland Home by Alta.
2221 108th Ln. NE
Blaine
Minnesota
763-210-3000
Spanning a team that includes master arborists certified by the International Society of Arboriculture, the woody-plant specialists of Premium Tree Protection diagnose and treat ailments such as disease, insect infestations, and nutrient deficiencies. Tree doctors set up free consultations with homeowners to assess both the current health of trees and shrubs and when they'll be allowed out to play again. Based on their findings, the arborists may recommend services that range from dutch elm disease prevention to emerald ash borer prevention or therapeutic treatment. Confident in their track record of curbing the exotic invaders, Premium Tree's forestry experts offer a money-back guarantee on any tree that expires within two years of being treated preventively for emerald ash borers.:
5253 34th Ave. S
Minneapolis
Minnesota
612-554-0054
The ISA–certified arborists at Hayden's Ridge Tree Service specialize in one thing: trees. Since 1986, they have beautified landscapes with a range of installation, maintenance, and removal services. Insured technicians adhere to strict safety standards as they prune trees and shrubs, support struggling trunks with cabling and bracing, or plant burlap-wrapped saplings. Lot-clearing, brush-chipping, and stump-grinding services rid landscapes of tree relics, and tree-removal services accompany community-impact meetings with local Ents. After completing services, technicians clear away any remaining debris, leaving yards spotless.
P.O. BOX 75176
St. Paul
Minnesota
651-239-3672
The Green Guardian nourishes landscapes with an approach that shuns harsh chemicals in favor of effective, all-natural fertilizers, herbicides, and pest-control solutions made from edible ingredients. A proprietary line of products includes vegan herbicides that fertilize lawns as they kill broadleaf and certain grassy weeds, and granular fertilizers that nourish turf with feed-grade corn, soil conditioners, and naturally-occurring microbial stimulants. Pest-control products use odorless garlic to repel mosquitoes, billbugs, grubs, geese, and displaced vampire squid, all without leaving behind an unpleasant smell.
In addition to lawn-care packages and à la carte treatments, The Green Guardian is also registered with DuPont to remove and replace trees killed by the chemical herbicide Imprelis.
889 Pierce Butler Rte.
St. Paul
Minnesota
US
651-646-2900
In September 2008, Hurricane Ike made landfall in Texas, tearing up trees and demolishing entire houses and towns. When the crews at Urban Tree & Landscape, hundreds of mile north, heard about the destruction, they headed down to Houston to help with the recovery efforts. After a tornado touched down in southern Minneapolis in 2009, the arborists cleared debris and felled trees around the clock. This willingness to tackle the hazardous jobs that other tree services turn down is the cornerstone of the business.
The winner of Angie's List 2011 "Super Service Award", the tree experts at Urban Tree & Landscape offer a number of tree services, including pruning of young and mature trees, removal, and untangling rogue paratroopers. Their knowledgeable field reps have fought off the pests that have laid waste to the emerald ashes and oak population using eco-conscious pesticides. Customers have also lauded their landscaping team, who adds value to homes by planting gardens and installing features such as stone fireplaces and outdoor kitchens.
4443 Hiawatha Ave.
Minneapolis
Minnesota
612-532-9996
---