Shopping in Saint Peters
---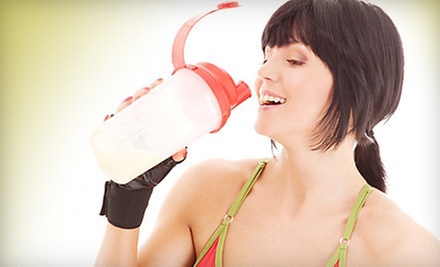 ---
Recommended Shopping by Groupon Customers
---
Laurie Solet is named for owner Laurie Solet, who returned to St. Louis after years spent wheeling and dealing in Hollywood—bringing with her a leather-lined wave of fashion plus three ships laden with beaver pelts and exotic spices. Both of Laurie's boutiques offer a wide range of trendy apparel—including items from designers such as Melie Bianco, Black Halo, BB Dakota, La Mer, Amrita Singh, Candace Ang, and more, as well as Laurie's own private label—in an affordable price range. Pick up basics like an Alternative Apparel "Diane" Burnout V-neck for $45, and accessorize it with a statement Avant Garde "Pierre" double ring for $95. If one shoulder is more flammable than the other, keep it cool with an Ella Moss one-shoulder top ($108) and pair it with a Hobo "Lauren" exotic clutch ($108) stuffed with all your favorite toucans, dodo birds, and coral snakes. Otherwise, keep it light for a beach vacation or desert-island stranding in a Splendid stripe racerback tank ($50) and Free People cargo shorts ($68).
1176 Town and Country Crossing Drive
Town and Country
Missouri
636-527-4139
Like a plant in a sun chamber, your foot-digits will blossom under the possibilities of chic, versatile new styles. Wish Shoes has every possible occasion covered, from weddings to beach outings to simple evenings on the town. Put the best of your five feet forward with a pair of Lucchese pearl leather mid-rise cowboy boots ($450) or the latest gilded Caper flat ($99) from Sam Edelman. Glitzed and glammed runways, meanwhile, will require a shoe with better traction, such as the Cara ($245) from Something Bleu or Beverly Feldman's strutty Layla ($205). A Kate from Carolina Pagano ($230) or Beverly Feldman Buono Animal, meanwhile, will let your little piggies breathe in the fresh spring air while proudly displaying your ankle's wing tattoos to the world.
9765 Clayton Road
St. Louis
Missouri
Located in one of the new art spaces at Crestwood Court, award-winning artist Jeane Vogel's 4,000-square-foot gallery and studio showcases both her traditional and alternative-process photography. Black-and-white and color photographs of haunting, foggy morns and vibrantly hued beaches are displayed alongside dreamlike infrared photographs that capture a spectrum of light invisible to the eye of man, woman, or Sauron. Hand-altered Polaroid paintings (from $45) lend an impressionistic quality to a vintage medium generally employed in snapping covert shots of ghosts, whereas mixed-media paintings (from $245) use soft pastels to extend Polaroid images beyond their confining white borders. For beautiful images that tickle your earlobes as much as your brain lobes, Vogel's Art to Wear jewelry collection displays her Polaroid paintings in miniature as dangle-able glass or porcelain pendants (earrings from $44, necklaces from $25).
19-1/2 Crestwood Ct.
St. Louis
Missouri
Browse the online infantorium and feast your adult eyes on a wide selection of personalized apparel, including garments for playtime, bedtime, and times that are special. Feel free to try a toddler's manners on for size with a puppy love bib ($13.99), or watch an infant flop about wildly while rocking a jersey romper dress ($20). Non-clothing items, such as chenille striped blankets ($45) are also available, and can often be customized down to the lettering font or embroidered monogram.
9115 Lackland Rd.
St. Louis
Missouri
In 1927, thousands of feet above the Atlantic, Charles Lindbergh was shielded from the elements only by the Spirit of St. Louis' thin linen covering. His eyes, though, boasted much sturdier protection on that historic flight—a custom pair of goggles designed by brothers A.P. and August Erker. More than 80 years and four generations later, the Erker name still stands behind high-quality optics.
Jack Erker Jr., great-grandson of August, presides over the business's two present-day locations, which have also played their part in adorning famous eyes. During Jack's tenure, Will Smith, John Goodman, and Shaquille O'Neal have all stopped in to swap needlepoint tips and grab a pair of stylish frames, which are sourced from Italian and German design houses, as well as his own manufacturing division, Studio Optyx.
9717 Clayton Rd.
St. Louis
Missouri
314-997-0002
For 38 years, Mexico Road Florist's friendly staff members have paired clients with fresh, colorful bouquets to celebrate holidays, special occasions, and everyday life. Skilled arrangers gather long-stemmed roses, daisies, and frothy baby's breath into eye-dazzling corsages, centerpieces, and bouquets that validate the store's status as a David's Bridal's exclusive florist. In addition to flowers, Mexico Road offers baby accessories and support groups for bees who, after seeing the store's blooms, feel their careers have peaked.
410 Mid Rivers Mall Dr.
St. Peters
Missouri
636-278-4550
---