Saint Peters, MO Spa and Massage
---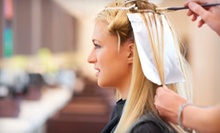 Stylists cut and style your hair, and offer the option for color, including ombre
---
Recommended Spa & Massage by Groupon Customers
---
Massages are no longer the exclusive privilege of pro athletes and the landed gentry, thanks to today's deal. This Groupon gets you a one-hour therapeutic massage for $30 at Balanced Body Massage, a $60 value. This specialized therapeutic massage is more than just relaxing; Balanced Body uses targeted techniques to treat specific ailments, from physical strains to mental stress. Follow @Groupon_Says on Twitter.
2060 Concourse Dr.
St Louis
Missouri
US
Body Options' seasoned follicle wranglers restore order to unruly nether-feathers with Brazilian waxes that pave the way for smooth epidermal real estate. During the waxing session, which lasts 40 to 90 minutes depending on each individual's situation, an aesthetician whisks away all present fuzz from below-the-belt regions of both men and women. Waxing provides a longer-lasting hairlessness than shaving, and when the hair does come back after a few weeks, it's meek, soft, and easily scared back into the follicle with banging pans or the threat of another round of wax. While waiting for their treatments, spa-goers can take a load off in Body Options' earthy setting marked by cushy brown couches, pendulous plants, and glowing sconces.
215 Village Square Shopping Center
Hazelwood
Missouri
During your hour of languorous lazing amid Jon Tomas Salon and Spa's chic, tranquil atmosphere, a certified therapist will use tried and true techniques to lull your concreted muscles into a blissful state of relaxation. Feel free to rehydrate after your invigorating session of ministration administration with complimentary spring water. Call ahead to schedule your appointment.
12320 Olive Boulevard
St Louis
Missouri
Helmed by acclaimed beauty duo Cary and Talisa O'Brien, Cary O'Brien's welcomes world-weary paws to relax amid warm-colored walls, cushioned pedicure chairs, and a friendly and professional staff. Flanked by a flowing waterfall and stone detailing, the private pedicure lounge treats feet to a skin-softening soak in a state-of-the-art clean jet-system chair––which uses pipe-less whirlpool technology to eliminate the possibility of cross-contamination or surprise visits from pet goldfish. Cuticles are neatly curtailed as a sea-salt scrub leaves the surrounding skin glowy and better tasting, and toe polish dresses stylish shoe-fillers with a splash of color. During the 45-minute spa manicure, hands are treated to a similar soaking, softening, and shaping, and the addition of a paraffin dip helps to evict former skin cells that have overstayed their welcome. A hand-and-arm massage soothes away damage done in the clapping aftermath of an awards banquet, and clients cap off the experience with a coating of OPI polish, leaving nails with a finish as shiny as a bedazzled dolphin.
2107 Zumbehl Rd.
St. Charles
Missouri
Like the full range of muscles it challenges, Wellbridge Athletic Club & Spa affords a full range of experiences to a broad spectrum of visitors, from corporate coworkers to athletic kids. A 25-yard indoor lap pool hosts swimmers, who can dry off with towels in a full-amenity locker room. Group fitness classes challenge visitors to sweat through cycling, Pilates, and aqua Zumba. The latter gets swimming bodies boogying to the tune of energetic international and Latin rhythms. There are also more than 47 pieces of cardio equipment that allow visitors to work out independently, and some of the cardio machines have flat-screen TVs and satellite radio, which actually orbits you as you listen to it.
In order to offer their visitors ample guidance, Wellbridge Athletic Club & Spa staffs several personal trainers, who assist clients striving for a variety of goals, including weight loss and injury recovery. The facility's free childcare allows parents to work out without the hassle of finding a sitter, and its spa allows those same parents to shed every last scintilla of stress during a relaxing massage.
998 Woods Mill Rd.
Town and Country
Missouri
Each massage therapist at Massage Works averages more than seven years of experience, which they draw upon to assuage muscles, knead away tension, and lower blood pressure. Massage styles range from hot-stone massage, which uses warm basaltic river rocks to soothe aching joins and induce relaxation, to sports massage, which helps athletes recover from injuries, hard workouts, and long periods spent sitting perfectly still on cereal boxes. Other wellness services include paraffin hand treatments and myofascial release, each aimed at helping bodies feel healthy, happy, and free of stress.
13035 Olive Blvd.
St. Louis
Missouri
314-720-4410
---