Tours in Saint Petersburg
---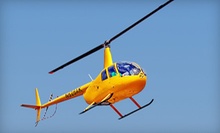 Pilots fly over historic structures and beachside downtown, or the beach as the sun sets over the city for a romantic view
---
Recommended Tours by Groupon Customers
---
The founders of St. Petersburg probably didn't imagine future visitors rolling down its streets on upright, self-balancing machines. Mounted on Segway HTs, visitors on All About Fun Tours can do just that, cruising along the waterfront on devices that intuitively respond to their movements or fear of jellyfish. Tour options abound, and guides deliver a tutorial on Segway basics before leading groups around the historic city.
335 2nd Ave. NE
St. Petersburg
Florida
727-896-3640
Fueled by a burning desire to be his own boss and eschew driving or walking, Geoff Karlavage founded his segway tour company and quickly met other fans of the upright, electric-powered transportation device. Now calling the shots as enthusiast-in-chief of not only Magic Carpet Glide and St. Petersburg Segway Tours in Florida, but also Portland by Segway in Oregon, Geoff shares his zeal for segways with a team of tour guides who seek to inspire a segway smile on each participant's face. Accessible to all ability levels, the signature tours of notable metropolitan locales surprise visitors and locals alike with little-known facts about the area and secret sights made visible only by onboard decloaking devices.
Tour times vary based on the sun's schedule, with the last trip of the day commencing at sunset. See the tour's FAQ section for answers to common inquiries, including recommended ages and rain policies.
149 1st Ave. N
St. Petersburg
Florida
727-498-2322
The certified flight instructors at First Landings Aviation were all actively airborne by their 20s: Adam Valencic earned his Private Pilot's License at 19, and Chris Buell and Kyle Pack began flying at ages 12 and 13, respectively. The pilots harness their years-long enthusiasm for each individually tailored student program they offer, be it a half-hour Discovery flight, sport-pilot training, or private-pilot training. The sport-pilot flight-instructor course, meanwhile, affords students opportunities to practice their instruction skills before teaching others how to beat flocks of migratory geese in drag races. With their licenses in tow, pilots can also take the skies in one of First Landing Aviation's rental aircrafts.
1321 Apopka Airport Rd.
Apopka
Florida
US
407-886-7612
An herbaceous haven, Bok Tower Gardens' manmade Arcadia harbors the historical Pinewood Estate and a bell tower filled with a cluster of carillon bells. Delicate white azaleas, pink snapdragons, and velvety camellias peek out from behind shrubbery leaves, and lemon marigolds smile back at the sun with brilliant yellow petals. The centerpiece of the verdant paradise, the Singing Tower rings out at 1 p.m. and 3 p.m. daily, its 60 carillon bells delighting garden strollers and frightening away tulip-thieving lawn gnomes. The garden also caters to kids with enchanting features including secret areas, a vine-covered tunnel, and a picnic area with a sandbox and toys. Built in the '30s, Pinewood Estate boasts carved woodwork and intricate wrought iron that evoke a Mediterranean manor and provide a glimpse into luxurious lifestyles of decades past. The gardens are open daily from 8 a.m. to 6 p.m., when all the flowers are gently tucked into bed for the evening.
1151 Tower Blvd.
Lake Wales
Florida
863-676-1408
---