Restaurants in Salem
---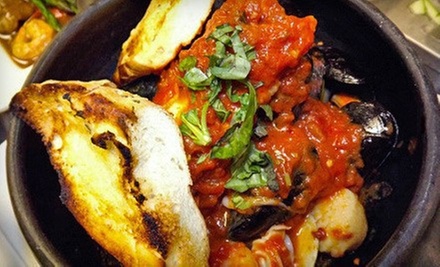 ---
Recommended Restaurants by Groupon Customers
---
Bukhara Indian Bistro's menu brims with meaty, vegetarian, and vegan dishes from northern and southern India, embracing the flavorful diversity that defines the subcontinent's cuisine. In addition to crafting an extensive spread of entrees, the chefs also cater to their diners' individual tastes by customizing the amount of fiery spice in every order. Discs of naan and skewers of yogurt-marinated chicken roast in a tandoor oven, and the chefs recreate southern Indian dosas by stuffing rice or lentil crepes with savory fillings of potatoes or barbecued lamb.
Lanterns dangle from the dining room's high ceilings and gently illuminate the Indian sculptures and the framed weavings along the wall. Even the bar area features a rich color scheme with its hammered copper trim and platinum-encased light switches.
701 Centre St.
Jamaica Plain
Massachusetts
Situated at the core of Davis Square, Diva Indian Bistro brims with the aromas of a menu that borrows from the culinary traditions of regions from Bangalore to Bombay. Beneath a bubbly goldenrod ceiling that looks like a collection of soft-lit skylights, patrons settle onto plump black benches to munch samosas and peruse offerings of lamb, seafood, beef, and tandoori dishes soaked in the warmth of the traditional clay oven. Saffron- and cardamom-scented basmati rice stars in biryani dishes, and dosas, a type of crepe crafted from rice and lentils, enclose chicken or veggie fillings alongside coconut chutney and lentil soup. The wall behind Diva's bar mimics the ceiling's rectangular bubble pattern in white, with a long row of blue glass bottles bisecting the surface. High black and chrome chairs slide up to the brushed-silver bar, where patrons murmur over cocktails and ice clicks occasionally like a tap dancer having a nice dream.
246 Elm St.
Somerville
Massachusetts
617-629-4963
Aromas of sizzling meats fill Mela's dining room as patrons sear helpings of marinated lamb chops, scallops, or Atlantic salmon at their tables with hot oiled stones. To supplement the patron-grilled dishes, chefs lend their culinary expertise while baking skewered meats and pillowy naan in a traditional tandoor oven and sautéing lentils and vegetables in a fragrant confetti of herbs and Indian spices. They tailor the amount of heat in each entree to accommodate each diner's preferences, preparing mild, savory dishes as well as meals with enough heat to vaporize an army of snowmen.
Salmon-pink drapes line the dining room's floor-to-ceiling windows, lending a soft touch to the stone flooring and walls lined in sheets of hammered copper.
578 Tremont St.
Boston
Massachusetts
617-859-4805
Pan Asia summons guests into its sleek yet casual atmosphere with oceanic lighting, mounted TVs, and its star: a menu of Chinese, Japanese, and Thai recipes. Nests of lo mein noodles cradle tender slices of shrimp, beef, roast pork, and chicken, and five styles of Thai curries—including the Indian-influenced massaman—transform coconut milk into liquid heat, warming tongues with infusions of classic spices. Representing the artful cuisine of Japan, paper-thin sheaths of seaweed enfold rice and raw fish to create sushi varieties that include spicy salmon maki and boston maki, a roll of yellowtail, crab stick, avocado, scallions, and tobiko.
Sea-foam-green lights illuminate the underside of the counter at the sushi bar, making the legs of guests look as though they're underwater or ailed with the asparagus disease. Bright-green shafts of bamboo shoot from floor to ceiling from a bed of dried river rocks, obscuring the intimately lit restaurant from the bright lights of the takeout lobby.:m]]
414 W Broadway
South Boston
Massachusetts
617-464-4858
Viva Bene Ristorante's culinary gurus combine fresh ingredients with classic techniques to create an extensive menu of artful Italian, Mediterranean, and seafood dishes. In the dining room, servers set plates of grilled calamari and chicken capicola atop white-clothed tables. Wall sconces illuminate paintings that depict sailboats and Italian countrysides as idyllic as puppies barking at mountains. A rustic, expansive island bar lit by low-hanging pendant lamps surrounds gleaming bottles, which watch over patrons as they check email on Viva Bene's free WiFi.
180 Berkeley St.
Boston
Massachusetts
US
Inside the multi-level restaurant, Sweet Caroline's servers tote plates of handcrafted American food from chef Joshua Smith's new American gastro-pub menu. Sandwiches include Caroline's grass-fed bacon cheeseburger on a brioche bun, while larger plates feature grilled salmon filets with sautéed kale. The full bar exemplifies the restaurant's rustic, yet modern décor with its reclaimed barn-wood accents and flat-screen, high-definition TVs.
1260 Boylston St.
Boston
Massachusetts
---