Stores & Markets in Salem
---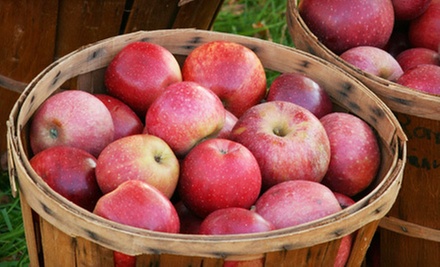 Sommerset West - Elmonica North
---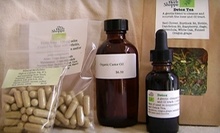 Herbal chemists craft custom tinctures with ginseng, bilberry, black cohosh, alfalfa & other beneficial botanicals
Use Today 11:00am - 7:00pm
---
Recommended Stores & Markets by Groupon Customers
---
Sunlight beams down on the stretches of green fields of Willamette Valley Fruit Company, saturating acres of bushes and trees with enough sugary photosynthesis energy to produce up to 12 million pounds of fruit a year. The family in charge of the ripe bounty plucks rhubarb, strawberries, and five types of blackberries before individually flash-freezing them at their peak of plumpness. They then lovingly pour berries into up to 2,000 dairy-free, handmade pie crusts a day. Once assembled, the pies flood homes with appley aromas as they bake for the first time in customers' ovens. In addition to the made-from-scratch pies, Willamette Valley Fruit Company transforms their berries into jams and snack bars, the latter of which can be used to make the least intimidating possible wall for a jail cell.
2994 82nd Ave. NE
Salem
Oregon
During the growing season, the gently sloped roofs of Hoffman Farms Store's historical barns and quaint country store barely peek out over the farm's acres of lush fruit fields, as if politely looking for prospective visitors. Since its founding in 1983, the farm has seen a handful of renovations, including the building of raised vegetable beds and the conversion of an old silo top into portable shade for patrons who come to pick their own strawberries, blueberries, raspberries, and blackberries. The rustic country store is stocked with locally grown produce, including pre-picked berries, homemade salsas, and delectable cobblers, so visitors can leave with something sweet even on rainy days or days when it's raining men.
22242 SW Scholls Ferry Rd.
Beaverton
Oregon
503-628-5418
The cowboy on the Stockman's Cafe sign may look sinister, but don't let his appearance fool you—he's pointing the way toward a fresh, home-cooked meal. So fresh, in fact, that the chefs at Stockman's Cafe use their own grass-fed, hormone-free cattle to make burgers, which they embellish with bacon, housemade onion straws, and mozzarella cheese. When they aren't rustling up biscuits and gravy for breakfast or grilling new york steaks, they bake strawberry shortcake and cinnamon rolls, happily adapting dishes for customers with dietary restrictions, such as diabetes, gluten allergies, or an intolerance of foods starting with the letter 's'.
92380 Hwy. 99
Junction City
Oregon
US
Expanding on a tradition of supplying firewood and landscaping supplies that stems back to 1968, the Stroupe Family gave the public a literal taste of their ranching lifestyle when they decided to start selling their locally raised meats in 2009. All meat––including tenderloin steaks, pork spare ribs, and whole free-range chickens––comes from animals raised without antibiotics or hormones, which ensures a more peaceful upbringing unmarred by temper tantrums over the cattle's curfew. These animals are also pasture raised on a vegetarian diet of fruits, vegetables, grass, and hay, and all meat is cut and processed at a local USDA-approved facility to guarantee its quality.
20200 SW Stafford Rd.
Tualatin
Oregon
US
---