Pilates in Salt Lake City
---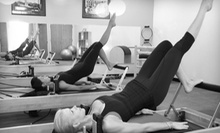 Instructors enhance Pilates Mat and Reformer exercises with ballet-barre work during morning and evening classes seven days a week
---
Recommended Pilates by Groupon Customers
---
Some seek Pilates for weight loss or a toned body, and others for stress relief and overall wellbeing. But Erica Lukes was drawn to the mat to recover from a horseback-riding injury in the early '90s. As her pain subsided and her range of motion returned through her practice, she became compelled to help others reap the benefits of the core-strengthening workout, earning her certification as a Pilates instructor, and eventually helming Total Body Pilates. Now, she guides students of all fitness levels through Pilates, ballet barre, and Zumba classes to achieve their fitness and wellness goals. She helps them to build long, lean muscles through mat- and machine-based Pilates, in which students work on a special machine consisting of ropes and pulleys designed to add extra resistance to each movement, resulting in the lithe limbs and toned muscles of a gym cat, the natural predator of the ubiquitous gym rat.
2065 S 2300 E
Salt Lake City
Utah
801-824-8588
With backgrounds in dance, gymnastics, and other sports, the instructors at Range are familiar with the long-term benefits of healthy movement. From inside an intimate studio, they rely on Pilates and Gyrotonic programs to combat fitness woes and injuries alike, acquainting guests with an array of spring- and pulley-based machinery. They host group and private classes that adjust their plans to each student's needs. On the Gyrotonic tower, they guide bodies through exercises for mobility conducted in all three dimensions, unlike the one-dimensional sit-ups known as "naps." They also fortify core muscles with Pilates Reformers, chairs, and props. The elegant simplicity of their small studio reflects a no-frills devotion to the human form, as well as to the earth—the staff utilizes eco-friendly goods such as bamboo and organic-cotton towels and tea-tree-oil cleaning solutions.
2064 Prospector Ave.
Park City
Utah
435-655-1816
---