Restaurants in Sammamish
---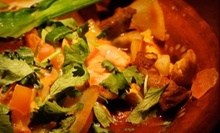 Chicken, steak & picadillo sizzle in pans, passing spice-festooned memos to nostrils on their way to burritos, chimichangas & tostadas
Use Today 5:00pm - 9:00pm
---
Recommended Restaurants by Groupon Customers
---
Composing a week's worth of haikus out of brothy alphabet soup will leave anyone wanting a stiff drink. Today's Groupon puts libations and sea fare in the same place with $25 worth of food and drink at STIR Martini and Raw Bar for $10. The precise engineering of your meal will fill your gullet and further inspire your economic use of 17 poetic syllables.
10500 NE 8th St., Suite 125
Bellevue
Washington
US
Sutra serves up a daily-changing menu of meat-free meals in its brightly colored Wallingford eatery Wednesday through Sunday. The supper-club-style service offers one seating time (7 p.m.) on Wednesday and Thursday, two (6:30 p.m. and 9 p.m.) on Friday and Saturday, and one 6:30 p.m. seating on Sunday. Typically, Sutra features a four-course prix fixe meal with artsy arrangements of the best ingredients per course ($35). The restaurant is closed Monday and Tuesday.
1605 N 45th St.
Seattle
Washington
US
The Taj Mahal is near-universally admired. So are Indian people. And so is their food. For $15, you'll get $35 worth of Indian fare at Navya Lounge (valid for dinner only), a downtown eatery in the Rainier Square Building where classic Indian dishes united with classic Indian dish names live happily ever after in a charming fantasyland where everyone is best friends with their stomachs. Follow @Groupon_Says on Twitter.
1333 5th Ave
Seattle
Washington
US
Thomas Street Bistro's menu blends the taste of Provençal sunshine with the salt of the Mediterranean. All entrees are cooked from scratch using local produce and gourmet spices. Chefs dream up new concoctions every day to swirl into soups, shuffle into salads, and feverishly write to patent companies about. Hungry twosomes can sink cutlery into the slow-cooked roasted lamb, which shouts inspirational quotes from a bed of seasonal rice and veggies, or the vegetarian Mediterranean pasta, a medley of French feta cheese, olives, and fresh tomatoes. Chicken breast sings in a shower of lemon butter and capers, and Groupon holders can pair any entree with a glass of weekly house red or white wine. Chew-a-thons conclude with the dessert of the day, a hopeless romance of sugar and decadent ingredients that entangles taste buds like a pulp thriller about jungle vines.
421 E Thomas St.
Seattle
Washington
US
206-323-0914
Enjoy Greenlake Bar & Grill's casual, eclectic midday menu while taking in the refreshingly natural eye candy of Green Lake across the street. Starters such as the crispy coconut-crusted prawns ($7.99) or the blue-cheese-drizzled wedge salad ($6.99) offer an excellent warm-up for marathon lunches, and hand-held favorites, such as the prime-dip sandwich ($13.99) and the western half-pound burger ($12.99) with melted cheese, bacon, barbecue sauce, and frizzled onions, fill remaining stomach space. The inviting eatery also spoons up plated pastas, allowing you to spicy up a boring day of book watching with an order of the habanero mac 'n' cheese with chicken ($11.99). Or, opt for an omega-3 boost by lunching on the sweet-chile-marinated mahi-mahi tacos ($13.99), washed down with a beer or cocktail from Greenlake's full bar.
7200 E Green Lake Drive North
Seattle
Washington
206-729-6179
At Ship Canal Grill, chefs give a nod to local cuisine with a menu largely composed of seafood from the Pacific Northwest. Though plates such as the salmon pesto and honey-walnut prawns dominate a good chunk of the menu, according to Thrillist(http://gr.pn/MKhCeh), turf-based dishes such as the Overboard lamb sliders with caramelized onions and aioli "pack a punch." The eclectic fare also encompasses petite pizzettas and Mediterranean dishes, which pair neatly with the creative cocktails or wines from a huge drink menu. But the eatery's decor inspires just as much intrigue as the edibles.
Bare light bulbs and rotund pipes hang overhead in homage to an industrial design, complemented by 20th-century construction-era photos from the Museum of History and Industry. An open loft looks out over the main dining area, aglow with candlelight and ringed with tan and periwinkle. At the lower-level bar, a bridge of wrought iron holds miniature vehicles over a marble countertop as light seeps in from tall windows.
In the loft, flat-screen TVs and one large projection screen broadcast games, and the billiards room hosts good-natured competition, as patrons unwind over a game of pool, darts, or dodge-darts. A steady string of events keeps other customers entertained: trivia on Tuesday, standup comedy on Wednesday, and live bands on Friday.
3218 Eastlake Ave. E
Seattle
Washington
206-588-8885
---