Auto Repair in San Anselmo
---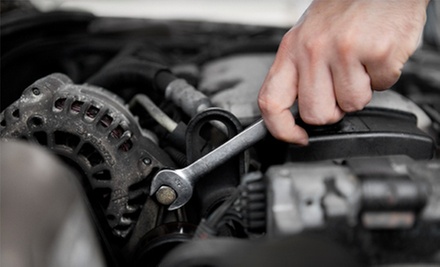 ---
Recommended Auto Repair by Groupon Customers
---
Mae de la Calzada founded LadyParts Automotive Services based on a simple observation: "When a woman's car breaks down, lives break down." Recognizing the strain of being a wife, mother, professional, and friend all at once, de la Calzada saw a way to ease at least one burden women often face. This vision helped her to turn the intimidating ordeal of auto repair into an empowering experience.
Today, when women—or men—walk into LadyParts Automotive Services, they are greeted by automotive technicians who eschew technical jargon and instead speak in the simple, clear language that both cars and drivers instinctively understand. Claiming certifications in hybrid repair, LadyParts's mechanics work on virtually all makes and models of vehicles, performing services that range from 50-point safety inspections to major repairs. To enhance each visitor's experience, the staff coordinates free shuttle service and furnishes a waiting area with free wireless Internet access, a 50-inch plasma-screen television, and well-maintained restrooms.
To further demonstrate its goal of turning auto repair into an empowering experience, LadyParts's team leads car-care clinics in which technicians demystify automobile maintenance. Such efforts have earned LadyParts Automotive Services consistent press, a vast network of loyal cars ready to do its bidding, and recognition that includes a 2011 Best Car Repair win from ABC7 The Bay Area A List, as well as a top-five finish in the 2012 race.
3033 Middlefield Rd.
Redwood City
California
650-369-5239
For more than 25 years, Mr. Tint's crew has safeguarded drivers from arm-scorching UV rays with their tinting services, laminating windows with a sleek film that fits like a pair of Ray-Bans for cars, trucks, and SUVs. Mr. Tint's dedicated staff lavishes every vehicle that pulls into the shop with the same attention to detail, whether it's a Lamborghini or a Formula 1 Wienermobile. The tinting materials come with the manufacturer's lifetime warranty, which covers fading, bubbling, or peeling. Clients waiting for their four-wheeled companions can sip complimentary beverages or surf the shop's WiFi network. Mr. Tint's team can also tint residential windows for improved privacy, reduced energy costs, or decoration.
350 Kiely Blvd.
San Jose
California
US
The ASE-certified mechanics at A1 Imports Autoworks keep both foreign and domestic vehicles humming smoothly down thoroughfares. Helmed by JP Cadoux, a seasoned motorsports enthusiast with professional racing experience, the auto-savvy team of techs brings a love for all things automotive to every oil change and tune-up. The staff, which specializes in BMW rebuilds, skillfully cares for coaches of any make and model. For quick care, A1 also performs basic work such as oil changes in about 45 minutes, or approximately the time it takes to microwave, eat, and regret 15 Hot Pockets.
1575 E Francisco Blvd.
San Rafael
California
415-453-3601
In Polar Bear Auto Care's warehouse-size shop, ASE-certified techs slip under hoods to fix or install air-conditioning and heating systems. Those systems are nearly identical to the factory units, as many of the systems they install are made by the same manufacturers. On their walls hang hundreds of parts, with more stored onsite, including new heater cores as well as compressor mounts for car models from the years 1965 to 1999. This lets them work on all kinds of vehicles, from brand-new cars and tractors to RVs and vintage UFOs. They back up their services with a two-year or 24,000-mile warranty, which extends to electrical repairs as well as the maintenance of steering, exhaust, and brake systems.
Goodyear, 1350 East Washington
Colton
California
US
For more than 15 years, the ASE–certified technicians at Desi Auto Repair have kept vehicles of all makes and models merrily chugging along with a full gamut of services geared to customer satisfaction. Inside the modern, spacious garage, repairmen wield up-to-date equipment to meet vehicles' factory-maintenance schedules, replace failed parts, or readjust emotionally clingy seat belts while keeping owners apprised of all repairs. The team's dedication to customer satisfaction demonstrates itself through their free towing and shuttle services, taking stress out of breakdowns by bringing vehicles directly to the garage and seeing carless drivers arrive at their original destinations.
1403 Autocenter Dr., Suite B
Walnut Creek
California
925-933-6933
Since 1988, Auto Care Super Saver has been helping car owners save cash with maintenance punch cards redeemable at local auto shops throughout the course of a full year. These cards come loaded with all kinds of prepaid services, including at least three full-service oil changes with up to 5 quarts of oil, lube, and a new filter. Depending on the location, punch cards may also feature tire rotations, brake inspections, engine-light readings, air-conditioning performance tests, and other repairs and inspections essential to a car's well-being. Customers can transfer the punch card's benefits to any ride, ranging from station wagons to sports cars to feral merry-go-round mounts.
209 El Camino Real
San Francisco
California
650-588-7484
---