Things to Do in San Anselmo
---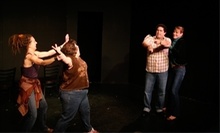 Acclaimed improv troupe whips up on-the-spot laughs hewn from audience members' ideas
Use Today 12:00pm - 9:30pm
---
Recommended Things to Do by Groupon Customers
---
Today's Groupon gets you two tickets to Hard Rock Cafe's benefit to fight breast cancer on October 16. Four-piece cover band HoneyCircuit will play '70s rock, '80s new wave, '90s pop, and '00s dance hits while you dine on the delectable nacho appetizer included with this Groupon. Hard Rock wants to pack the place for a hard-rocking party that rocks harder than the hard rockers that HoneyCircuit covers such as Gwen Stefani/No Doubt, The Killers, Guns 'N Roses, Queen, Red Hot Chili Peppers, and Duran-Duran would rock hard if those hard-rockers could be there to rock hard for this hard-rocking event. Real Tom: Born in Manitoba, Tom moved to Los Angeles to write music for films, but was forced to move back to Canada when his career didn't take off. Movie Tom: Born on the mean streets, Tom is arrested for a crime he didn't commit. To prevent a nuclear bomb only he knows of from detonating, he'll have to escape…from Alcatraz!
1 S Forty Pier
Sausalito
California
US
Jump to: Reviews | Less-Than-Stellar New Productions Follow @Groupon_Says on Twitter.
533 Sutter Street
San Francisco
California
US
415-677-9596
Even before you climb inside, the GoCar is clearly a car with a personality. The petite, three-wheeled two-seater has a hood that slightly resembles an eager-to-please smiley face, and an open top that seems custom-made for letting the breeze ruffle your hair. Then the real fun begins: built with the company's own software and a compassion for the voiceless robots of America, a talking GPS system guides two-seater GoCars through the city streets of San Francisco, San Diego, Miami, Barcelona, Madrid, and Lisbon with cheerful, info-rich narration. Second only to having a knowledgeable local jog alongside your minivan, tours zip along at drivers' own pace and accommodate as many pit stops as time allows.
321 Mason St.
San Francisco
California
415-359-9299
Dan Sacks and his team of veteran instructors at Bay Area Custom Golf boost swing skills and course confidence with custom club-fitting services and personalized instruction in a state-of-the-art 1,100-square-foot facility. During private 45-minute lessons, instructors use video analysis to help identify any quirks that may affect swing. Once grip, alignment, posture, and proper plaid pairings have been tweaked, students can send dimpled spheres soaring into a practice net. The facility also offers services for custom club fitting, pairing players with clubs by boiling down elements of a golfer's stroke and current club dynamics.
372 Bel Marin Keys Blvd., Suite B2
Novato
California
415-572-0052
At Rhythm Tennis, students learn the ins and outs of the sport with one-on-one instruction from coach Greg, a San Francisco Men's Champion Division winner. Beginners learn to defeat competitors and screen the air for migrating cicadas by mastering fundamentals and strokes such as the forehand, backhand, and volley. Onsite tennis pros also restring rackets and offer tips and tricks on gear.
2111 Van Ness Ave.
San Francisco
California
Jump to: Reviews | How to Talk Like a Symphony Buff
201 Van Ness Ave.
San Francisco
California
US
---