Restaurants in San Antonio
---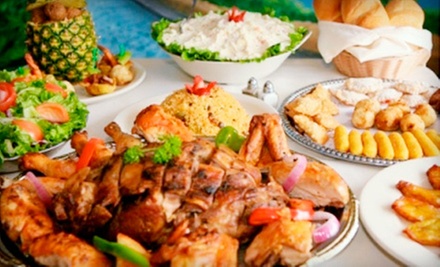 ---
Recommended Restaurants by Groupon Customers
---
Everything's bigger in Texas, and, as Druthers proves, sometimes fresher, healthier, and made-from-scratchier. Family owned and operated, Druthers gets its name from serving its customers homemade gourmet sandwiches, burgers, soups, salads, and desserts made with fresh fruit, verdant vegetables, and bacon straight off the vine. Recently, the eatery rolled out a fresh line of feastables—the NYC deli sandwiches—which boast a full pound of seasoned, roasted, and smoked meat shuffled up between fresh baked, preservative-free breads. Slip on a grainy pair of meat-mitts and hang a fang on NYC deli style sandwiches such as the Big Apple Rueben, which features a pound of corned beef laying beneath melted swiss, 1000 island dressing, and saurkraut ($12.99). The tarragon chicken salad ($6.99-$7.29) uses the sweet French herb to punch up the poultry-based classic, while an assortment of desserts includes a brownie ($1.50) that deserves more than a few merit badges and a lemon bar ($1.50) packed with more citrus than a Floridian clown car.
8637 Fredericksburg Rd., Suite 145
San Antonio
Texas
Simi's centerpiece is a large hanging stained-glass art piece––a woman in full Sari playing a sitar amid a field of blossoming flowers. Zooming out, the restaurant complements the art with verdant flowing vines and a rustic gray stone partition. Amid these striking accents, tables line with dinner entrees of lamb curry, zesty seafood masala, and boneless chicken fired in a traditional clay-oven tandoor. Diners may also grab a bite during Simi's popular lunch buffet, which has been dazzling San Antonio for more than 20 years.
4535 Fredericksburg Rd., Suite 109
San Antonio
Texas
Having inherited her culinary passion from her grandmother, owner Cindy Olivarez designs a menu stocked with warm sandwiches, healthy wraps, and daily specials prepared fresh to order. Grilled zucchini, squash, portabella mushrooms, and veggie mayo pack into the grilled veggie wrap, and smoked turkey breast, mozzarella cheese, and avocado paint the Mona Lisa wrap, keeping hungry folks from gnawing on the real painting. The café puts a spicy spin on a turkey reuben by adding spicy asian slaw and dijon mustard and refuels empty stomach tanks with the monterey chicken sandwich's warm bites of marinated chicken, jalapeños, and jack cheese on. Made-from-scratch soups—including black bean and a soup-of-the-day option—run over taste-bud floodgates and send uvulas surfing over flavorful rapids with each warm slurp.
2211 NW Military Hwy., Suite 131
San Antonio
Texas
At Hon Machi Sushi & Teppanyaki, the chefs take center stage to entertain every sense as they fashion culinary works of art. Whether they're on the sidelines putting together specialty hand rolls at the sushi bar or searing combinations of steak, lobster, and chicken at tableside grills, half of the experience is watching chefs create the tasty meals. Deep-red walls surround the eight-seat teppanyaki stations that encourage guests to chat with fellow diners and let them know if they have rice in their beards.
1321 N Loop 1604 E, Suite 108
San Antonio
Texas
210-494-1199
China Garden was founded with a passion for sharing home cooking with the community, and to that end they present an all-encompassing scope of Chinese, Thai, Korean, and Hunan cuisines. With that wide spectrum of dishes on hand, the menu bulges with an expansive selection, tempting guests with simple, elegant choices such as pork lo mein, egg drop soup, and general tso's chicken. The chefs prepare each dish made-fresh-to-order, unlike the cooks at fast-food restaurants. For convenience, China Garden offers both lunch and dinner for sit-down dining, carryout and specialize in delivering while providing easy ordering through its website.
2250 Thousand Oaks
San Antonio
Texas
"Mela" means "gathering" or "fiesta" in Sanskrit, a fitting name since those are the kind of events that the restaurant facilitates with its traditional and very sharable feasts. The housemade breads, which range from flat naan to balloon-like poori, whet appetites for seasoned-to-order entrees, ranging from mild to spicy depending on the diner's palate and how convincing they want to be when fake-crying. The eatery's tandoor, a traditional clay oven, roasts dishes such as chicken tikka masala and tandoori shrimp; alternatively, curry dishes such as the spicy lamb vindaloo complement kebabs and succulent chunks of meat or veggies sitting atop beds of basmati rice infused with cashews, raisins, and saffron. A full bar rounds out the menu with domestic and imported beer, wine, and liquor that can wash down à la carte meals, buffet-style lunches served seven days a week, or buffet-style dinners that delight palates Sunday–Wednesday.
4987 NW Loop 410
San Antonio
Texas
---