Shopping in San Antonio
---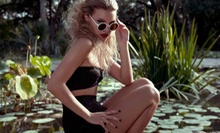 Dresses, T-shirts, and rings carefully restored to their original appearance line shelves awaiting new homes.
---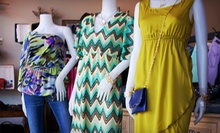 Boutique entices shoppers with women's apparel, Waxing Poetic jewelry, and Miss Me jeans
---
Recommended Shopping by Groupon Customers
---
Dietz-McLean Optical stocks an ogle-worthy array of popular designer brands, including styles from Michael Kors, Nike, Calvin Klein, Adidas, Coach, Fendi, Oakley, Giorgio Armani, Disney, and Flexon. So you can see how cool you look, pair your fancy new pair of frames with top-of-the-line lenses. Dietz-McLean carries lightweight, impact-resistant lens technology from Phoenix, a variety of progressive lenses for smaller fashion frames, and super-high-vision lenses to help you see better over tall people sitting in front of you in the movie theater. All glasses from Dietz-McLean Optical come with a two-year unconditional warranty.
999 E Basse Rd
San Antonio
Texas
After a military career spent treating soldiers and veterans in far-flung locales ranging from Kosovo to stateside Veterans Affairs hospitals, Dr. Joseph R. Rogalinski returned to his adopted home of Texas to tackle a new challenge: a civilian optometry practice. Joined by Dr. Elizabeth Nguyen, he now dedicates his workday to improving eyesight with services ranging from comprehensive eye exams to laser surgery co-management and emergency eyecare treatments. His practice also houses an eyewear emporium with more than 1,000 eyeglass frames in as many different styles. Brands include Coach, Fendi, and Harley Davidson; each of their three separate locations features different designers and different passwords for obtaining the "good" sunglasses.
8202 N Loop 1604 W, Suite 105
San Antonio
Texas
210-691-4733
The experienced crafters at Beading2Go curate a collection of more than 8,000 styles of beads, semiprecious stones, metallic charms, and the supplies to finish each project. Guests can dive into cascades of colorful strands, eyeball sterling-silver earrings, or scoop up handfuls of czech crystals and birthstones. The staff members lean on their love of making jewelry to help the uninitiated to get comfortable with the hobby, and jewelry-making classes help crafters of every skill level to string together eye-catching statement necklaces, elegantly understated bracelets, and tastefully bedazzled lassos.
8327 Agora Pkwy., Suite 145
Selma
Texas
210-566-5903
Resist the urge to conceal expanding tummies with unsightly sacks and establish sartorial values early on with today's Groupon. For $39, you'll get $90 worth of baby and maternity merchandise at Bloom, a maternity store that carries a raspberry-jelly vat's worth of baby clothes and baby gifts for babies.
555 E Basse Rd #110
San Antonio
Texas
US
The mighty shoe has been called the carriage to the foot, a fashion-forward receptacle of phalanges, and the durable bread between our butter-heels and bacon-sidewalk. Today's Groupon dresses your walkers with $70 worth of shoes, plus apparel, handbags, scarves, and more at The Shoe Club for $35. Update your aesthetics and then cross off your style checklist with the pen you keep between your nimble toes to do crossword puzzles on public transportation.
320 E Basse Rd., #101
San Antonio
Texas
The chic fashionistas at Frayed will make you feel as comfortable as a well-worn pantleg under a warm iron massage. They'll give you the celebrity-worthy stylist treatment, helping you find the most flattering fit of jeans from the likes of MEK, Miss Sixty, People's Liberation, and more (starting at $64). Complement the perfect pair of leg pipes with a red JK satin jacket ($48); a Tiffany Alana dress, skirt, or top (starting at $99); or a floppy sunhat (starting at $18). Earrings and other jewelry start as low as $5, and the shop also carries bathing suits starting at $50 for your spring- and summer-break getaways.
434 N Loop 1604 W, Suite 1103
San Antonio
Texas
---