Things to Do in San Bernardino
---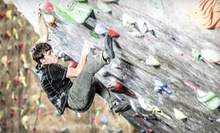 Passionate instructors induct novice climbers into top roping and bouldering in an expansive climbing gym
---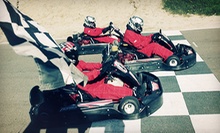 Honda karts with 9 hp, 4-stroke engines accelerate up to 50 mph as they zoom around a 14-turn 3/4 mi. track
---
Recommended Things to Do by Groupon Customers
---
El Camino Ranch has cared for a growing family of Arabian horses since 1983, when it was founded with a mission to help people connect with the intelligent creatures. The ranch itself traces its origins back even further—to the early 1950s, when Bill and LaVesta Locklin started a farm and began to grow oranges and tomatoes against the scenic backdrop of the San Bernardino Mountain range.
Today, LaVesta's son, Scott, and her granddaughter, Vandi, continue to look after the facilities, showering their horses with affection and treating them to a healthy daily schedule of riding with guests, participating in shows, and munching on fresh treats from the orange grove. During lessons, the trainers guide students through riding techniques and teach them the basics of equine grooming, tacking, and health care. They also organize a special series of "Pony Pal" lessons for children as young as 3, saving the horses the indignity of galloping around with training wheels glued to their haunches.
11363 Walnut Rd.
Redlands
California
909-794-1086
On Redlands Shooting Park's nine regulation trap fields, bullets chase clay pigeons flung from machines with voice-release technology. Elsewhere on the grounds, marksmen take aim on four regulation skeet fields and navigate 10 challenging stations on a sporting-clays course. Along with these open-shooting sessions, Redlands Shooting Park hosts numerous events throughout the year, including ATA-registered trap shoots, NSSA-registered skeet shoots, and leagues for trap and skeet. After a session on the fields or a trek through the course, visitors can retire to the clubhouse or restock their reserves of ammo, apparel, rental shotguns, or John Wayne trading cards at the pro shop.
2125 N Orange St.
Redlands
California
909-335-8844
Eat|See|Hear offers an unparalleled outdoor movie experience by screening new and classic films in HD on an inflatable, wrinkle-free projection screen standing 3.5 stories tall and 52 feet wide. Using a 30,000-watt sound system, each venue is custom-calibrated to ensure a decibel-appropriate listening experience for audiences lounging on blankets or in lawn chairs. Local food trucks remain onsite during events to dish out cuisine, and pre-film performances by up-and-coming bands get audiences pumped up and help loosen any cobwebs built up inside the ears.
6707 Little League Drive
San Bernardino
California
---