Auto Service in San Bruno
---
---
---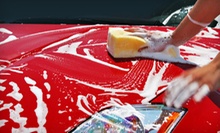 Attentive staffers buff & polish regular-size cars to amp exterior shine before carpet protection, spot clean & engine wash spiff interior
Use Wednesday 9:00am - 3:00pm
---
Auto Service Rewards Deals - Use Anytime
---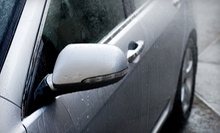 Team uses steam to loosen dirt before conditioning leather with natural oils, restoring headlights, and protecting paint with sealant
---
Recommended Auto Service by Groupon Customers
---
Today's Groupon gets you a car wash, wax, and light interior cleaning at Keatley Detail, a new premium carwashery that pampers autos with the tender care most people reserve for friends, pets, and lonely mail carriers. You get a Stage One detail, which includes a thorough exterior wash that scrubs the bugs off the grill, gets the grime off the wheels and wheel wells, and rubs the muck off the underside of the bumper. The interior cleaning squeegies away peanut butter smears on the window, wipes off peanut butter on the dashboard, cleans the peanut butter out of the center console and door jams, vacuums up globs of peanut butter embedded in the carpet, and spoons old peanut butter out the ashtray to make a peanut butter sandwich. Then Keatley's detail-devotees slather your ride with a thick coat of wax until it gleams brighter than burning barrels of peanut butter.
840 Harrison St.
San Francisco
California
US
From New York to LA, Park 'N Fly keeps cars safe inside their secured quarters just a quick shuttle ride away from the nearest airport. To make taking a trip more convenient for travelers, they offer 24-hour shuttles that arrive every five minutes, valet parking, and luggage assistance, beyond giving their vehicles a safe place to stay. Their lots are gated, well lit, and monitored.
82 98th Ave.
Oakland
California
Expert auto polishers at Premier Auto Detailing restore vehicles to their new-car shine with a menu of auto-detailing and hand-wash services. Each detailing service, much like getting a makeover next to Deepak Chopra, improves both interiors and exteriors, as the detail-orientated staff meticulously shampoo carpets, clean windows and rims, remove any oxidation, and protect paint from the sun with waxes.
981 Howard St.
San Francisco
California
415-553-6615
California Parking has offered sanctuary to vehicles since 1954, today presenting them with 40 parking garages downtown and around the Bay Area. Many of the facilities grant easy access to destinations such as the Marina district, downtown, the Civic Center, and the recently drained San Francisco Bay, allowing visitors to shop and explore secure in the knowledge that their car is in the hands of professional buggysitters. The parking authority also has more than 20 valet-service locations for private parties, hotels, and restaurants.
400 Taylor St.
San Francisco
California
Whether they're escorting lone business travelers to the airport or a festive troupe to a party, Sahara Limo's courteous chauffeurs exhibit punctuality and professionalism as they captain their fleet of luxury vehicles. Jet-black Lincoln Town Cars and Mercedes sedans envelop riders in sleek ambiance and comfort, and eight-passenger limousines, equipped with TVs and DVD players provide elongated transport for larger groups. Knowledgeable drivers also navigate the roadways of Napa Valley, stopping so passengers can bask in the fruits of its many vineyards, and steer tourists past San Francisco attractions such as the Golden Gate Bridge and the exact spot where Tony Bennett left his heart.
54 E 4th Ave.
San Mateo
California
For more than 30 years, Paul Dickerson has done his part to beautify the Bay Area's hilly streets. A fully insured car detailer, he cleans, polishes, and restores coaches out of an auto shop stocked with deluxe tools. An eco-friendly LaserWash cleanses cars without any contact from disgusting human fingers. Steam machines scour engines, restoring a like-new shine to pistons. Wet sand smoothes and polishes paint, and clay bars bounce dirt and grime hanging out in the tiny pores of car paint. These tools fit neatly into the back of Dickerson's cargo van, which he uses for mobile details. When he's not caring for cars, Paul devotes himself to giving back to the community through Fuel for Change, a program that transforms auto and gas profits into resources for humanitarian projects.
1454 Bush St.
San Francisco
California
415-678-7270
---