San Bruno, CA Outdoor Activities
---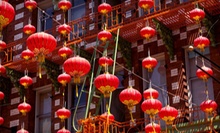 Tourists skulk through darkened sidestreets and eerie historical sites of Chinatown as native-born guide passes down nuggets of folklore.
Use Today 4:30pm - 7:30pm
---
Recommended Outdoor Activities by Groupon Customers
---
Overlooking the Pacific Ocean from the shoreline of San Mateo County, Moss Beach Ranch forms a hub for many miles of riding trails that branch out across more than 4,200 acres of Rancho Corral de Tierra. The ranch's director of instruction and training, Jeanette Jacobi, leads a team of experienced instructors and a stable of nearly 30 gentle horses, which students can ride during private or group lessons. Instruction can focus on either Western or English riding styles, and students pick up skills that range from jumping to dressage.
In addition to lessons, an experienced guide leads riders on trail rides across the surrounding terrain five times per week. On each excursion, parties climb rolling hills and traverse verdant ravines, even riding to spots that, like the private drinking clubs at Churchill Downs, are accessible only by horse.
1862 Etheldore St.
Moss Beach
California
Located steps from a seashore brimming with avian and marine activity, the Half Moon Bay RV Park and Campground's ample campus hosts RV trailers and old-fashioned tents for overnight stays. Walks along the coastal trails or evening gatherings around the barbecue pits provide communion with the natural order, whereas the adjacent Cameron's Inn Pub and a wireless network maintain campers' connections to the outside world. Volleyball courts and horseshoe pits provide more entertainment than spotting parabolas in a campfire.
1410 S Cabrillo Hwy.
Half Moon Bay
California
650-726-7275
It's an amazing feeling to gaze into a massive animal's eyes, knowing that it possesses an equal or greater amount of intelligence and curiosity. Jim Robertson, a 26-year licensed captain, regularly shares this experience with guests in the Gulf of the Farallones National Marine Sanctuary aboard his Coast Guard–certified vessel. The Farallon Islands—located 27 miles off the coast of San Francisco—are home to 26 federally listed endangered or threatened species, including leatherback sea turtles and blue whales. With a staff of naturalists on board to narrate the breathtaking scenes before them, guests can peep blue, gray, and humpback whales swimming, breaching, and playing Marco Polo in their natural habitat. Along the way, they might also catch a glimpse of dolphins, seals, sea lions, and a cloudburst of native birds.
10 Marina Blvd.
San Francisco
California
415-331-6267
Since it was erected 75 years ago, the Golden Gate Bridge has welcomed thousands of commuters and connected two pieces of land that, like itself, stand as preserved national parks. Staffers at the Golden Gate National Parks Conservancy have maintained the Bridge and more than 40 other local parks for the past 30 years, working to keep them relevant and accessible to visitors while preserving their original structures and native wildlife. Today, guides lead walking tours along the Golden Gate Bridge, walking and ferry tours around Alcatraz Island during the day and at night, and bus tours through Muir Woods. Their conservation staff also hosts regular local events such as botany workshops, endangered species restoration efforts, and youth classes in the history of ethnobotany: the cultural use of plants for food, medicine, and toga-party accessories.
201 Fort Mason
San Francisco
California
415-426-5235
---