Restaurants in San Bruno
---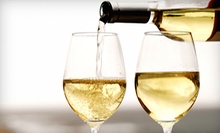 A sparkling wine tasting on the San Francisco Bay complements the cruise trip's three tastings at urban wineries
---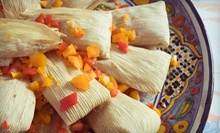 Jalisco-style Mexican food such as marinated pork tacos, burritos with housemade mango sauce, fajitas, and guacamole made tableside
---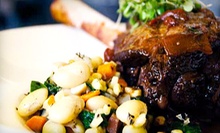 Huckleberry pancakes with lemon mascarpone, portobello frittatas, and Fulton Valley chicken paninis fill bellies as guests sip global wines
Use Monday 11:30am - 2:30pm
---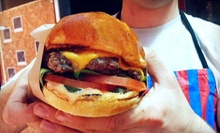 Locally butchered and hand-mixed 5-ounce Angus burger, chicken salad speckled with grapes and pecans, and hearty black-bean-and-corn burger
Use Tuesday 11:00am - 2:00pm
---
Recommended Restaurants by Groupon Customers
---
Today $15 gets you $35 worth of food and drink at Palio d'Asti, a gourmet Italian restaurant located at 640 Sacramento St. in the Financial District.
640 Sacramento St.
San Francisco
California
US
After completing your New Year's resolution to ventriloquize all of the great passages from Melville's I'm Angry, White Whale in just three days, you deserve a reward. For $15, today's Groupon gets you $35 worth of cozy comfort foods and fine wines at Jovino, a wine bar, coffeehouse, and favorite breakfast spot on Union Street. Your Groupon is redeemable during the normal operating hours of Monday through Friday from 7:30 a.m. to 10 p.m., and Saturday and Sunday from 8 a.m. to 10 p.m. It does not include tax or gratuity.
2184 Union St.
San Francisco
California
US
After retouching the colors in your many Victorian rugs, toast the House of Hanover with a sumptuous night out. Today's Groupon rewards your curator's skills with $20 worth of tapas and cocktails at Pisco Latin Lounge for $10. With an inspired stomach sending productive thoughts to your head, all of your vintage lampshades will be newly spectacular in no time.
1817 Market St.
San Francisco
California
US
Wrap your tongue in comfortable food blankets sewn by Italian seamstresses. Today's Groupon gets you $45 worth of family-style Italian comfort food for $20 at Joey & Eddie's Italian Restaurant, set on Washington Square Park in North Beach. From its classic neon sign to the dark wood and black leather chairs, Joey & Eddie's hearkens back to old New York. The Bronx-born proprietors of this eatery specialize in family-style portions. These mighty plates of belly-satisfying love feed three hungry mouths and are perfect for sharing after work with coworkers or members of your Richard Lewis Book Club.
1652 Stockton St
San Francisco
California
US
Experience the fission of Asian-fusion with today's Groupon: for $20, you get $40 worth of dinner and drinks at Eos Restaurant in Cole Valley.
901 Cole St.
San Francisco
California
A deep-fried classic Zog Dog entices the senses with its playful temperatures, inviting textures, and all-beefiness. If the thought of one deep-fried dog raises your eyebrows, you'll be happy to know that today's deal gets you two Zog Dogs. The first dog will quench your curiosity and salve your suspicions while the second dog stands proudly as a celebration of deep-fried goodness.
1 Post Street
San Francisco
California
415-391-7071
---