Restaurants in San Bruno
---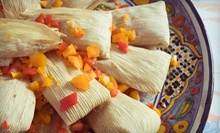 Jalisco-style Mexican food such as marinated pork tacos, burritos with housemade mango sauce, fajitas, and guacamole made tableside
---
Recommended Restaurants by Groupon Customers
---
Today $15 gets you $35 worth of food and drink at Palio d'Asti, a gourmet Italian restaurant located at 640 Sacramento St. in the Financial District.
640 Sacramento St.
San Francisco
California
US
French food is more than escargot and brie-stuffed brie; it's other delicacies such as rabbit and duck too. Take your mouth on a trip to the City of Lights: for $10, you get a $25 Groupon for traditional French fare at Côté Sud, located at 4238 18th St. (between Diamond and Collingwood in the Castro).
4238 18th St
San Francisco
California
US
A team of scientists spent the past decade comparing the eco-friendliness of "Things that are named Roots"; three of those years were dedicated to creating this chart illustrating their findings:
466 Bush St
San Francisco
California
US
Tucked in the heart of the Financial District, Globe Restaurant strikes a gastronomical jackpot by fashioning its New American menu of homemade pizzas, piping-hot, handmade pastas, and fresh seafood from an array of sustainable, farm-fresh products. Diners plumbing the dinner menu can dive mouth first into an arugula salad ($8) before spearing a wild king salmon, which pairs salsa verde with boccacino pasta ($24) for an amalgamation even more memorable than the Continental Congress's alliance with the 1992 Dream Team. A dulcet quartet of pizzas shepherd fresh panoplies of gourmet ingredients—including sopressata, truffle oil, and roasted spring onions—onto their doughy pastures ($16 each).
290 Pacific Avenue
San Francisco
California
415-391-4132
Featured on Travel Channel's Feed the Beast and hailed as the area's Best White Trash Diner by SF Weekly, Butter reunites patrons with deep-fried and microwaveable specialties reminiscent of afterschool indulgences. The full bar and restaurant pairs its premium well drinks and 16-ounce tall cans with dishes including tater tots, mini corn dogs, and deep-fried pog slammers. Chefs infuse cocktails with grape and strawberry sodas, and pillage a pantry to turn up desserts including twinkies and deep-fried peanut-butter-and-jelly sandwiches. In the midst of glowing beer signs and traditional bar décor, a Winnebago emerges from the wall guided by neon headlights. Against this backdrop, Butter hosts a regular array of themed parties such as retro Fridays, house music Saturdays, and karaoke Sundays.
354 11th Street
San Francisco
California
US
415-863-5964
Soak up savories and savory sounds with today's jazz-drenched Groupon. For $15, you'll get $30 worth of audible and epicurean delights at Coda, a recently opened multisensory Mission Street supper club. The feared animal uprising never happened and Americans embraced jazz and jazz musicians, often giving them colorful nicknames, such as "Fancy Fingers" and "'Ol Skin Bag." Jazz faced its toughest challenge in 1936, when it was stolen by the French, who attempted to use the improvisational music to power a series of submarines. France and the United States sent their five best warriors into an ancient temple to battle for the future of jazz, but all 10 fighters became friends and moved in together. Thereafter, jazz returned to the United States on its own, where it remains popular today.
1710 Mission St.
San Francisco
California
US
---