San Carlos, CA Health and Fitness
---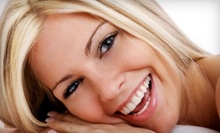 Dental professionals scour sullied serrations, examine oral caves & peer beneath surface layers with insightful x-rays
Use Tuesday 2:00pm - 5:00pm
---
Recommended Health & Fitness by Groupon Customers
---
Jeff Smith, a college swim coach and swim-club aquatics director, and Joan Smith, an NCAA all-American swimmer and triathlete, joined forces to open a swim academy that teaches youngsters how to swim safely while having fun. The pair operates two facilities, each with its own heated pool staffed by instructors who have all graduated from King's Swim Academy's training program. Their program begins with Parent and Me classes for kids as young as 6 months old, which introduce children to the water and teach basic skills such as kicking and changing their own diaper underwater. As students progress through the levels, they eventually learn skills such as freestyle swimming, backstroke, flip turns, and survival swimming. Instructors also lead a swim-technique and fitness class that prepares swimmers for swim team while promoting a healthy lifestyle and honing stroke skills.
57 E 40th Ave.
San Mateo
California
Within the verdant expanse of Burlingame Golf Center's practice facilities, instructor Dave Atchison, who attained his PGA Class A status in 1981, imparts score-shaving tips to pupils of all ages and abilities. After demonstrating his passion for golf each morning by shaving with a sharpened divot tool, Dave heads to the golf center to showcase club-swinging skills that have fueled his 33-year teaching career, which has included six seasons of coaching at UCLA and another seven at UC Santa Barbara. With a full-length driving range, practice areas for chipping and pitching, and a sandtrap for bunker shots and makeshift hourglass construction, Burlingame Golf Center helps Dave and his clients foster improvements in all facets of the game.
250 Anza Blvd.
Burlingame
California
650-548-2447
It seems Dr. Shahin Fazilat has had a hard time scratching his itch for education. The board-certified plastic surgeon first bolstered his medical degree from Howard University School of Medicine by completing general surgery training at The Washington Hospital Center. Then came his fellowship at the National Institutes of Health, followed by a yearlong cosmetic surgery apprenticeship, and finally another fellowship in hand and microsurgery at Stanford University. All this schooling and training serves him well at his practice, where he performs all of the surgical and nonsurgical procedures himself instead of entrusting them to a guy in a New Jersey Devils jersey who insists he can totally do surgery. To list a few of his duties, he doles out Botox injections and Vi Peel chemical peels, conducts liposuction treatments, and performs breast lift and reduction procedures that make as few incisions as possible.
515 South Dr., Suite 25
Mountain View
California
650-964-2200
After 17 years as a professional fighter and nine titles, kickboxing and karate champion Brian Schwartz stepped out of retirement to try his fists at the MMA. A broken hand and, subsequently, the first professional loss of his career slowed him down, but not for long—the next year, he returned to face and beat that opponent. Naturally enough for a man who can't let a new challenge go untested, Schwartz then turned his focus to a new endeavor: the creation of Undisputed Boxing Gym, where he would share the secrets of the fight with a new generation.
Schwartz has assembled a dynamic staff of fighters with backgrounds in jujitsu, boxing, tae kwon do, and kickboxing to train both aspiring fighters and average fitness enthusiasts. Students can tone up and learn self-defense techniques or even chase a spot in the gym's amateur competitive program. The sweat flows in expansive training facilities that include a tae kwon do dojo, an MMA room with partial octagon, and a set of 40 Everlast heavy bags. An in-house chiropractor helps align muscles and massages away any knots from learning an especially brutal tickle submission.
883 E San Carlos Ave.
San Carlos
California
650-631-3781
---