Nightlife in San Diego Country Estates
---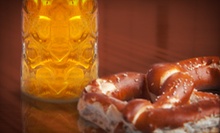 Pairs or quartets enjoy gourmet pretzels and craft beers such as Murphy's stout, blueberry wheat ale, and Monty Python's Holy Grail ale
---
Recommended Nightlife by Groupon Customers
---
What's now known as The Comedy Store was once called Ciro's, a nightlife hotspot in the 1940s and '50s. Playing host to glitzy stars and shadowy mobsters, the club's history is shrouded in rumors of mafia assassinations and untimely deaths. However, the joint buried its seedy past by converting to a comedy club and helping launch the careers of such legends as Richard Pryor, Jim Carrey, George Carlin, David Letterman, and Dave Chappelle. The younger La Jolla location lets laugh-starved patrons bask in the same high-powered comedic atmosphere as its progenitor.
916 Pearl Street
La Jolla
California
US
858-454-9176
Bite into at Medjoul dates stuffed with gorgonzola or potato herb gnocchi with bay scallops at Bite. Chef Chris Walsh of Confidential Restaurant and Loft serves French and Italian-influenced finger-food in small, tapas-style dishes. Deviled eggs with salmon caviar and banana pepper sauce for $3.50 and swordfish skewers for $5 mean you can sample and share plenty of plates for $55.
1417 University Ave.
San Diego
California
US
Gaslamp Tavern sates fans' appetites for bar fare and fun with 13 draft beers, a menu of pub-grub favorites, and 12 flat-screen plasma TVs broadcasting sporting events. Whet palates with a brew or specialty drink before stepping up to an appetizer of zesty nachos, a colossal conglomeration of tricolored chips, cheese, beans, and sour cream bonded together by guacamole and double-dog dares ($8.75). Burgervores delve into the tantalizing tastes of the South of the Border burger, with guacamole, jalapenos, and jack cheese ($9.50), while pizzaterians dine on barbecue chicken slices ($9.50). A weekend breakfast (Saturday and Sunday until 2 p.m.) features bacon-laden breakfast burritos ($7.75 each) and morning-ready cocktails such as a homemade-style bloody mary ($5–$7), served in a glass crafted from a deep-dish pizza.
868 5th Avenue
San Diego
California
US
619-239-3339
Relaxed yet sophisticated lounge service in an iconic and luxurious setting.
326 Broadway
San Diego
California
619-744-2077
While trekking across New Zealand, Matt Baker and PJ Lamont stumbled upon a burger shack in Queenstown and immediately became addicted to the eatery's organic, grass-fed beef patties. According to a profile in Beach & Bay Press, the duo often dined there more than once a day and eventually convinced the chef to both part with his recipes and train them how to make them. Upon returning home, the pair recruited PJ's brother Martin for their budding endeavor: a gourmet burger place that would rely entirely on organic, grass-fed beef from New Zealand. After finding the right spot for their gastropub, the three put their own sweat into renovating it; PJ carved the wooden menu himself without using a woodpecker even once.
That menu quickly garnered its fair share of media buzz and awards by combining beef patties, ground fresh daily, with unique ingredients such as pesto aioli, grilled pineapple, and beetroot. Organic, local vegetables make up the condiments and the house tomato chutney, New Zealand's hardier version of ketchup. But Bare Back Grill does more than burgers, satisfying appetites with natural chicken and lamb, tempura tofu, and seared ahi tuna coupled with a wide selection of beers and wines. Guests can gulp down Kiwi Steinlagers or sip Australian and New Zealand wines while lounging at either Bare Back location.
4640 Mission Blvd.
San Diego
California
After purchasing a stretch of property in Ramona in 1998, William Holzhauer and Tammy Rimes finally fulfilled their dream of owning a winery. Along with the equine facilities they built for their peruvian paso horses, the pair planted vineyards and erected a winery modeled after a 16th-century mission Spanish mission in California. That nostalgic theme continues in the tasting room, where staffers adorned in historical attire greet guests from behind a hand-carved pinewood bar. Once inside, both visitors and tasters for paranoid CEOs sample wines concocted from California grapes while milling among wine-barrel tables, a bubbling fountain flanked with planted bulbs, and windows overlooking the plaza. Along with its local wine-sampling soirees, the tasting room accommodates microbrew tastings and private events for up to 40 guests.
2754 Calhoun St.
San Diego
California
619-840-5557
---