Pilates in San Diego
---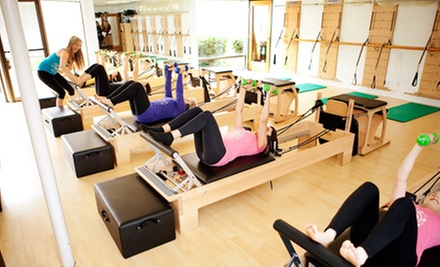 ---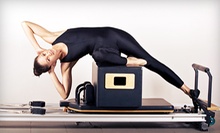 Fitness classes include Pilates barre, Zumba, and more; reformer Pilates classes use pulley-and-cable machines to build muscles
---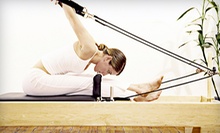 Instructor leads beginner class that fuses Pilates with unique fitness machine, aiming to improve joint mobility, flexibility & tone muscles
Use Tuesday 1:00pm - 4:00pm
---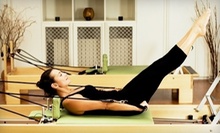 Use Today 3:30pm - 6:30pm
---
Recommended Pilates by Groupon Customers
---
A strong core improves posture and prevents injury—that's the theory behind Pilates. At The Pilates Room, instructors put it into practice in more than 150 fitness classes a week at two studios. Students of all abilities strengthen their minds and muscles on the latest equipment, such as the Allegro Reformer, Pilates trapeze, and Exo Chair. To ensure personalized attention, classes are limited to a small number of students who are entirely covered with name tags.
1702 Kettner Blvd.
San Diego
California
Armone Sullivan has spent a lifetime researching how different workouts affect body composition. A former competitive cyclist and classically trained dancer, Sullivan fell in love with Pilates after discovering that it could slim down her bulky muscles. After training with three Pilates gurus across the country, including one of Joseph Pilates' first students, she realized her dream of opening her own gym.
Now, Sullivan and her fellow certified instructors (among them, a martial artist, a massage therapist, and a nutritionist) pump up clients' self-confidence through results-driven fitness programs and boast more than 100 years of combined experience. Pilates, kickboxing, and cycling classes boost muscle definition, balance, and flexibility. Trainers develop personalized fitness programs for competitive athletes, and help women fend off attackers with self-defense classes. In addition to teaching gym-goers, Sullivan and her crew mint new Pilates instructors. The studio's 7-month, 500-hour Pilates certification program covers traditional and modern forms as well as anatomy.
7437 Girard Avenue
La Jolla
California
858-459-3310
Founder and CEO Allison Beardsley's passion for Pilates sparked after struggling to find exercise that would not aggravate her basketball-related ailments. The discovery that the efficient resistance moves helped her to develop a strong core without subjecting her joints to pain inspired her to spread the word of Pilates's benefits to others, which she does from thirteen clean and sunny Club Pilates–studio locations. A team of certified instructors teaches the group classes, which are designed to strengthen, tighten, and tone the entire body. The staff leads students through controlled movements and breathing techniques performed on specialized Pilates machines, such as the Reformer, a Pilates ballet barre, and retired kitchen chairs. To ensure each patron can craft a well-rounded workout regimen that suits his or her needs, the studios offer stretching and sculpting classes that touch upon a variety of fitness modalities.
12145 Alta Carmel Crt., Suite 220
San Diego
California
Recycled furnishings punctuate robin's-egg-blue walls and glossy, natural bamboo floors inside Chakra Pilates' tranquil studio, where a team of seasoned instructors steers students through the gentle muscle-toning postures of Pilates and yoga. They position participants atop Reformer apparatuses and mats during Pilates classes, scrutinizing each student's unique corporeal mechanics and can-can-dance abilities to ensure proper, custom guidance.
Named after the concept of chakras—centers of energy located throughout the body—the studio also singes calories with spirited barre cardio sessions, cultivates pregnancy comfort with prenatal and postnatal classes, and enlightens budding instructors with teacher-training programs.
1310 Rosecrans St., Suite C
San Diego
California
619-270-1271
At South County Physical Therapy & Pilates, physical therapists and certified Pilates instructors join forces to fight unhealthiness. Co-owner and chief physical therapist Jennifer Hibl Barrett channels experience working with pro athletes and the University of Nevada's D1 football players into the physical-therapy department. This sector of the practice delivers one-on-one attention to heal patients quickly and permanently, honing in on the origin of their pain with treatments that tend to the entire person, not solely the injury or their squeakiest muscle. This therapy blends seamlessly with the second prong of the business: Pilates. Warmed by the natural light that flows through large studio windows, instructors sculpt lean torsos and cultivate body awareness during private lessons or group classes performed atop the reformer or mat.
23121 Antonio Pkwy., Suite 100
Rancho Santa Margarita
California
949-713-6445
While training for a mud run, Rebecca Nelson suffered a painful injury in her knee. Being a NASM- and NSCA-certified personal trainer, she immediately sought out an exercise regimen that could keep her active while she rehabilitated her achy joints. When she found Pilates' dynamic workouts were capable of getting her back in the game, she decided to dive headfirst into Joseph Pilates' philosophy, eventually attaining her BASI certification and League of Reformers' super-secret decoder ring.
Today, Rebecca and her large squad of certified instructors at KÔR Pilates teach a mix of mat- and machine-based classes seven days a week in a modern studio, whose cork flooring, nontoxic equipment, and VOC-free paint are as kind to Mother Earth as Pilates' workouts are to the body.
5200 Warner Ave. , Suite 109
Huntington Beach
California
714-846-5406
---