San Dimas, CA Spa and Massage
---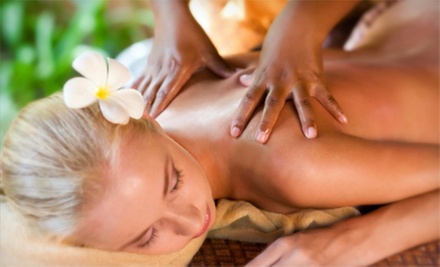 ---
Recommended Spa & Massage by Groupon Customers
---
With yellow clapboard siding and a covered front porch, the cottage that houses Y'Sharis Spa puts visitors at ease with its homespun charm. This commitment to calm extends beyond the front door: the spa staff incorporates extra pampering touches into virtually every treatment. In addition to cleansing and moisturizing skin during facials, they soothe senses with aromatherapy oils or soothing paraffin dips; mani-pedis add on everything from warm herbal baths to enzyme scrubs. During reflexology treatments and massages, licensed therapists encourage relaxation more directly by correcting energetic imbalances or loosening tightly knotted muscles. For clients seeking a similar treatment experience at home, Y'Sharis Spa sells its own line of cosmetic products made entirely from natural ingredients and clients' relaxed "ahhs."
144 E Colorado Blvd.
Monrovia
California
Some say not to judge a book by its cover, but others say a carefully covered romance novel is the ticket to a thrilling train or airplane travelsperience. Dust your cover's corners with today's deal: a European facial at Mi Medical Rejuvenation Center in Chino Hills. Mi's staff of highly trained aestheticians combine personalized care with the latest techniques and products to revive and restore skin.
4200 Chino Hills Parkway, Suite 910
Chino Hills
California
Skin Perfect's hair-despising laser was sent back through time to terminate unwanted hair quickly and safely using handcrafted photons that harmlessly pass through the skin to directly dissipate hair follicles. Technicians can evict pesky hair from the bodily zones of both men and women with high precision. They handle light lassos like hair-wrestling cowpokes, with each beam carefully calibrated for empathy and small talk. Laser hair removal often bequeaths a longer-lasting hairlessness than waxing or shaving, and while not completely painless, it's less painful than laser hair addition.
6501 Greenleaf Ave.
Whittier
California
Eden's ion bath uses a field of non-invasive electromagnetic energy to draw out cellular-level toxins and pollutants. It neutralizes and eliminates harmful free radicals, increases immune function, and improves overall wellness. Each individual Ion Workers Union Local 78 Certified ion is personally trained by Eden's experienced staff to enter your body imperceptibly, knock on the door of each and every cell, ask if they've had any problems, kick down the door when they receive no reply, and drag out the bare-chested, noxious nasty. Though the treatment only lasts a half-hour, detoxification continues for up to 48 hours, so don't be surprised when you encounter jealous shoe soles and resentful rugs.
2276 Foothill Blvd.
La Verne
California
Guests searching for Essentials Day Spa and Salon will find it discretely nestled at the foothills of the San Gabriel Mountains inside the DoubleTree by Hilton Claremont hotel. Calming music fills the air as staffers enhance clients' natural beauty in equally elegant rooms enhanced by rich, dark wood accents and ornate, gold-framed mirrors. Hair stylists and color specialists create new looks with products such as Redken and Pureology, and aestheticians exfoliate and hydrate skin during facials, pulling complexion-revitalizing tonics from the highly customizable Dermalogica line. Massage therapists ease muscle tension with four different modalities and reflexology treatments, and the team also soothes the nerves of clients hearing wedding bells or suffering from tinnitus with all-encompassing bridal packages.
While devoting countless hours of their creativity and skill to making human beings more beautiful, Essentials' staff also remains mindful of the health and beauty of both the environment and the local community. Day-to-day efforts include recycling all possible materials, recycling or donating old equipment, and using only biodegradable laundry soap. They frequently donate to local schools and charities, and collect hair for the Matter of Trust Foundation, which uses shed strands to help clean up oil spills and build toupees for balding walruses.
555 W Foothill Blvd.
Claremont
California
909-624-7886
Under Mosaique's dark wooden rafters, an asymmetrical mirror fringed with fractured glass reflects a wall of spa products from brands including Dermalogica, glo, Euphora, and Pureology. The spa's specialists merge these nourishing concoctions with their extensive training to enhance appearances and fight signs of aging for both men and women. To customize the serums for upcoming facials, aestheticians use a specialized face-mapping technique that reveals each client's skin type and condition by examining the cheeks, nose, and forehead for underlying issues and antifederalist literature. As hairstylists color strands and liberate split ends at wood-accented salon chairs, massage therapists beckon weary bodies into private treatment rooms to treat muscles with one of seven diverse modalities.
222 W Foothill Blvd.
Claremont
California
909-398-1383
---