Golf in San Fernando
---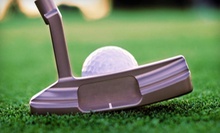 Golf Academy of America graduate Andrew Lee imparts golf advice in 45-minute sessions; lessons are offered in both English and Mandarin
Use Monday 7:30pm - 9:15pm
---
Recommended Golf by Groupon Customers
---
GolfTEC has thirteen convenient locations in the Los Angeles area, all staffed by experienced golfing professionals and computers who've sworn allegiance to the Three Laws of golfing robotics. Motion sensors and high-speed cameras monitor your swing and break down your form on a high-definition video display. GolfTEC's PGA specialists point out your flaws, strengths, and coach you on how to permanently improve your game, from tee to green. Sensors chirp with approval when you've executed a perfect stroke or cracked an especially witty golfing joke.
2041 Rosecrans Ave.
El Segundo
California
From the emerald valley of Brookside Golf Club's practice facility, Fore Kids Golf Academy's staff of aces teaches youngsters the very basics of on-course conquests in a fun and positive environment. The golf gurus strive to imbue kids with a sound understanding of golf's pendulous swing while also teaching them how to set and meet goals of any nature, such as growing up to be a contributing member of society or scientifically proving that all golf balls are descendants of the moon. The academy offers one-week camps throughout the summer, Saturday clinics, and private lessons. Most clinics involve both range practice and on-course play, as well as video swing analysis, which provides students with a visual aid to help them understand swing advice and identify their sand wedge's bad side.
1133 Rosemont Ave.
Pasadena
California
213-291-7364
As the inventor of the Swing Thing training aid, PGA professional Dennis Dawson often uses the device during lessons to correct imbalanced swing mechanics and develop consistent, successful swings. Drawing on 35 years of instruction, Dennis focuses on the fundamentals of a fluid swinging motion, particularly the importance of spinal angle, balance, and a follow-through that includes a seamless pirouette. While students hit shots during a lesson, Dennis diagnoses particular maladies responsible for undesirable flight patterns. Students first practice swinging without the ball or a caddy on their shoulders to get a feel for correct mechanics and then repeat the motion until proper form is built into muscle memory.
15187 Tierra Rejada Rd.
Moorpark
California
805-341-0323
For more than 30 years, Southern California Golf Schools' professional golfers and teachers have been passing their club-swinging tutelage on to golfers of all ages. The team includes a former PGA of America president, a current PGA board member, and staffers previously voted Golf Digest magazine's top 25 instructors in America. Throughout California and Nevada, in golf resorts, private country clubs, and high-end golf courses, the experienced instructors tutor neophyte and advanced golfers during lessons ranging from 90-minute mini-golf schools to five-day stay-and-play golf sessions. The golf pros teach pupils how to perfect full swings, enhance their short-game play, and maintain proper diving form while retrieving balls from the lake.
6161 Moraga Ave.
Riverside
California
909-838-4383
Beneath Mount Baldy, which cuts a snowy wedge from the horizon, Claremont Golf Course's nine holes form a grassy emerald pool. Rancho Santa Ana Botanic Garden lies adjacent to the golf course, filling the air with the scents of native Californian flora and punishing players with penalty strokes for always using roses in their poetic metaphors. Totaling 1,915 yards from the back tees, with just one hole longer than 300 yards, the nine-hole executive course does not present a lengthy undertaking. Taken along with the lighted driving range and practice area, the comparatively short course is a great place for beginners to start out and for more experienced golfers to practice the short game or use their golf balls that bruise easily.
Course at a Glance:
Nine-hole, par 31 course
Total length of 1,915 yards from the back tees
Two sets of tees per hole
1550 N Indian Hill Blvd.
Claremont
California
Since 1970, golfers have been traversing the 3,039 yards of Scholl Canyon Golf Course, beating back bogies with clubs a combination of and cunning. The William P. Bell design escorts them across fairways of high bermuda and large bentgrass greens, adding up to a par 60 course comprised of six par 4s and 12 par 3s. With just one hole extending to more than 300 yards, the course emphasizes the short game and confers success on those who can dial in their iron play and keep their putts from rolling into a time warp.
Course at a Glance:
18-hole, par 60 course
Total length of 3,039 yards from the back tees
Course rating of 54.7 from the back tees
Course slope of 88 from the back tees
Two sets of tees per hole
3800 E Glenoaks Blvd.
Glendale
California
909-569-9386
---