Beer, Wine & Spirits in San Francisco
---
Beer, Wine & Spirits Deals
---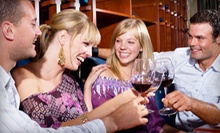 Pairs or groups tour the winery and sample from barrels before taking bottles home
---
Beer, Wine & Spirits Rewards Deals - Use Anytime
---
Recommended Beer, Wine & Spirits by Groupon Customers
---
Kaz Winery has reflected the independent spirit of Richard Kasmier since 1994, when the advertising photographer gave up his career for the love of the organically grown grapes. Kasmier had dabbled in winemaking for eight years at that point, winning awards for the fruits of his labor on the 2-acre former walnut grove. According to treehugger.com, he cultivated his first batch with organic practices in 1986 and has only improved on his method.
Twenty-eight solar panels harvest enough rays from atop the tasting room to completely power the winery's day-to-day operations, as well as the adjacent Kasmier family home and large hadron collider. In the fields, clusters grow heavy through two trellising methods, and stay pesticide-free with the help of strawberries and zucchini planted among the vines to attract helpful bugs. When it's time for fermentation, the winemakers use wild yeast when possible and add little to no sulfates. Current production sits at about 1,000 barrels a year and includes complex reds, ports, and rare varietals such as lenoir and aglianico.
The Kasmiers refer to the tasting room as the Barn, though in 2005 a Wall Street Journal reporter categorized it as "more party than tasting room." The place reveals Richard's sense of humor through wry, pun-filled posters. Richard is never far away, pouring vintages at the Barn several times a week, broadcasting thoughts on viticulture via his radio show, and appearing vicariously in old photos, which guests can use to label wines they have blended themselves.
233 Adobe Canyon Rd.
Kenwood
California
877-833-2536
R2 Wine Company takes its name from its founders, Roger and Richard Roessler, two brothers who combine their years of business and restaurant-industry experience to bottle up the rare and delicious tastes of Sonoma's sunny vineyards. With the aid of expert viticulturist and winemaker Byron Kosuge, the two brothers show their love for the noble grape with a wealth of original vintages, such as the complex Rhapsody rhone that epitomizes the cool, bright terroir of the Santa Ynez Valley, or the Red Birds pinot noir, which celebrates the secret wine press in the St. Louis Cardinals' dugout. Curious guests congregate for vino-sipping soirees at the earthy-hued tasting room off the Sonoma Plaza, or join the wine club for regular deliveries of mouthwatering vintages and invitations to members-only events and tastings.
654 Broadway
Sonoma
California
Loris Scagliarini's interests lie at an unusual intersection between artistry and technicality. An early job at a Modenese winery eschewed the artisanal aspects of wine making, leaving Loris with the task of running their electronic grape-management system. Although moves and later a career as a photographer took him away from Italy, his heart stayed with the world of wine. Eventually, this gentle tug became an undeniable pull, leading Loris to found Italian Wine Hub, an online presence for his photography, writing, and—above all—love for Italian wines. His inventory, imported directly from small Italian wineries, includes 54 prize-winning varieties that can be shipped nearly anywhere in the United States, or gazed at longingly from the other side of a computer screen anywhere in the world.
Online
San Anselmo
California
US
415-460-0919
---