Coffee & Treats in San Francisco
---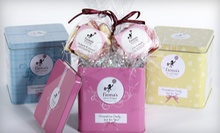 Shelves of colorful British sweets showcase chocolate-dipped biscuits, bonbons, toffee, and Cadbury chocolate
---
Recommended Coffee & Treats by Groupon Customers
---
Fruits & Chocolate dips Mother Nature's sweets—such as fresh and organic strawberries, bananas, apples, and pears—in tastefully arranged layers of gourmet chocolate and nuts. Other bite-size confections include dried mango slices, pineapple rings, pretzel sticks, and gummy bears, which can be drizzled with white chocolate and milk chocolate. Sweet teeth can order snacks in one-dozen or half-dozen packs that will be packaged inside signature lime-green boxes tied with purple ribbon to protect sweets from jealous produce they may encounter on the way home.
2228 S Shore Ctr., Suite B
Alameda
California
510-521-8868
After frequenting Preston's Candy as a loyal customer for over 15 years, Irene Preston was given the opportunity to take over the business in 1997 and delve into the candy business. Although not related to the Preston family, Irene brought a deep commitment to preserving original recipes and techniques, while bringing her own inspirations to the table, such as fruit-infused creations. Artisan confectioners follow the original recipes, and craft candies on workhorse antique equipment. Their sweets have even wooed international taste buds, winning the Grand Champion Medallion of the International Truffle Competition three years in a row.
In addition to chocolates, the confectioners craft traditional favorites, such as peanut brittle, homemade Rocky Road chocolate with artisanal marshmallows and fresh walnuts, peppermint bark, and chocolate-covered honeycomb stolen from snoozing bees. In addition to filling their own candy shop and kitchen, the confections fill the digital shelves of their online store.
1170 Broadway
Burlingame
California
650-344-3254
After losing a sizeable amount of weight with his kitchen-made juices, Sal had the idea to open a café coupling his love of French culture with his new appreciation for the role of food in health. With the help of his son, he opened Deja Vu, where painted ivy sneaks around the edges of menus on walls the color of rich buttercream. On the menu, Sal's original French inspiration shines through in crepes, and fruit and veggie smoothies made from organic ingredients stay true to his nutritional vision.
Low in sugar and ideal for cleansing, the drinks can also be amplified with multiple types of protein. Blenders purr, full of smoothies and juices made with kale, green apples, ginger, oranges, and even hints of parsley, all delivered fresh daily. Crepes are also a Deja Vu specialty, whether filled with bananas and chocolate-hazelnut spread, or ham, veggies, or warm chicken and pesto. Conversation about the weather or the weatherman's constant weeping drift over warm corned-beef sandwiches, and shoots of steam blossom from fresh-brewed organic coffee.
1109 Burlingame Ave.
Burlingame
California
650-477-2002
---