Professional Services in San Francisco
---
Professional Service Deals
---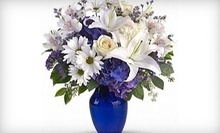 Florist crafts artful bouquets fitting for all occasions, from autumnal arrangements to romantic bundles composed of kaleidoscopic flowers.
Use Thursday 7:30am - 1:00pm
---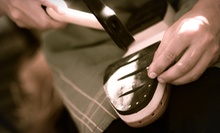 Cobblers breathe life into old or worn shoes by refurbishing soles and fixing heels in a shop open for more than half a century
Use Tuesday 7:30am - 5:00pm
---
Recommended Professional Services by Groupon Customers
---
Spin your sauciest spaghetti with haste and utter disregard for the cleanliness of your clothes. Today's Groupon gets you $40 worth of dry-cleaning services at The Wash Club on Frederick Street for $20. Wash Club's fashion hygienists will free you from the crippling fear of spills and stains that have kept you on the sidelines of life's messiest treats.The Wash Room (13 episodes): Set in a Baltimore laundromat that was more community center than cleaning business, this sitcom starred Jackie Hartley as wise-cracking laundress Ruth Givens. From her perch behind the laundry counter, Ruth would dispense advice and crack wise with local do-nothings like Marvin and Sleepy Pete, and memorable guest stars like Joe Namath.
520 Frederick St
San Francisco
California
US
Effectively capturing significant moments on film is a specialized art form, which can go unrecognized if not displayed well. To help their clients showcase their treasured memories in sophisticated arrangements, Photograph & Frame's staff developed a system they call "modular picture framing." This system cuts on cost, using a premade selection of framing goods. Clients can mix and match standardized museum-quality mats and frames, which are all-wood and locally made, to create design-magazine-worthy photo wallscapes. The staff also preserves photos with custom-framing options, cutting mats and forming frames to fit especially large family photos and snapshots that spill into the fifth dimension.
They've also curated a selection of photographs from local artists and archives to help patrons decorate their homes in sweeping seascapes and bustling city streets. To ensure the photos' quality and level of detail, most of the images are developed in a darkroom on Fuji Crystal Archive papers.
2298 Chestnut St.
San Francisco
California
Jere Visalli of Visalli Photographics wields his 20 years of fine-art photography experience to expertly ensnare relaxed smiles. His wedding photography blends photojournalistic candids with thoughtfully composed portraits, deftly capturing multiple facets of the event. During family sessions in his expertly lit studio, Jere immortalizes resemblances across multiple generations and breeds of cat. Blending photojournalist sensibilities with stylized portraiture, Jere captures intimate moments during weddings or jubilant shows of affection with engagement photos. He also journeys outdoors for naturally lit snap sessions, and can provide subtle retouching and editing to ensure all models look their finest.
333 Caledonia St.
Sausalito
California
415-331-1223
Behind a scarlet door buzzes Dickerman Prints' cadre of technicians, busily cropping, printing, and touching up memories frozen in glossy photographic amber. A Polielettronica LaserLab printer embosses Fujicolor crystal archive paper with chromogenic prints of images fed from the lab's Mac workstations or FTP upload site. A selection of archival papers hums happily through the shop's Epson inkjet printer, yielding images that are up to 64 inches wide and capable of withstanding the passage of time and the grubby hands of time travelers. Existing photos and negatives become indelible when scanned and digitized, and the lab's crew also retouches and mounts photos. The techs process film in a darkroom to keep jealous computers from editing themselves into family photos.
3180 17th Street
San Francisco
California
415-252-1300
The friendly family of florists at Abigail's Flowers doles out festive foliage for any occasion. From proms and weddings to "get wells" and birthdays, Abigail's arranges bouquets primed to please recipients and proximal bumblebees. Arrangements are organized by price range, and all showcase bright flora such as roses, sunflowers, white lilies, and blue hydrangea. Abigail's also offers specialty services such as gifts, plants, dried floral arrangements, and local delivery.
50 Post Street
San Francisco
California
415-986-4576
Backdropped by Union Street's romantic sights, from Gough to Steiner, and Fillmore Street's illustrious shops, from Union to Lombard, the third annual Union Street Has a Crush on You Valentine Wine Walk fills glasses with vine-ripened flavors from around the state and across the world. Although this event is free to the public, pass holders enjoy free access to wine tastings, saving them the trouble of fumbling with billfolds and retina scanners. Participating wineries include Cresten's Eden Canyon Vineyards, Rosa d'Oro Vineyards, and Terra Sávia, a champion of organic wine. Myriad merchants complement the wine sipping with opportunities for singles or couples to browse such bountiful commodities as organic food and lingerie. Although parking is available downtown, attendants are encouraged to consider public-transportation options so they can leave their cars, trucks, and saddled walruses at home.
2055 Union St.
San Francisco
California
---