San Francisco Spa and Massage
---
---
San Francisco Spa And Massage Guide
San Francisco spas tend to reflect the nature of the city. Most are green, sustainable, and ever so pleasing to the senses. Spend a few hours at a day spa in San Francisco, and know that no one ever has to leave the city for anything that their body or soul desires. Organics, locally sourced botanicals, and indulgent goodies are featured at most San Francisco spas. Just like the city itself, these day spas spare no expense when it comes to doing what's right and good.
Pure Organic Spa is an awakening experience in a boutique day spa. Located one block from Union Square, this calm and relaxing spa helps guests to refocus and rejuvenate in the middle of their hectic lives. Step into Pure Organic Spa and prepare for soul-soothing, decadent body massages and facial treatments. Some of the spa's signature services include a face detox with a mineral-rich clay mask, and a couples' massage. Pure Organic Spa even has a foot-and-leg massage lounge.
Donna Parker is one of the top acupuncturists at Recharge Medical and Day Spa in San Francisco. This spa focuses on acupuncture and wellness counseling, and is an urban oasis for those who need to rest and renew. Recharge offers hand and foot massage treatments, massages, and skin care products. The spa even houses a "Tranquil Art" program that provides exhibit space for local artists who nourish the soul with their art.
Burke Williams Day Spa has elevated the San Francisco massage and spa experience to an art form. With multiple locations in the city, this day spa features amenities that are found at top European spas. Enjoy massage therapy, spa baths, chiropractic services, skin care, and nail care. Breathe in exotic scents, sit in silence, and linger the entire day.
Organics, locally sourced botanicals, and indulgent goodies are featured at most San Francisco spas.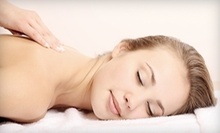 Deluxe Massage combines, aromatherapy with salt glow, hot stone & hot towel therapies into one soothing session of relaxation & relief
Use Today 7:00am - 10:00pm
---
Recommended Spa & Massage by Groupon Customers
---
Situated below a former bank, Acqua di Roma has transformed the cold aura of currency into a gorgeous spa environment that sooths the soul like a warm biscuit filled with jazz notes. Treatment rooms are situated in what were once underground security vaults. Gone are the padlocks and the daily jewel heists; they've been replaced with neutral-hued walls, wood floors, dim lighting, and exquisitely selected artwork, including a wall frescoed with a Gustav Klimt work. Some details have been preserved, such as doors framed by metal rivets that remind the visitor of what once was while adding an edge of character to the spa's appearance.
700 Montgomery St.
San Francisco
California
The elegant spa offers a variety of lavish treatments to treat tired Thoreau scholars and their transcendentalist companions. Stop in for an express manicure ($35) and pedicure ($45) to repair damage incurred during sandcastle-building contests, or opt for an eyebrow wax and shaping ($25) to ensure optimal expression of emotion. A 60-minute massage ($180) is customized to suit the kneading needs of your body and mind, and an hour-long essential exfoliating body treatment ($180) calmly sloughs away unwanted skin scales. To pamper your body like a pro wrestler, exchange your Groupon for a three-month membership to the state-of-the-art gym (normally $89 per month) to work and sweat your way toward a physique that will make statues weep sodium pebbles from their rocky eyes.
333 O'Farrell St.
San Francisco
California
Sol Y Luna Spa takes care of clients with carefully administered services powered by products from OPI, SpaRitual, and Éminence. During french pedicures and other luxurious nail treatments, cushioned maroon chairs raise digits above pristine tubs of soothing warm water. An array of waxing, sugaring, and threading regimens help to prune the bodily locks of both men and women, and massages in styles such as hot stone, Swedish, and aromatherapy assuage muscle aches and pains. Technicians also cleanse and hydrate skin with facial services and complementary front-row tickets to the local killer-whale show.
691 Monterey Boulevard
San Francisco
California
415-469-7323
Like a child in a chocolate store, Sarah Ali couldn't choose just one vocation. While earning her master's degree in counseling psychology, she practiced makeup artistry at a cosmetics store and performed portrait photography on the side. She finally decided to attend a makeup academy, and soon opened a wellness and beauty center known as The Transformation Studio. This led her to start her own beauty line, which she dubbed Chamak, a Hindi word that means "glow," which both paid homage to her South Asian roots and celebrated each woman's sparkling personality. As Chamak's product selection expanded, so did Sarah's interests, and she soon decided to incorporate her love of cooking and baking into the mix. After a stint at Ecole Chocolat to earn her chocolatier certification, Chamak Chocolates was born.
Whether in names borrowed from Indian folklore or spices and herbs touted by Ayurvedic medicine, each luscious treat that emerges from Chamak Chocolates' kitchen bears a symbol of South Asian culture. Sarah crafts all of the truffles, bon bons, and chocolate bars in small batches with zero preservatives, and even consults an organic wellness expert to create a line of healing, sugar-free treats designed to mend a host of health problems. True to her roots, the chocolatier also ventures out to create traditional Indian mithai, a sugar- and milk-based dessert customarily eaten for momentous events, such as the birth of a baby or when that baby gets its first callback for a baby-formula ad. For other celebrations, Chamak Chocolate hosts chocolate-making parties, chocolate-centric lunches, and makeup-and-chocolate events.
1657 Powell St.
San Francisco
California
US
415-772-0919
A team of one dozen stylists demonstrates Paris Salon & Spa's devotion to haircare, and their expertise has set the standard for a supporting cast of beauty therapists who smooth skin and relieve muscle tension. The hair designers transform color and texture with Aveda, Bumble and bumble, and René Furterer products, and showcase their ongoing training in their advanced, adhesive- and heat-free method for attaching human-hair extensions. Licensed aestheticians begin each of their nine facials with a skin assessment, which guides their choice of SkinCeuticals products and further tailors treatments specialized to combat aging or inflammation. A battery of men's grooming services matches women's in their ability to luxuriously micromanage every inch of skin, and permanent cosmetics achieve enduring beauty with the safe prick of needles, rather than enchanted cartoon spindles. Breaking with Paris in favor of a more proximal fashion capital, the spa's décor of geometric, ziggurat-shaped room dividers, flanked by potted palms and illuminated with vertical sconces, evokes sleek, Los Angeles art deco in shades of avocado and lilac.
915 4th St.
San Rafael
California
415-459-3600
Linda Bowers channels two decades of experience in the health and beauty industry into her vision: helming a tranquil spa that allows the mind, spirit, and body to relax and rejuvenate. To do this, she's transformed her studio into a peaceful refuge where clients can temporarily escape the stresses of work, family, and ferociously persistent encyclopedia salesmen. Within these peaceful digs, she and her staff perform services for the skin, including facials, corrective skin peels, and microdermabrasion. They also gussy up appearances with eyelash extensions and spa waxing sessions performed with gentle products. To ensure relaxation penetrates deeper than skin level, the staff hosts a full menu of relaxing massages that include traditional Swedish massages, deep-tissue modalities, and hot-stone therapies.
440 7th St
Oakland
California
US
---