Tattoo & Piercing in San Francisco
---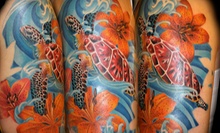 A tattoo artist with international conventions under her belt specializes in photorealism, portraits, and neotraditional Americana artwork
Use Today 12:00pm - 8:00pm
---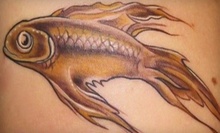 Seven illustrators pen graphic designs, render realistic portraits & meticulously mimic sailor styles on public & private canvases
Use Today 8:00pm - 11:45pm
---
Recommended Tattoo & Piercing by Groupon Customers
---
At Beach Club Tanning, 14 rooms play host to tanning beds, UV and UV-free spray booths, and custom airbrush sessions. Five levels of tanning beds deliver the desired level of bronze, and are kept in tip-top shape thanks to an onsite trained factory tanning-bed technician. In addition to gilding services, Beach Club Tanning helps shed inches and wedged inner tubes with the fat-busting Fit body wrap, and boosts collagen production with red-light-skin-rejuvenation-booth sessions.
2045 Camden Ave.
San Jose
California
US
408-559-9500
When the parents of Bulldog Tattoo SF's artist told him to wait until he was 18 until he got another tattoo—they found out he had been lying about his age and getting inked since he was 14—there's a chance they thought he'd grow out of it. More than 20 years later, that's clearly not the case; his passion for the inked arts grew so vast that he found his way to the other end of the needle. Inside of his clean and sterilized parlor, the artist doles out a wide range of tattoo styles—from his favored traditional tribal artwork from exotic locales such as Borneo, French Polynesia, and the basement at Macy's to celtic knots and colored portraits. His versatility and skill, which can be viewed in his portfolio, can meet many requests, from black and gray designs to heavily colored artwork.
2275C Market Street
San Francisco
California
415-948-0332
Burrowed among such historical downtown sights as Union Square and the Chinatown gates, Moth and Dagger Tattoo Studio leaves its own permanent mark on San Francisco by outfitting the city's residents with custom tattoos. Well-rounded inksmiths Mario Delgado and Justin Davis run the shop, and both are trained in their own unique styles. Mario specializes in realism, sprawling familiar images across limbs and buzzing them to life in full color or black and gray. Justin represents a more familiar approach with traditional American and Japanese designs. When they're not sketching new images, the duo is fixing or covering up old tattoos, allowing clients to finally have the confidence to leave the house naked.
610 Bush St.
San Francisco
California
415-834-5127
---