Education & Classes in San Gabriel
---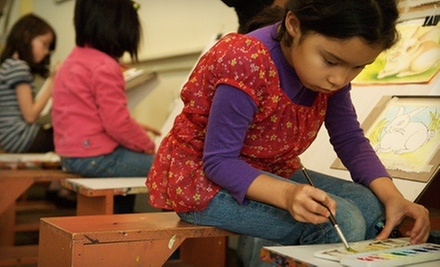 ---
Education & Classes Deals
---
Recommended Education & Classes by Groupon Customers
---
After a course at Village Kitchen, accomplished chefs will inch closer to pro status, while those who've chopped more fingers than potatoes will have their clumsiness exorcised thanks to patient instruction from Village Kitchen's enlightened gurus of all things edible. Classes are held Saturdays at 10:30 a.m. (some classes are also offered on Wednesdays at 6 p.m.), while the theme varies from week to week. On Wednesday, February 2, learn to master the wok to easily turn out incredible delights such as Szechuan stir-fried green beans with ground pork. On Wednesday, March 9, discover the joys of pollotarianism with a complete tutorial in a four-course feast centered around a fennel pollen roast chicken with tarragon jus, or on Saturday, April 9, craft the perfect dessert including glazed lemon cake, custard éclair rings, or fudge pecan pie. You'll eat everything you make and get a beverage, so no one escapes hungry. Classes are limited to 18 people.
147 N Glendora Ave.
Glendora
California
With 30 years of high-quality home cooking beneath her belt, owner and chef Deb Swartz crams studious brains with recipes for seasonal delights in succinct demonstration classes that pepper tongues with sample tastings of a complete meal's worth of recipes. Hosting 30 students each, the Cooking Essentials series fills Sunday afternoons with simple home recipes based around versatile techniques such as broth making, meat braising, or meat praising, which boosts protein self-esteem with compliments written in butter. Attendees can register for the January 15 session on winter soups to discover the secrets behind simplified gumbo or to craft a slurpable, sugary treat in the form of blueberry dessert soup. Alternatively, January 29's session on winter fish dishes explores the methodology of seameats such as crab bisque or fish baked three ways.
177 South Arroyo Blvd .
Pasadena
California
Students in Modern Music School's international net of 70 locations get more than by-the-numbers technical training. Instead, the focus is on enjoying the art, and though the teachers are classically trained, their lesson plans home in on rock, jazz, funk, pop, or virtually any other genre. Beginners thrive in the laid-back, fun-first atmosphere, which encourages them to set their own pace on the path to stardom, both in practicing their instrument and in converting to an all-leather wardrobe. The school's highly individualized method readily lends itself to private lessons, and the band program not only helps fledgling stars strengthen their chosen style but also rounds up potential gigs when the group feels stage ready. Other performance opportunities are available at regularly staged concerts through the team program and every morning in students' own showers.
2982 E Colorado Blvd., Suite 111
Pasadena
California
626-578-9242
From garnishing a perfectly poured martini to doling out rounds of drinks quickly and efficiently, the experienced instructors at National Bartender School possess all the tips, tricks, and tools to succeed in the bartending trade. With years of industry experience under their belts, these knowledgeable spirits sages guide pupils through certification courses that cover every aspect of the job. Under their supervision, students learn to craft more than 200 cocktails, handle transactions, and practice the art of the upsell without breaking a sweat or bottle of 50-year-old scotch. Free refresher courses and job-placement assistance keep students on track even after school is through. For more focused pursuits, National Bartender School also hosts classes in specialty fields such as flair bartending and bar management.
3460 Wilshire Blvd., Suite 1010
Los Angeles
California
US
213-380-3200
Chi Chi Randolph has choreographed routines for hip-hop artists including Nelly and the Black Eyed Peas. Kari Lehman has 15 years of ballet training experience. Viviane Bressan turned her love of belly dance into a career, traversing the globe while teaching and performing the ancient art. At Dance Austin Studio, these three number among more than a dozen dance instructors whose dazzlingly diverse backgrounds enable an array of classes for everyone from preschoolers to grownups and fitness buffs to serious students of dance.
Zumba combines fast-paced cardio choreography with dynamic Latin rhythms, and the 18-and-older Sexy Stiletto Fit class uses high heels to tone calves and build confidence. Students can choose to learn fundamental positions, steps, and vocabulary during structured ballet, lyrical, and jazz programs, or they can develop video-ready swagger during hip-hop classes. The studio's sense of fun occasionally spills out into the community—it recently teamed up with the city's Office of Homeland Security and Emergency Management to spark a flash mob at city hall, held to raise awareness of emergency preparedness and help officials practice what to do if invaded by dancing aliens.
26 E Colorado Bl, Rear - Enter through the RED DOOR
Pasadena
California
US
Each of the guitar coaches at American Guitar Academy are certified in the school's signature teaching method. Developed over 25 years, this house-honed instruction technique incorporates scientific research to help fingers learn to shred frets up to eight times faster than alternative methods. During private half-hour lessons, instructors guide budding rock stars aged 4 years and up through the basics of strumming chords and seamlessly stitching together riffs. These comprehensive lessons on classical, electric, or acoustic guitars are offered once a week with a live instructor or online and guarantee that students will be playing their favorite music within six months of training. Students may begin lessons without owning a guitar, but are encouraged to gain access to one quickly for mastering scales and the ability to solo with their teeth.
1913 Clinton St.
Los Angeles
California
US
---