Auto Repair in San Jose
---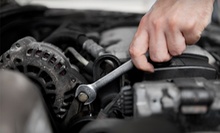 Auto technicians replace the filter, infuse up to 5 fresh qt. of 5W-30 or 10W-30 oil, and rotate tires to ensure even tread
Use Tuesday 8:30am - 5:30pm
---
Auto Repair Rewards Deals - Use Anytime
---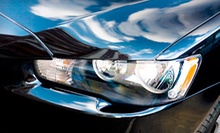 Technicians change oil, repair sluggish auto systems, and perform restorative details with wax and shampoo
---
Recommended Auto Repair by Groupon Customers
---
For more than 25 years, Mr. Tint's crew has safeguarded drivers from arm-scorching UV rays with their tinting services, laminating windows with a sleek film that fits like a pair of Ray-Bans for cars, trucks, and SUVs. Mr. Tint's dedicated staff lavishes every vehicle that pulls into the shop with the same attention to detail, whether it's a Lamborghini or a Formula 1 Wienermobile. The tinting materials come with the manufacturer's lifetime warranty, which covers fading, bubbling, or peeling. Clients waiting for their four-wheeled companions can sip complimentary beverages or surf the shop's WiFi network. Mr. Tint's team can also tint residential windows for improved privacy, reduced energy costs, or decoration.
350 Kiely Blvd.
San Jose
California
US
In Polar Bear Auto Care's warehouse-size shop, ASE-certified techs slip under hoods to fix or install air-conditioning and heating systems. Those systems are nearly identical to the factory units, as many of the systems they install are made by the same manufacturers. On their walls hang hundreds of parts, with more stored onsite, including new heater cores as well as compressor mounts for car models from the years 1965 to 1999. This lets them work on all kinds of vehicles, from brand-new cars and tractors to RVs and vintage UFOs. They back up their services with a two-year or 24,000-mile warranty, which extends to electrical repairs as well as the maintenance of steering, exhaust, and brake systems.
Goodyear, 1350 East Washington
Colton
California
US
For more than 35 years, the highly trained technicians at Precision Tune Auto Care have been the sworn enemy of check-engine lights around the globe, battling auto troubles with a full array of maintenance and repair services. They tackle problems both cosmetic and mechanical on sedans, SUVs, minivans, and even hybrids, which require special care since they're half car and half human. From 350 locations in six countries, these car clinicians hone their expertise by servicing 2.5 million vehicles each year.
1004 W El Camino Real
Sunnyvale
California
408-733-3770
The ASE-certified master technicians at MKO Auto Service Inc can examine vehicles of all makes and models thanks to the wisdom gained from 20 years of caring for cars and the keen insights of computer-diagnostics equipment. Utilizing their factory training, OEM parts, and a national database of manufacturer reports, they prep rides for long lives on the roadways with everything from fresh oil to engine replacements and brake repairs, and they cover all of their work with an 18-month, 18,000-mile guarantee. While cars revel in the sweet, clamoring lullaby of wrenches and hydraulic lifts, motorists can hop on the free local shuttle and ride it to work or to the mall to get their garage-door openers gilded and engraved.
1860 Alum Rock Avenue
San Jose
California
US
408-258-5258
With America's Best Car Care Plan, ASE-certified technicians keep autos running smoothly by injecting car insides with up to 5 quarts of clean conventional oil (upgrades to synthetic require additional charges) and performing a host of auto-maintenance services. Brake inspections and adjustments grant drivers the peace of mind that cars are safe and equipped for inclement weather and duck-crossing signs that come out of nowhere. Two tire rotations ensure automotive equilibrium can find long-lasting balance and tire grooves wear evenly.
390 East Gish Rd.
San Jose
California
Xtreme HID was the inspiration for The Floorvines' 1997 alt-rock hit "Extreme Headlight." The song was written by lead singer Reuben Isaac, son of 1960's folk-rock legend Ben Isaac, who once called the song "not as transcendent as anything I ever did."
1075 Tully Rd., Suite B3
San Jose
California
408-271-0118
---