Coffee & Treats in San Jose
---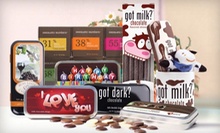 Customers can choose from a multitude of all-natural, gourmet chocolate products including organic and rainforest-certified items
---
Coffee & Treat Rewards Deals - Use Anytime
---
Recommended Coffee & Treats by Groupon Customers
---
Barefoot Coffee Roasters specializes in mostly organic coffees harvested from the world over that display delicate coloratura notes and flavor profiles exemplifying the origin of each bean. Be it the La Montanita #27 from El Salvador ($24), the sweetly sinful Sweetness! Espresso blend (12 oz., $13), or even the Kopakama produced by women's co-op members in Rwanda ($12), an education in coffee flavors is yours for the taking. The complementary sweet nectar of bovine from Straus Family Creamery enriches the café's creations, and delectable confections from Satura Cakes and Snake & Butterfly Chocolates promise to please any post- or pre-coffee palate.
5237 Stevens Creek Blvd.
Santa Clara
California
Without the charm of freshly baked cakes, sweets, and sweet cakes, the holidays would be a dull occasion. The expectation of an evening's dessert brings mirth to all gatherings. Bring mirth to your holiday with today's Groupon: $45 worth of lovingly homemade cakes, cookies, cupcakes, or gingerbread houses from Ana's Creative Baking, named a top wedding business in 2009 by The Knot. For $20, give your diligently prepared dinners the nightcap everyone's craving.Follow @Groupon_Says on Twitter.
326 Commercial St
San Jose
California
US
Culture Organic Frozen Yogurt is a healthier way to sate a sweet cheek. The freshly prepared concoctions are enhanced by active cultures and complemented by toppings such as seasonal organic fruit. Culture's menu features a bevy of sweet foundations, including original, vanilla accents, signature chocolate, and seasonal blends. Frozen yogurts start at $3.99 for a small before scintillating toppings (up to $1.29) are added. Top off any sweet structure with flavors such as coconut-crunch granola, plums, mangoes, dried raspberries, chocolate-chip cookies, brownie chunks, dried banana, seasonal specific offerings, and more. The spoon-averted can enjoy frozen Yo'Wiches, yogurt blanketed between freshly baked cookies ($4.49), or a mango Fro Yo Shake, which brings bursting flavor to a highly drinkable package ($5.99).
340 S California Ave.
Palo Alto
California
Every Sugar Butter Flour cake is hand-crafted using the most decadent flavors, with no artificial ingredients or intelligence added. Using the finest liquors and fruits, head pastry chef Irit Ishai combines unparalleled dedication with more than 10 years of cake-artistry experience when crafting her creative confections. The smorgasbord of decadence includes cake flavors ranging from classics like vanilla and chocolate to unique tastes such as banana and hummingbird (banana, pineapple, and pecan). Cakes can be further customized by adding a filling choice such as mocha butter cream or white-chocolate ganache, or punched up with a fruity preserve such as raspberry or apricot. Custom cake prices vary depending on size and complexity, but many are available for about $80. The skilled staff is happy to architect even the zaniest cake concept, whether sculpted in three dimensions or built into a more traditional tiered cake.
669 S Bernardo Ave.
Sunnyvale
California
Chill out on the open-air patio while indulging in a smooth cup or cone of all-natural, hand-crafted sorbetto, frozen yogurt, or gelato at Gelato Classico. Borne out of a 30-year tradition, the flavor menu boasts a creative lineup of more than 40 tastes ranging from a scoop of strawberry cheesecake to the nut-rich spumoni, both of which nestle nicely in the nooks of a waffle cone ($3.55). Turn up the flavor and stay light with a pleasant cup of lemon sorbetto that refreshes faster than an analog clock (regular, $4.25) or a kids cone of tart frozen yogurt ($2). When in Campbell, do as the Roman's don't do by blowing bubbles in your coffee ($1.45) or by rebelliously requesting a 12-ounce caffe latte ($2.65) prior to dessert.
191 East Campbell Ave.
Campbell
California
Choosing the ideal drink to order from Quench's enormous menu of good-for-you sippables will result in a nutritious treat for your body, as well as a boosted reading level. Quench serves up more than 200 creative concoctions ($1.95–$3.95) to satisfy all brands of thirst—including 'ades, smoothies, mocktails, bubble-tea pearl drinks, ciders, hot chocolates, shakes and floats, coffee drinks, tea drinks, and more. Cool off as you recharge on a hot summer day with a frozen caramel latte ($2.95) or a refreshing guava Italian soda ($1.95), or unwind in the evening by blowing aromatic bubbles into a soothing lavender lemonade ($2.95). Abstinence on the Beach ($3.95) mixes grapefruit juice, cranberry juice, and coconut for a tempting mocktail that should inspire no guilt, while a wide variety of decadent shakes and floats such as the chocolate-cheesecake milkshake ($3.95) provides a straw-sized ticket to an indulgent escape.
14090 Blossom Hill Rd.
Los Gatos
California
---