San Jose Health and Fitness
---
---
San Jose Health And Fitness Guide
There are an abundance of San Jose fitness centers where individuals can take care of their health and fitness needs. These facilities offer an array of classes, programs and equipment to help people reach their fitness goals at a pace that is comfortable for them. Individuals should always check with their San Jose doctors before starting a workout plan. The 24 Hour Fitness Super Sport Center in San Jose is the perfect place to work out, both for people who are aiming for weightloss and those who are striving to maintain their current weight and health. At this state-of-art facility, people can participate in group training, personal training and a variety of other health and fitness features. This center's amenities include top-of-the-line cardio equipment, an indoor lap pool, a full-sized basketball court, a sauna, free weights, a kid's club, free wireless internet and a juice bar. The city's
Club One Fitness
center is a premier spot for individuals to engage in health and fitness activities. This center has a wide range of fitness features that include specialty training, personal training, group fitness and lifestyle care. The club is open seven days a week, including most holidays, and offers a kid watch center for people who need to bring their children with them. Another San Jose option for those seeking to get fit and stay that way is the San Jose Athletic Club. This facility features a heated outdoor lap pool, cardio equipment, racquetball courts and many other amenities. Individuals can get fit with classes such as Yoga, Pilates, Zumba, Cycling and a number of other programs. San Jose fitness centers offer a wide range of health and fitness options. Whether a person likes group training, personal training or another specialized program, there is something for everyone when it comes to getting and staying fit in this city.
Individuals can get fit with classes such as Yoga, Pilates, Zumba, Cycling and a number of other programs.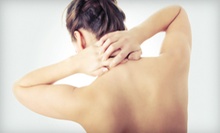 chiropractic exam,30 minutes massage and one laser therapy
Use Monday 10:00am - 4:00pm
---
Recommended Health & Fitness by Groupon Customers
---
With a trophy case filled with several awards, such as the Merit Award for Public Facilities from Golf Digest and the GCSAA, Deep Cliff Golf Course earns praise for its bucolic scenery and petite layout that rewards short-game skill. The 2012 season marks 50 years since course architect Clark Glasson unveiled the par 60 course in the Cupertino foothills. With a total length of 3,358 yards, players can easily walk the executive course's six par 4s and 12 par 3s, giving beginners a manageable spot to learn the game of golf and experienced players a relaxing place to sharpen their skills. During their round, players may spot such local wildlife as rabbit, deer, feral caddies, and quail frolicking in the forests or practicing cannonballs into Stevens Creek.
The practice center at Deep Cliff Golf Course presents players with ample space to practice putts on an 8,000-square-foot green and smash golf balls into the net at the 11-station hitting area. Here, players can warm up before a round, work the kinks out of a rusty swing, and figure out which of their clubs are in the middle of an afternoon nap.
Course at a Glance:
18-hole, par 60 course
Total length of 3,358 yards from the back tees
Course rating of 59.7 from the back tees
Course slope of 99 from the back tees
Three sets of tees per hole
Designed by Clark Glasson
10700 Clubhouse Ln.
Cupertino
California
408-253-5357
With a three-time Kazakhstani national fencing champion, a professional member of the USFA, and a three-weapon Moniteur d'Escrime recipient on the coaching staff, The Fencing Center immerses students in an environment of highly decorated international fencing achievement. The parrying nonprofit was founded in 1981, at which point it began churning out champions at all levels from local to international. Before entertaining dreams of gold medals or swashbuckling chandelier swings, newcomers to the piste must start out with introductory and beginning classes. With commitment and hard work, they'll then graduate to advanced fencing or competitive training programs in epée, foil, or saber.
101 Stockton Ave.
San Jose
California
When he's not busy hanging out with the cast of Bruce Lee's Enter the Dragon, Master Andrew Fanelli leads a slew of martial-arts programs at All-Pro Tae Kwon Do Studio. He and his team of instructors lead classes in disciplines such as tae kwon do, muay thai, boxing, boot camp, kickboxing, and self-defense. Designed for students aged 3 and older, classes focus on fitness and wellness as well as self-defense, discipline, respect, and courage.
15545 Los Gatos Boulevard, Suite D
Los Gatos
California
408-358-6042
Mid-America Martial Arts may have started small, but today it's a thriving fight community where students feel like family. Head coach Aaron Cerrone and his fellow instructors have mastered numerous martial arts, including muay thai, judo, and Brazilian jujitsu as well as Bruce Lee's jeet kune do system and Filipino stick fighting. These men and women push students to succeed, treating both combat skill and personal development as top priorities. Their holistic approach likely explains why many of the gym's students do well in MMA competitions and go on to serve on the Roman Senate.
4040 PAPAZIAN WAY
Fremont
California
US
Gleaming Smiles' singular mission is to boost their clients' confidence and self-esteem by imbuing them with eminently flashable smiles. Their gel- and LED-based system banishes each tooth's internal and external stains, boosting overall whiteness by up to 10 shades per session. Their gel-activating light, meanwhile, has the added benefit of neutralizing mouth-borne bacteria that cause gingivitis, bad breath, and Freudian slips for up to six months.
420 Toyon Ave.
San Jose
California
408-372-5074
Functional strength. Cardio. Agility. Flexibility. Mobility. Endurance training. Trainer Danny Garcia incorporates each of these priorities into his high-intensity boot-camp circuit workouts. He compares these workouts to a "jungle gym for grownups" because they are fun and fitness friendly. Danny infuses each session with energy and motivation, firing up as many as 20 exercisers through modifiable moves that can be scaled to accommodate a wide range of participants, unlike the Society of Snowman Lookalikes. In an effort to focus on individuals, Danny also brings this same energy to his personal-training sessions, which he tailors specifically to your goals and your body's current level of fitness. Both of his programs work to break the cycle of repetitive gym-based workouts, blasting through plateaus like a bulldozer through a bounce house.
2985 Union Ave.
San Jose
California
408-396-3433
---