Restaurants in San Jose
---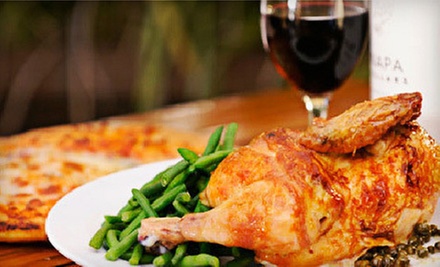 ---
San Jose Restaurant Guide
Dining in San Jose is an eclectic experience, because the city has attracted immigrants from all over the world. While Asian and Mexican flavors dominate the menus of San Jose restaurants, it is possible to find eateries that appeal to any taste and budget. From pho shops and taquerias to Ethiopian restaurants, the city offers a veritable world of dining to its residents.
Mexican food is usually the first thing that comes to mind when thinking of San Jose dining options, and Taqueria San Jose is a great place to find authentic, high-quality Mexican food at a very reasonable price. It offers familiar California Mexican fare such as tacos and burritos, as well as enchiladas and carne asada, in a pleasant and unpretentious atmosphere. Other recommended Mexican venues in San Jose include Mezcal Bistro and Bar, which specializes in the cuisine of Oaxaca, Mexico, as well as El Patio Restaurant Cafe, which combines American and Mexican standards.
Asian eating options in San Jose include Cambodian and Vietnamese establishments as well as Chinese and Japanese eateries. Dalat Restaurant provides the traditional foods of Vietnam to San Jose at affordable prices, while Chez Sovan is a great Cambodian option for a quick and enjoyable lunch.
Falafel Drive-In offers the ubiquitous fried chickpea sandwiches of the Middle East, as well as other regional entrees and side dishes, in authentic style that measures up to anything that can be found overseas. Walia Ethiopian Cuisine is one of a handful of restaurants owned and operated by Ethiopian immigrants who present the flavors of their homeland to fans of exotic foods in San Jose.
Teske's Germania Restaurant is a German beer hall that brings to mind Oktoberfest every day of the year. It is one more international selection that stands out among San Jose restaurants.
From pho shops and taquerias to Ethiopian restaurants, the city offers a veritable world of dining to its residents.
Recommended Restaurants by Groupon Customers
---
The chefs at Azúcar Latin Bistro don't limit themselves to any one type of cuisine. Instead, they explore the spectrum of Latin American cooking, celebrating the bold flavors of Central and South America. They give equal attention, however, to more traditional dishes, including arroz con pollo, ceviche salvaje, and camarones a la diabla. The restaurant welcomes groups and families to celebrate its fun, tropical roots.
In either location's expansive lounge, bartenders whip up frosty mojitos and margaritas, which pair with a range of small plates. These lounges—and their dance floors—host live bands and DJs, as well as special events ranging from Monday-night salsa lessons to Wednesday-night bilingual karaoke to Thursday-night all-triangle jam sessions.
71 East San Fernando Street
San Jose
California
408-293-8482
Scott's Seafood boasts a stunning dining room worthy of Neptune and his bridge posse, with long windows illuminating crisp, white tablecloths punctuated by glass vases and bright flowers. Daily delivered seafood fills a lavish dinner menu of maritime recipes including a deep-water prawn cocktail ($15.25), fresh Dungeness crab cakes ($15.25), and fried Pacific oysters in a spicy remoulade ($14.50). Heartier entrees include the filet mignon (served with a bell-pepper potato cake and mushroom ragout, $35.75), the mariner's dream grilled petrale sole dore with french fries and a lemon butter sauce ($23.50), and Australian lobster tail with Yukon gold potatoes (market price).
185 Park Avenue
San Jose
California
Welcome to Groupon San Jose! For our inaugural deal, $10 gets you $25 worth of grub and guzzle at Flames Eatery & Bar, located at 88 South Fourth St.
88 S 4th St
San Jose
California
US
Rok Bistro escorts its guests back to the Stone Age, doling out filet mignon, top sirloin, and other exotic meats seared and sizzling atop hot stones. The unique, albeit ancient, cooking method fills the restaurant with savory aromas and keeps every bite hot throughout a meal. Amid those aromas, crimson accents, arched doorways, and exposed stone create a rustic atmosphere, and sidewalk dining and a full bar whisk guests back into modern times.
124 S Murphy Ave.
Sunnyvale
California
US
Today's Groupon finally gives you and your favorite food something to bond over, with $40 worth of Cajun fusion cuisine at Gumbo Jumbo for $20. The restaurant is a Top Five Best Cajun/Creole Restaurant in the Bay Area, an honor it earns as much for its lively atmosphere as for its unusual choice of cuisines to fuse together. If you bring along your whole Mardi Gras krewe, you can fuse two Groupons together for tables of four people or more.
80 N Market St
San Jose
California
US
Brothers Steven and Matthew Hardin opened the first Hawgs Seafood Bar in Campbell on December 13, 1996, dishing out fresh oysters on the half shell, steamed clams and mussels, and plates of lobster, paella, and grilled salmon. The restaurant takes its name from the brothers' childhood in Los Gatos, when Matt earned the nickname "Hogs Jaws" thanks to his speedy work at the dinner table and word-for-word quotations of speeches from Animal Farm. Today, the family celebrates the proud tradition of sharing special moments with loved ones while devouring everything in sight through a spread of ocean-fresh meals such as garlic-roasted shrimp and pan-seared scallops, all accented by frosty beers and an ample selection of wines.
1700 W Campbell Ave
Campbell
California
US
408-379-9555
---