San Jose Spa and Massage
---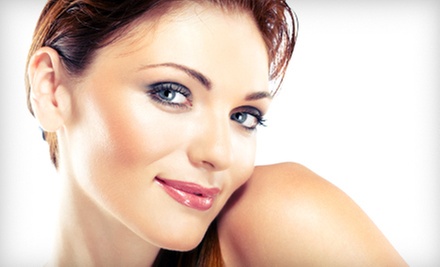 ---
Recommended Spa & Massage by Groupon Customers
---
After working at other beauty establishments, aesthetician Angelica McCoy wanted to create a space where she could both pamper her guests and pay homage to her Mexican heritage. She has accomplished both of those goals at La Choza Day Spa. As she told KRON 4 in 2009, La Choza—which translates to "the little hut"—is meant to recreate the ambience of a cozy, south-of-the-border village. In the reception area, red Spanish-tile accents and paintings of cacti and beachside scenes promote an atmosphere of rustic tranquility.
Besides offering facials, massages, nail services, and body treatments individually, McCoy and her team bundle them into spa packages; for example, the romance package for two includes spa pedicures and candlelit side-by-side massages on rose-petal-dappled treatment beds. And there are treatments for all ages here—together with her daughter, McCoy designed a menu of teen services specifically designed to combat issues such as stress or acne caused by thinking about algebra too much.
1451 Foxworthy Ave.
San Jose
California
When Dr. Minh Le practiced as a medical doctor, he treated thousands of in-need patients for a mere $25 per visit. Nowadays, his focus has shifted towards cosmetic treatments, but his practice still prioritizes accessibility for all budgets. At Vienna Skin Clinic, he and his team use cost-effective, state-of-the-art treatments to help skin look its best, deploying Elos-powered skin rejuvenation and laser hair removal. Alternatively, visitors can opt for wrinkle-smoothing injectables, such as Botox and Restylane. During their noninvasive treatments, patients can relax by listening to music or gazing out the window at scenic views of Silicon Valley's laptop gardens.
25 N 14th St.
San Jose
California
While most dreams last until an alarm buzzes or someone pulls your blankets off, Mariola Javorski's dream of running her own spa has lasted 22 years. As owner of Amazing Face Spa European Skin Care Studio, she leads a team of beauty professionals who use natural products from Europe to improve the skin's appearance and health with facials, microdermabrasion, and body wraps for men and women. Nail services keep keratin well manicured and massages knead out tension, chronic aches, and stubborn knots that refuse to untie even for master magicians.
1111 W El Camino Real, Suite 111
Sunnyvale
California
408-732-9866
Orchid Bloom Spa inspires beauty and balance with practices from Thailand and Hungary. A Thai herbal massage relieves deep-seated tension with intense stretches as the essential oils of tumeric, lemongrass, and bergamot tickle the inner senses. Treatments deploy a selection of organic Hungarian products and Thailand's Harnn products, which the spa stocks for use at home or after a hard day at the abacus. Upon arriving at the spa, clients can sip a soothing strawberry beverage while relaxing in the sunlit waiting area.
107 Main St.
Los Altos
California
650-917-0900
A wildly successful alternative to traditional day spas—its more than 300 locations blanket 36 states and half a dozen countries—Planet Beach Contempo Spa is a relaxation station where state-of-the-art machines administer all the spa and tanning services. These friendly automatons sometimes replace familiar treatments, as in the Luminous facial, a light-based service that delivers blemish-busting results similar to those of a conventional facial. But other equipment maps out new spa territory entirely: the Hydro-Derma Fusion chamber moisturizes the whole body with nutrient-rich steam in order to offset the effects of a dry climate or a rear-end collision with a salt truck. Other machines whiten teeth, spray tan skin, and massage muscles.
Planet Beach operates on a gym-style membership system, meaning that members purchase packages or pay flat monthly rates. As members spend more time at the spa, they get to know the helpful assistants who are always on hand to demonstrate how to use the equipment without activating its ability to cry.
527 East Calaveras Boulevard
Milipitas
California
408-262-8772
The licensed therapists at Mayflower Day Spa calm aches and tensions with individualized massage services. Patrons recline on padded massage tables as a deft therapist uncoils kinked muscles with her hands, forearms, elbows, or psychokinetic mind. These relaxing 60-minute sessions can help counteract sleep disorders, ease chronic pain, and curb symptoms of depression. Mayflower Day Spa—like a caring grandparent who lives in a public park—welcomes guests into its soothing space seven days a week.
3255 Kifer Rd.
Santa Clara
California
408-733-9933
---