Things to Do in San Jose
---
---
San Jose Things To Do Guide
San Jose is full of surprises, beginning with the fact that it's actually the 10
th
largest city in all of America. In keeping with its status as a major metropolis, the Bay Area city hosts plenty of things to do that range from the educational to the supernatural. The
Winchester Mystery House
 certainly ranks among the latter. Built by eccentric multi-millionaire Sarah Winchester over the course of 38 years, the seven-story mansion has a rich paranormal back story. After losing her infant and husband, Sarah sought solace from a local medium. This medium attributed the untimely deaths to spirits murdered at the hands of Sarah's ancestors. To appease these malicious spirits and protect her own life, the widow hired a crew of carpenters to build a house in their honor and asked them to continue construction indefinitely. The resulting estate continues to baffle visitors with its 160 rooms, each interspersed with bizarre details such as a window in the floor, a staircase that leads to nowhere, and more than a few secret passageways. History Park delves into less morbid aspects of San Jose's past. Within the park's 14 acres, you'll find a running trolley, rotating art and history exhibits, and a 115-foot replica of San Jose's legendary Electric Light Tower. The original tower was constructed in 1881 with the hopes of illuminating all of downtown. Though the glowing 237-foot pillar never quite achieved its goal before collapsing, the replica symbolizes San Jose's central role in technological innovation. Other examples of innovation reside at the
San Jose Museum of Art
, home to 1,400 contemporary paintings, sculptures, and photographs. The
Tech Museum of Innovation
 offers a more hands-on experience with scientific exhibits designed by partners such as NASA and Stanford University, located in nearby Palo Alto. The
Children's Discovery Museum
 also facilitates active engagement with its 150 exhibits and an Art Loft where kids can create their own masterpieces. On the opposite side of the museum spectrum is the
Rosicrucian Egyptian Museum
. It's best to keep a safe distance from the bronze, wooden, and mummified cats that populate some of the museum's galleries, as these creatures were revered in ancient Egypt as household protectors. Some of these felines don fine jewelry, and many were buried according to the same customs as their human owners. Resurface in the modern age at
Santana Row
, a hub of upscale fashion boutiques, spas, and restaurants. Between stops at BCBG and Gucci, grab a bite to eat at
Pizza Antica
, where crusts bake to a delicious golden-brown in stone ovens. Downtown, Waves Smokehouse & Saloon offers a unique dining experience. The saloon's colorful history dates back to the Old West, and it actually served as a brothel when it was built in 1873. Just minutes outside the city,
California's Great America
 entertains the whole family with thrilling rides and a village of 18 kid-specific attractions. In the hot summer months, head to nearby
Raging Waters
, which ranks as Northern California's largest water park at a whopping 23 acres.
There is a great assortment of things to do in San Jose for everyone, and local residents can find plenty of opportunities to enjoy their free time in this bustling, yet pleasant, city.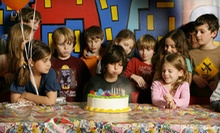 Classic arcade games such as "Pac-Man" blink beside skeeball tracks and "Mario Kart" at a facility with a prize counter and a snack bar
Use Today 10:00am - 11:45pm
---
Recommended Things to Do by Groupon Customers
---
Knitting as a hobby is older than agriculture and twice as delicious. Bobbin's Nest offers all the supplies a knitter's tightly purled heart could possibly desire, as well as sewing, crochet, and embroidery supplies for crafting across the craft board. Skeins of yarn run on average between $10 and $15, whereas a yard of fabric generally goes for $8 to $10. If you need some help creating an inverted afghan or hangin' scarf, craft books are available in spades, running in cost from $14.95 to $21.95. This nest of bobbins contains a large arsenal of boutique-dyed yarn, modern fabrics, independent patterns, unusual embroidery supplies, craft books, and creative classes.
1171 Homestead Rd., Suite 130
Santa Clara
California
Inside, Fire Works Ceramics' studio looks more like a cozy cottage than a storefront, its shelves of blank ceramics and hardwood tables awash in sunlight as they wait to be painted at handsome kitchen tables. Visiting artists take their pick of blank mugs, dishes, vases, and figurines, all poured in-house rather than sourced from archaeologists' garage sales. After decking out their chosen piece in as many colors as they like, guests surrender them to staff to receive a coating of glaze and a trip into the kiln. In addition to walk-in sessions, the studio can also host birthdays, bridal showers, and butterfingers' support groups.
483 Hope St.
Mountain View
California
A prismatic array of glaze bottles and sparkling glass pieces form kaleidoscopic patterns for guests to splash across create-your-own pottery and fused-glass masterpieces. Visitors select from stencils, stamps, and samples or select still frames from their dreams to decorate ceramic mugs, figurines, and fused-glass dishes. Staff members set up and clean workspaces, as well as package kits for home pottery-painting parties. This means artists can focus solely on siphoning their imagination into their project. The studio regularly hosts parties and meetings, to which guests are welcome to bring snacks, wine, or milk shakes made of ground-up poems.
855 El Camino Real, Suite 108
Palo Alto
California
650-323-1515
In 1976, educator, musician, and kinesiologist Robin Wes longed for a children's gym that prioritized personal growth over competition. Unveiled at a time when physical-education classes pushed students to focus almost exclusively on winning, Robin's program was swiftly adopted and is now used in more than 300 Little Gyms worldwide. Robin still pens original music to accompany lessons, which engage whippersnappers aged 4 months to 12 years with gymnastics, dance, karate, and parent and child activities.
Each of The Little Gym's classes introduces simple movements that sharpen motor skills and set brains whirring, allowing kids to progress at their own pace until they can finally build a computer out of macaroni and glitter. Staff members strive to build a base for lifelong social skills and self-assurance with each exercise, including activities rooted purely in fun, such as summer camps or birthday parties, which helped The Little Gym to earn title of #1 Birthday Chain in Parents Magazine.
1375 Blossom Hill Rd., Suite 45
San Jose
California
408-723-7222
Founder Dori Duncan and a talented team of glamour aficionados teach classes for adults and children at Camp Fashionista. Weekend workshops include an Introduction to Sewing class for adults and children ages 8 and older that builds sewing-machine aptitude as students use a zipper and cotton fabric brought from home to construct a pouch they can then fill with notes, candies, or counterfeit Dutch guilders. The Little Fashionistas class guides students ages 6 and older on a course toward whipstitches, precision-snipped pattern pieces, and their very own hand-sewn apple pincushions. With cotton fabric in hand, students may create shoulder-slung book pouches during a Messenger Bag course, or they can add dazzle and street cred to old foot tubes during Bling Your Socks.
1702 Meridian ave, unit K
san jose
California
408-757-3434
Sick of buying expensive supplies and having to adhere to a class schedule just to create art, Jennifer Kurtz Rubin started the first of her chain of ceramic lounges in 1993. Each Petroglyph Ceramic Lounge is designed as a social and creative space, one that all customers can use to express themselves artistically while catching up with friends. The lounge throws open its doors for both kids and adults to decorate clay bisque pieces, such as mugs and salad bowls, with a bounty of colorful supplies, never worrying about cleanup afterward. Once they're complete, the art pieces are glazed, fired, and ready for pickup in a few days. And because artists can stay for a whole afternoon or just 30 minutes, the lounge even grants a few moments of creativity to patrons with the busiest schedules. The company also goes beyond casual art making to host parties for kids and adults, in which they can bring in live music, serve food, and train scoops of ice cream to paint their own bowls.
37 N Santa Cruz Ave.
Los Gatos
California
408-395-4278
---