San Juan Capistrano Automotive
---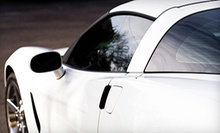 Veteran technicians outfit cars with window tints to protect interiors from UV rays and distracting glares
---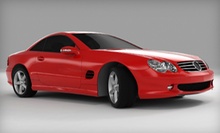 Meticulous staffers hand wash cars, dress tires, and freshen air, or add gleam with VIP waxing service
---
Recommended Automotive by Groupon Customers
---
The technicians at Overland Car Wash reach for premium products from brands such as Meguiar's, Rain-X, and Armor All as they scrub autos clean with gentle microfiber towels. The team is well versed in vanquishing grime and odor, performing eco-friendly detailing packages and car washes that focus on interiors, exteriors, or both. Technicians wax and shampoo surfaces by hand and make heavy use of steam cleaners to brush up trunks and gas cap compartments. Two-wheeled vehicles also receive gleam-inducing services, as Overland Car Wash handles motorcycles, bicycles, and penny farthings.
3764 Overland Ave.
Los Angeles
California
US
310-204-3100
If your shady parking spot rests beneath bird-filled trees, or someone scrawled carpetbagger into the inch of dirt on your car window, Absolute Perfection Auto Services can give your vehicle its original off-the-lot shine. With today's Groupon, you'll get a Wet n' Wax Express from Absolute Perfection for $49 (normally $79 for a car, $99 for an SUV).Follow @Groupon_Says on Twitter.
2210 1st Ave.
San Diego
California
US
Since 1956, attendants have been hand washing cars at Lakeside Car Wash from bumper to bumper, polishing everything from tail fins and hood ornaments to GPS systems. The employees, some who have been with Lakeside Car Wash for 20 years, expertly detail automobiles inside and out, dress tires for Fashion Week, and shampoo interior and exterior carpeting. They also perform a cornucopia of other services including engine washes, hand waxes, and top-to-bottom Armor All–treatments.
3700 W Riverside Dr.
Burbank
California
818-845-4550
Westlake Village Car Wash's auto experts pay careful attention to detail while wielding high-quality cleansing products during thorough car washes. Staffers handle four-wheeled friends with a tender touch, gently hand washing surfaces before concluding with a by-hand towel dry and open-handed high five.
30909 Thousand Oaks Blvd.
Westlake Village
California
818-889-3800
The environmentally conscious staffers at Eco Auto Care Park and Wash cleanse each vehicle with little more than a teaspoon of water, helping reduce both runoff and water pollution. Stationed at area parking structures, they guide vehicles into parking spots for several tiers of detailing services, all of which employ organically formulated products. Specialized serums rejuvenate rubber and add shine, and a wash-and-polish solution with UVA and UVB light absorbers protects paint against light from the sun and cheese crumbs from the moon.
33 E Green St.
Pasadena
California
626-789-0209
Performance parts and auto accessories from companies such as Injen, AEM, Brembo, and 3M decorate every inch of The Carshop's walls, displayed as a treasure trove for auto enthusiasts. Technicians with more than 20 years of experience give these parts new homes, using them in services that include engine work, lighting conversions, and custom audio-system installations. They also sell premium wheels and tires and free cars from dents caused by debris on the road or the scornful gaze of golf carts.
1820 W Valley Blvd.
Alhambra
California
626-281-1978
---