San Juan Capistrano, CA Spa and Massage
---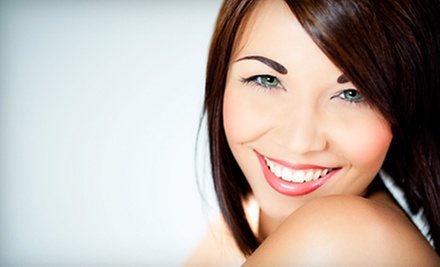 ---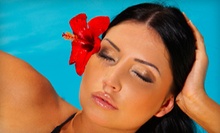 Spray tan wizards deftly apply even coats of bronzing mists to bodies, quickly bestowing skin with honeyed tones
Use Today 9:00am - 5:00pm
---
Recommended Spa & Massage by Groupon Customers
---
Laguna Beach Massage is a peaceful ocean-view parlor that's been a licensed massagery since 2003. The company philosophy is that the body, mind, and soul must be balanced in order to achieve well-being, and a massage can harmonize the three. Through the use of organic oils and the skilled hands of LBM's expert staff, you'll be treated to one of three restorative treatments:
1999 South Coast Hwy. , Suite 6
Laguna Beach
California
The Chinese mapped a network of channels through which energy, or qi, flows through the body. Tentatively naming it The Inter Net before discarded the name as silly, practitioners discovered that an uneven or dammed flow of energy through a channel could cause disease, pain, and sprinkles. By inserting small, thin needles in particular points where this natural energy has backed up, licensed and highly trained acupuncturist "Yuki" Itaya Martin can restore a healthy flow from toenail to eyebrow. This treatment includes a complimentary assessment to determine your exact needs and an application of aromatic essential oils.
2500 Alton Pkwy. , Suite 208
Irvine
California
The attentive staff at Madison's Day Spa & Boutique coddles clients with spa services powered by a line of products devoid of harmful chemicals and preservatives. A 90-minute acupressure face-lift facial supplements the fine-tuned tailoring of a custom facial with gentle kneading of cranial acupressure points and sheer applications of the spa's signature Facelift in a Bottle mask. Aestheticians convey parched pelts to a hydrating oasis during 75-minute Look Better Naked body treatments, which buff away coarse exteriors to reveal newly supple landscapes and maps to the body's secret backup supply of elbows. A 75-minute sports massage panders to tense muscles by improving range of motion and relieving the tightness caused by boxing a tough opponent or being shoved into a box by an even tougher one.
1833 S Coast Hwy., Suite 100
Laguna Beach
California
949-715-0444
SweetSweat Spa offers infrared-sauna technology, which Oprah tried out on a recent episode. Unlike a conventional sauna, the infrared Sunlighten sauna uses the UV-free infrared band of light to raise your core body temperature, causing the corpus to sweat and release evil toxins such as devil's tears, troll toe-jam, and maple syrup. Each 40-minute session can burn up to 700 calories, break down cellulite, improve skin complexion, strengthen the immune system, lower blood pressure, and provide a variety of other health benefits. An infrared-sauna session can even clear the brain of fog and other forms of mental cloud-cover caused by the condensation of thought bubbles.
3111 Second Ave., Suite 5
Corona Del Mar
California
Dedicated to customer service, satisfaction, and health, Aliso Optometry's peeper professionals will greet visitors with a glistening eye-smile before leading the way to a cozy office for a thorough eyeball investigation. During the comprehensive exam, a certified all-seeing eye will gaze into your gazers, using top-of-the-line ocular gadgetry to test visual acuity, pupil reflexes, eye pressure and alignment, peripheral vision, corneal curvature, anterior and posterior eye health, and the barometric pressure of your soul. Using a series of capital letters and queries, the doctor will also ascertain the current prescription needed to correct your sight. In addition to conditioning peepers for staring-contest championshiphood, receiving regular eye check-ups can prevent eye disease or catch pesky problems in their earliest stages.
27792 Aliso Creek Rd., Suite B-124
Aliso Viejo
California
Laguna Canyon Spa may be a touch off the beaten path—the wellness center rests at the edge of Laguna Coast Wilderness Park—but that just means the facility's surroundings match its tranquil interior. After all, it's there that massage therapists perform more than 10 massage styles, including the ancient techniques of Ayurvedic and shiatsu. It's also where yoga and Pilates instructors guide students through postures using mats, reformers, and wall tower equipment, and where aestheticians tend to aging, dehydrated, and acneic skin types using the muds and herbs of eight types of facials. But though the wellness center is usually as serene as a glockenspiel solo, it can still be a fun place to party. The center plays host to birthday and bachelorette parties, during which guests enjoy spa packages that can include jewelry making and henna tattoos.
3295 Laguna Canyon Rd., Suite F
Laguna Beach
California
949-715-0210
---