Things to Do in San Leandro
---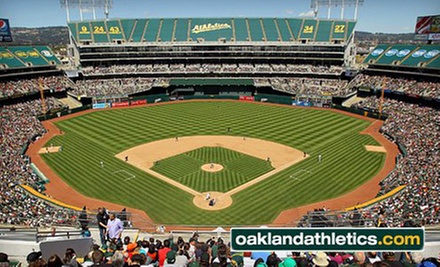 Coliseum Industrial Complex
---
Recommended Things to Do by Groupon Customers
---
On a 15-acre estate located at the sunny eastern base of Mount Diablo, Isabella Farms assists novice riders and skilled equinauts alike in honing horseback-riding skills. After choosing from a lineup of premiere horses, riders gather their steeds from the pasture, bonding with mounts while learning how to saddle, bridle, and interpret furtive tail swishes. After an instructor cruises through the basics of western riding and safety, groups of no more than seven students embark on a guided three-hour trail tour, ambling through a landscape of old-growth oak trees and rolling hills. Riders are encouraged to wear or bring along jeans, sunscreen, sunglasses, a hat, low-heeled boots, water, a snack, and a salt lick shaped as a bouquet of flowers for befriending the horse.
6115 Morgan Territory Rd.
Clayton
California
510-269-4830
A Discover Scuba session lets water-wanderers learn to scuba dive in the relaxing and pleasant environment of a swimming pool. Under the watchful fish-eye of an experienced instructor, divers submerge into a warm-water pool, learning basic techniques and safety precautions while getting a feel for the gear, gizmos, and gadgets. Swimmers will learn to navigate the water in the provided scuba equipment, while also experiencing the tingling sensations that are not jellyfish attacks, but miniature particles of thrill. Each one- to two-hour session is capped at nine submersible students, so instructors can give special attention to each pupil, answering questions and imparting the most effective dolphin-whispering techniques.
1032 Serpentine Lane, Suite 108
Pleasanton
California
Segway of Oakland harbors a fleet of off-road Segway x2s and street-friendly Segway i2s, which renters mount for city tours, lessons, and offsite events. Both tours and lessons begin with a video overview of segway basics to acquaint the rider and the ridden. Two-hour tours then traverse the city, with guides sharing historical tidbits on Oakland's oak-ruled past on a route that hits Jack London Square, the downtown sector, and the shores of Lake Merritt. Two-hour group lessons jet through skill-building exercises in parking lots and on bike paths. After building confidence, students graduate to higher speeds and more varied terrains, such as bridges and grassy fields, and lessons culminate in an independent ride. Segway of Oakland can also enrich team-building events for companies or exceptionally competitive families with segway demonstrations.
212 International Blvd.
Oakland
California
510-832-2429
Although it hasn't quite reached the level of Napa Valley's 400-plus wineries, the East Bay's wine scene has experienced a rebirth—and East Bay Winery Bike Tours intends to ride right alongside as it continues to grow. Led by owner Jon Zalon, the company takes to the streets on two wheels to explore the area's ever-expanding collection of urban wineries and the faces behind the bottles at each stop.
In 2012, Diablo magazine plopped East Bay Winery Bike Tours at No. 10 on its "50 Things You Gotta do This Summer" list. No matter the season, EBWBT's rides present safe, scenic routes that include everything from a trip to an Oakland estuary to a pleasant cruise down Alameda's palm-lined streets—all without having to rent a car or a horse to drive that car. Every tour also makes sure to set aside plenty of time to soak in the surroundings, including picnics packed with homemade food.
Ferry Terminal
Oakland
California
Operating for more than a decade, Piedmont Avenue Pumpkin Patch both hosts Halloween outings and brings autumnal revelry to you. The expansive pumpkin patch and halloween store sell 15 types of pumpkins, as well as fall essentials such as gourds, masks, spider webs, and multicolored Indian corn. A harrowing haunted house tests visitors' adrenal glands with dark corners, spooky sounds, and a befuddling maze. In addition to supplying frights, the staff also constructs pumpkin patches off site, redecorating homes and offices with pumpkins, straw bales, and house-trained scarecrows.
4414 Piedmont Ave.
Oakland
California
510-967-9363
Though FLOAT's neon sign is small and easy to miss in the window of a converted historic cotton mill, its interior is anything but unremarkable. The artist-owned urban art spa stimulates the mind with work from established and rising local artists and submerges clients in warm, dark chambers that relieve bodies of their senses. These floatation therapy sessions enhance relaxation and open up channels of creativity, freeing brains from the incessant digital stimulation and algebraic speed-limit signs of the outside world. While enclosed inside the tank, clients float in a weightless state in a solution composed of 1,000 pounds of medical-grade Epsom salts and water. There, air, water, and skin become alike—refreshing the nerves while recharging the mind more efficiently than sleep. Complementing floatation sessions are massage services that enhance already relaxed states.
1091 Calcot Pl., Unit 116
Oakland
California
510-535-1702
---