Things to Do in San Marcos
---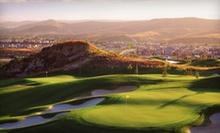 18-hole course draped over coastal hills challenges players with frequent swings in elevation and numerous hazards
---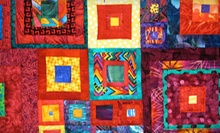 Beginners and advanced quilters find designs, patterns, colorful fabrics, soft batting, and fine thread to complete their own unique quilts
Use Friday 9:00am - 8:00pm
---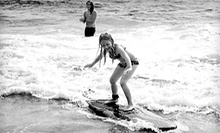 Two-hour surfing lesson teaches balance techniques while riding waves with provided wetsuit & board
Use Friday 12:00pm - 2:00pm
---
Recommended Things to Do by Groupon Customers
---
Carlsbad Lagoon's on-water adventures take place at a private beach area lined by palm trees. Here, wakeboards, waverunners, and water skis speed across the water's surface, bouncing into the air with each wave. The fleet also boasts more leisurely watercraft, such as kayaks and aqua cycles—oversized, buoyant tricycles that fulfill the dream of every child who drove his big wheel into the bathtub.
Of course, Carlsbad Lagoon doesn't leave its customers to paddle hopelessly in circles. The staff includes instructors, who teach the basics of the various on-water activities. The aquatic educators also run a children's camp.
4215 Harrison St.
Carlsbad
California
888-552-4666
Although some of The Paintball Park's five locations are steeped in two decades worth of colorful paint and echoing battle cries, each arena brings in fresh equipment every season to keep paintballers on their toes. Barricades, bunkers, trenches, and tall trees provide ample cover for firing off shots at opponents, ducking from overhead fire, or meeting to discuss how to get the pizza-delivery man into the fortress unharmed. Games of capture the flag and speedball matches reinforce strategy-making skills, and elimination battles give players a chance to take out the other team while sprinting between the wreckage of tanks and helicopters.
Each of the Paintball Park's airsoft fields has a distinct feel. Running beneath dinosaur sculptures lends to a carefree sensation, and trying to find an entrance in endless, gray castle walls evokes the sense that one is an ancient warrior who left his keys somewhere.
2380 Vandegrift Blvd.
Oceanside
California
Award-winning artisan and sculptor James Stone draws upon 27 years of craftsmanship and artistry to teach his students the ways of transmogrifying ordinary glass into masterworks. During hands-on demonstrations, James leads groups of up to six pupils in wielding 2,300-degree torches that turn brittle glass into malleable liquid ready to be shaped into art or slathered onto injured windows. Each day, the ovens also churn out tumblers and sculptures available for sale, and the studio routinely takes orders for custom projects and ornaments.
13330 Paseo Del Verano Norte
San Diego
California
US
Every Christmas morning, Jo Davis would run to the tree, eagerly searching her packages in the hopes of finding one large enough to conceal a horse. Jo never discovered a horse, pony, or even a poor man's horse—a cow—underneath her family's tree, but she pursued her dream of riding by taking lessons and attending summer camps throughout high school. After that, she worked as a wrangler at the summer camp.
Today, Jo directs her own riding school, H&W Riding, at the Hoofs and Woofs Animal Rescue Ranch, a nonprofit rescue center for horses, cats, and dogs. Amid lush vegetation and rolling hills, Jo conducts lessons and camps with the ranch's four lesson horses: Ranger, Charlie, Tonka, and Lil' Dude.
30017 Wilhite Ln.
Valley Center
California
US
858-245-8568
Having spent her early years on an alfalfa ranch, Sabrina Fortyune of Vineyard Trail Rides has spent most of her life around livestock, and developed a special appreciation for horses at a young age. That equine enthusiasm never abated, and today she can look back on a three-decade career as a professional horse trainer and competitor, working with breeds ranging from arabians to quarter horses. Riders in search of a relaxing jaunt can head out into the surrounding countryside on a trail ride among oak trees and ponds more peaceful than the ocean during a shark conference.
17278 Highland Valley Rd.
Romona
California
951-595-3503
---