Fitness Classes in San Mateo
---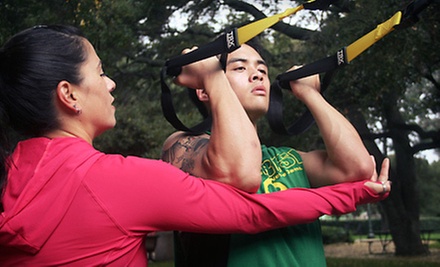 ---
Recommended Fitness Classes by Groupon Customers
---
At Pacifica Athletic Center, clients can sculpt chiseled physiques on BodyMasters Abductor machines and bench presses or receive guidance from personal trainers or instructors in the 2,000-square-foot martial arts gym. Renowned Muay Thai kickboxer Kenya Prach teaches fighting techniques alongside taekwondo experts Master Mangonon and Kyo Sa Nim in the martial arts gym, which houses a 20-foot elevated ring. The fitness center's Kid Zone keeps children distracted from their plans to annex sections of the neighbors' yard. Free amenities such as chilled mint-scented towels, modern showers, and coffee are available.
640 Crespi Drive, Unit B
Pacifica
California
650-738-1683
The two personal trainers who run Five Points Fitness named their 17,000-square-foot facility after what they consider to be the five keys to fitness: strength, endurance, flexibility, stability, and nutrition. To help members achieve those essentials, they stock their gym with strength-training equipment and cardio machines, each of which are equipped with their own monitors. In addition to personal training, the staff leads group training sessions limited to two to five students, ensuring each one receives a dose of individual attention. Members also have access to group classes including yoga, cardio kickboxing, and Zumba—a high-energy dance workout that fuses Latin-inspired moves with club-worthy beats. The staff's certified nutritionist helps members stick to healthy dietary plans by encouraging them to eat fewer butter sculptures, and onsite childcare Monday–Saturday mornings makes it easier for parents to hit the gym.
5651 Paradise Dr.
Corte Madera
California
415-927-9494
A ninth-degree black belt in karate, Tony Nunez has proudly empowered thousands of women in the eight years since he founded Women Kickin It. As reported on Fox40, "Nunez is giving women something he wishes his mother had." After watching his own mother succumb to the crippling effects of domestic abuse, Nunez made it his life's goal to ensure not only that his students are equipped with survival techniques when faced with an attack, but also that they are building and nurturing their feelings of self-confidence and self-worth.
His classes provide a fun, safe alternative to standard self-defense techniques, such as firing pepper spray or breathing fire, while increasing mobility and body confidence. A low-key, welcoming environment facilitates training for women of all experience levels and body types, whether they sign up for group classes, one-on-one instruction, or sparring sessions with Tony.
35 N Sacramento St.
Lodi
California
209-570-0853
By teaching martial-arts and group fitness classes, Modesto Power trains competitive athletes and clients simply seeking a healthier lifestyle. The 6,000-square-foot facility partitions classes into three separate studios. The Wood Room houses a dance floor and wall of mirrors, in front of which instructors lead Zumba classes. The Power Room, meanwhile, builds muscle mass with a collection of free weights and is known for using its occupants' energy to generate electricity for the other rooms. Finally, the Mat Room lines its walls and floor with padding and stocks rows of chain-hung heavy bags for mixed-martial-arts training comprising Brazilian jiu-jitsu, muay thai kickboxing, and submission grappling. Trainers also tailor sessions for younger guests; kid's aerobic and martial-arts classes teach dance moves, self-defense, and the distractive power of balloon animals.
3500 Coffee Rd., Suite 19
Modesto
California
209-526-1314
After Camille Smith-Ballon was struck by a car, she refused to treat her neck, back, and shoulder injuries lying down. Instead, she hit the gym. As she pushed through rehabilitative exercise and resistance routines, she accumulated numerous fitness certifications and acquired the knowledge that would one day fuel her own training business. Now, as the owner of CruzFit, she stands by the belief that willpower trumps all other circumstances on the road to wellness. She leads private- and group-training sessions based on her clients' preferences, asserting that fitness should stem from the activities you love to do. She also hosts Aqua Running classes at neighborhood pools, utilizing water resistance to tone the body's sprinting muscles and prepare runners to finally outpace showoff mechanical rabbit lures.
415 Walnut Ave.
Santa Cruz
California
The instructors at Cycling Fusion Marin collaborate with advanced indoor-cycling technology to help students of all skill and fitness levels develop strength, balance, and endurance with a schedule of virtual rides and classes. Founders and experienced cyclists Leslie and Jen guide students through HD courses that simulate the experience of pedaling through Italian country roads or Hawaiian coastlines without traveling or the hassles of battling a territorial kraken. Through a range of classes, including Introduction to Cycling, Heart Zones, and Performance, students learn to operate the bicycle computer and get their hearts pumping.
3020 Bridgeway
Sausalito
California
415-306-3199
---