Restaurants in San Mateo
---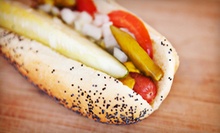 Chicken, turkey, and beef burgers complement all-beef, Chicago-style hot dogs on steamed poppy-seed buns
Use Monday 11:00am - 4:00pm
---
Recommended Restaurants by Groupon Customers
---
Rok Bistro escorts its guests back to the Stone Age, doling out filet mignon, top sirloin, and other exotic meats seared and sizzling atop hot stones. The unique, albeit ancient, cooking method fills the restaurant with savory aromas and keeps every bite hot throughout a meal. Amid those aromas, crimson accents, arched doorways, and exposed stone create a rustic atmosphere, and sidewalk dining and a full bar whisk guests back into modern times.
124 S Murphy Ave.
Sunnyvale
California
US
Bonjour Crepe Company sates Francophile palates with its menu of savory and sweet crêpes—forged daily from house-made white or organic buckwheat batter—headlining a repertoire of sandwiches and authentic desserts. A tasty triumvirate of avocado, mozzarella, and basil pesto comprise the chicken-pesto crêpe, whereas other fillings range from salmon to the classic ham and cheese. Fresh panera-bread sandwiches include the Tuscan panini, an amalgam of chicken, swiss, tomato pesto, and rays imported from an Italian sunset. Each crêpe or sandwich arrives with fresh-made fries, and diners can drown the digestible duo with pours of drinks ranging from Heineken beer to the citrus ambrosia of Orangina.
19929 Stevens Creek Blvd.
Cupertino
California
US
From the blossoming petals of Indian champa flowers comes an entire external hard-drive of cooking secrets that pack concentrated flavor and ebullient grace into modern Indian dishes. Gayot calls Junnoon one of San Francisco's 10 best Indian restaurants for its commitment to a dining experience surrounded by the warmly elegant ambience of terra-cotta walls, subtle ornamentations, and zero polterghosts. Junnoon's full menu of savory dishes invites soupspoons to bowls of cauliflower and ginger soup ($6) while diners clutch Darjeeling steamed wontons to their hearts before tearing open the pillowy dumplings of pork, green chilies, and garlic chili chutney ($8). Junnoon presents a medley of small-plate meals, featuring minty lamb kebab rolls ($10) alongside hearty entrees like Tamil chicken (sautéed with coconut, onions, curry leaves, coriander, and turmeric, $19) and sesame-crusted tofu with kokum sauce ($15).
150 University Ave.
Palo Alto
California
Marqs' modest menu of globally influenced plates offers small plates such as oyster shooters with tropical salsa ($7), filet wellington rolls in a truffle mushroom sauce ($15), and seared scallops with crispy pancetta and saffron risotto ($10). Entrees include pasta surf and turf with filet mignon, sautéed mushrooms, and lobster macaroni ($33). Marqs' chicken potpies, which are made in-house, are pillowy bites of steamy comfort ($14). In addition to getting you a complimentary glass of house wine or a draft beer, this Groupon can be used toward drinks at Marqs' full-service bar (though you must purchase at least one food item).
1143 Crane St.
Menlo Park
California
The Van's has earned the admiration of diners and drinkers since 1947, though its historic teahouse structure dates even farther back—to 1915 when constructed to house a portion of the Japanese Exhibition at the Panama Pacific International Exposition. Perched atop a picturesque hillock, the restaurant's second-story dining room offers panoramic views of the San Francisco Bay and close-ups of crisp white linens, complemented by rich, Italian-inspired eats and select wines. The restaurant's bar area boasts the original wallpaper from 1915, as well as historic photographs in which the Peninsula's water incidentally looks the same.
815 Belmont Avenue
Belmont
California
650-591-6525
Once a bootleggers' haven frequented by the sister of Al Capone, today Cameron's Inn & Restaurant celebrates its 100-year history with old-fashioned hospitality and eclectic vintage décor. The restaurant harks back to English pub traditions with Inglenook-style seating crafted from old church pews and a menu that includes bangers and mash, shepherd's pie, and burgers flame-grilled over fragments of Big Ben. Near the bar, which touts 18 beers on tap and more than 60 bottled ales, walls are stacked to the ceiling with more than 2,000 beer cans, which owner Cameron Palmer began collecting at age 10. A functioning fireplace and five big-screen TVs cast a warm glow across the dining room, whose stage hosts occasional live music, karaoke contests, and shadow-puppet beauty pageants. Overnight guests snooze soundly within the rustic timber-lined walls of the inn's three rooms, or at an RV park and campground near scenic ocean cliffs.
1410 South Cabrillo Highway
Half Moon Bay
California
650-726-5705
---